By Ventura County Sheriff Department — Wednesday, July 28th, 2010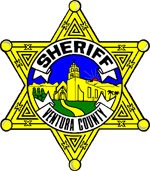 Ventura County Sheriff's Department
The Camarillo Police Department will be hosting a program to educate and inform Senior Drivers about the dangers of driving.
The Senior Drivers Program is a cooperative effort between the Camarillo Health Care District, Department of Motor Vehicles, Camarillo Police Department, senior drivers and their caretaker or family member. For purposes of this class, senior drivers will be required to be 60 years of age or older, caretakers or family members of a senior driver.
In an attempt to remain proactive and not reactive, the Senior Drivers Program is designed to help older drivers, their caretaker or family members, understand the aspects of how age can affect their driving. The Senior Drivers Program will offer lecture, alternate forms of transportation ideas, and handouts. Our goal is to raise awareness and reduce the number of injuries and deaths due to collisions involving senior drivers.
The first class will be scheduled for Saturday, August 14, 2010 at 1 pm – 3 pm at the Camarillo Police Department. For reservations call MaryGay San Jose with the Camarillo Police Department Community Resource Unit at 805-388-5155. For questions, call Deputy Juan Cordova at 805-388-5125 or Deputy Mark Bastiaans 805-388-5128. Space is limited to 30 senior drivers, caretakers or family members. There is no charge to attend the program.
Location: Camarillo Police Station
3701 E. Las Posas Road
Camarillo, CA 93010
Date & Time: Tuesday, July 28, 2010
Unit Responsible: Camarillo Traffic Bureau
Officer Preparing Release: Sergeant Harold Hanley
Follow-up Contact: Sergeant Harold Hanley
Approved by: Commander DeCesari
Date of Release: July 28, 2010