By Gazette Staff Writer — Wednesday, January 7th, 2009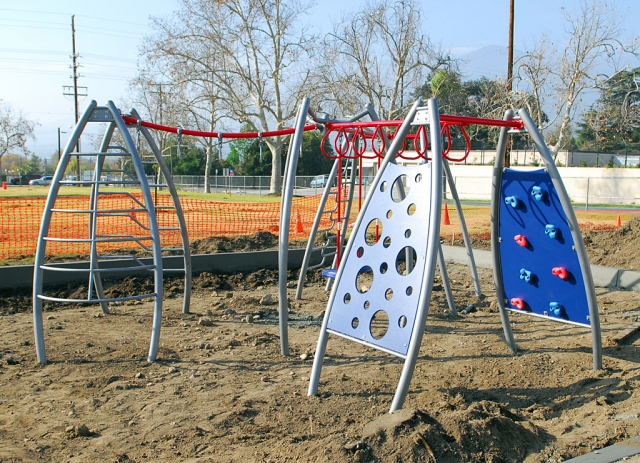 A new playground was put in at Sespe School over the Winter break. What a surprise for the children when they return to school.
Enlarge Photo
By Natalie Garnica — Wednesday, January 7th, 2009
It's the start of a new year at FHS, and the students are settling back into the routine of classes. Seniors are finished with applying to colleges, and are gearing up for the plethora of financial aid applications. The last semester of the 2008-2009 school year is sure to go by quickly, but the students of FHS will be busy for the next few months.
Winter sports are still in full swing with the girls' basketball team home against Oak Park earlier in the week, the same day that our frosh boys' soccer team played away at Santa Clara. A boys' basketball game was Wednesday against LA Baptist, and the wrestling team had a tournament at Santa Paula on Tuesday. Because of the new CIF rule that says that sports can start practice any time of the year, baseball try-outs and swimming try outs are on Friday and Saturday. The swim team is counting down the days until the pool opens in town, and is hoping to be able to practice in it by mid February.
The Winter Formal is in two weeks – January 17th to be exact – so be sure to encourage your student to attend the dance.
For more information, please contact the student store at 524-8491.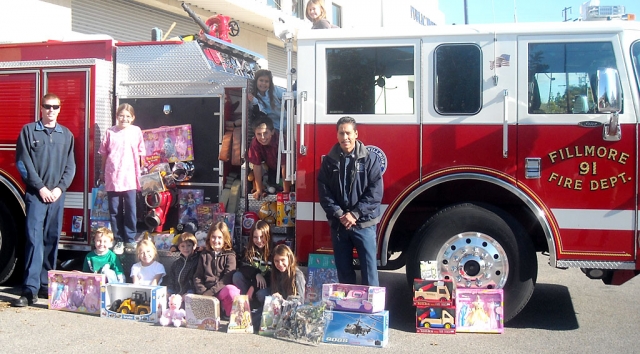 Students from San Cayetano collected items for the annual Kids Give Sale. Pictured are Chad Hope, Tori Villegas, Sara Uriel, Kasey and Dylan Crawford, Cali and Ty Wyand, Rachel, Victoria and Julia Pace, along with Captain Al Huerta and an unknown fireman, left.
Enlarge Photo
By Gazette Staff Writer — Thursday, January 1st, 2009
Students at San Cayetano Elementary School are truly in the spirit of giving this season. It started at the beginning of December when students collected items for the annual Kids Give Sale, organized by the local PEO chapter. The school stage was loaded with stuffed animals, toys, household goods, books, purses, jewelry and much more. As one student put it, "It is a good time to clean out your old stuff before Christmas when you get all that new stuff". On the day of the sale, students were allowed to Christmas shop for their families. There were wonderful bargains to be had as all items were priced at $.25. High school students from One Step Alavez came to assist the shoppers. At the end of the day, $353.00 was raised. With that money in hand, a delegation of students headed over to the Toys and More toy store on Santa Clara Street where they found more bargains. Then they headed over to the Fire Department to donate toys for the annual Toy Drive. It goes to show that the true spirit of giving is alive and well at San Cayetano School.
By Norma Sandford — Thursday, January 1st, 2009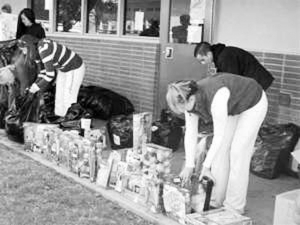 Volunteers setup gifts for the children.
Early Tuesday, December 23, Support for the Kids Foundation Volunteers delivered toys, vouchers to Super A Foods, clothing, department store gift cards and laundry baskets filled with household supplies to Fillmore children and their parents. Homemade cookies were also given to each family as they received their gifts. The excited gleam in a child's eye and their shy smiles are what made these volunteers give so much of their time and generosity.
The Dr. Neil Schmidt Fillmore Family Resource Center served as host to this organization and center volunteers Ronda Reyes-Deutsch, Arli Reyes, Julie Mendez and Norma PĂ©rez-Sandford served as elves on this wonderful festive occasion.
It is now three and one-half years that Support for the Kids Foundation has helped the communities of Fillmore and Piru by providing field trips to Disney on Ice, Chuck E. Cheese parties, and many free tickets to shows at the Performing Arts Center in Thousand Oaks and at Pepperdine University. They also finance summer camps, fall festivals, food pantries, and provide quality used household appliances, clothing and toys. All Fillmore and Piru schools and children have been recipients of their generosity. Lynda Miller, founder of Support for the Kids, was honored for her hard work by the Fillmore Unified School District Board of Education last year.
The Dr. Neil Schmidt Fillmore Family Resource Center is located on the Fillmore High School campus, Room 17 and operates after 3:30 p.m. or by appointment. The Center volunteers' mission is to assist the Fillmore and Piru communities by providing educational information and social and behavioral health referrals to help families survive and thrive.
Among other services, volunteers help community members complete required school or county forms, provide tutoring for the GED exam, parenting classes and instruction for parents on how to use email to contact their children's teachers. The center staff stress how important it is for parents to be involved in the education of their children all the way through the K-12 grades.
If you would like to volunteer at future events, please feel free to call 524-4999, or if you would like to donate to this Fillmore non-profit organization and make a difference, please send a check to Dr. Neil Schmidt FFRC, Rm. 17, 555 Central Avenue, Fillmore.
By Gazette Staff Writer — Thursday, January 1st, 2009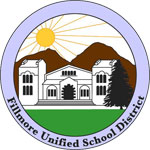 Fillmore Unified School District
FILLMORE UNIFIED SCHOOL DISTRICT
REGULAR MEETING OF THE BOARD OF EDUCATION
TUESDAY, JANUARY 6, 2009
5:15 P.M. – CLOSED SESSION
6:00 P.M. - REGULAR MEETING
627 SESPE AVENUE, FILLMORE, CALIFORNIA
AGENDA
The public may review or request a copy of support materials provided to the Board Members where the word materials appears.
5:15 p.m.
I. CALL TO ORDER AND PLEDGE OF ALLEGIANCE TO THE FLAG
II. ROLL CALL
III. PUBLIC COMMENT ON NONAGENDA ITEMS, PETITIONS
This is the time and place to address the Board. State law prohibits the Board from acting on issues not included on the agenda; however, requests may be made for discussion of specific topics at subsequent meetings.
IV. CLOSED SESSION
The Board of Education will meet from 5:15 to 6:00 p.m. to consider matters appropriate for Closed Session in accordance with Government Code Sections 3549.1, 54956.7 through 54957.7 and Education Code Section 35146. If the Board does not complete Closed Session discussions at this time, the Board may adjourn to Closed Session at the end of the regular meeting. CONTINUED »
By Gazette Staff Writer — Tuesday, December 23rd, 2008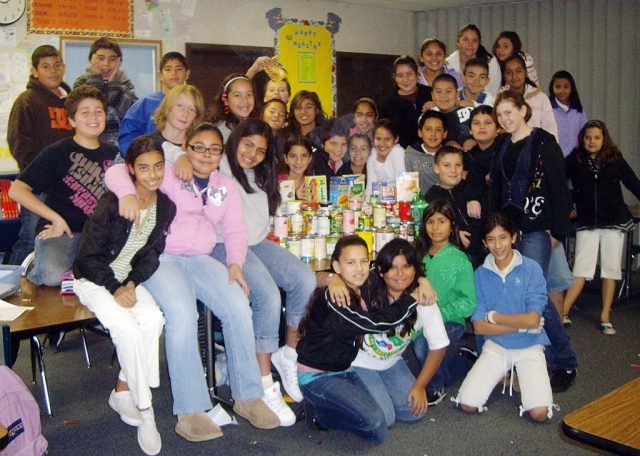 Fillmore Middle School AVID students gathered over 200 cans this Holiday Season! For two weeks the 6th, 7th, and 8th grade students had been competing to see which class could gather the most canned foods. This picture was taken of the 6th grade students, who brought in more than half of the total cans gathered for the food drive. All donation were given to Food Share, to feed the needy this Christmas. Thank you to all students and parents who contributed to this cause.
Enlarge Photo
By Gazette Staff Writer — Wednesday, December 17th, 2008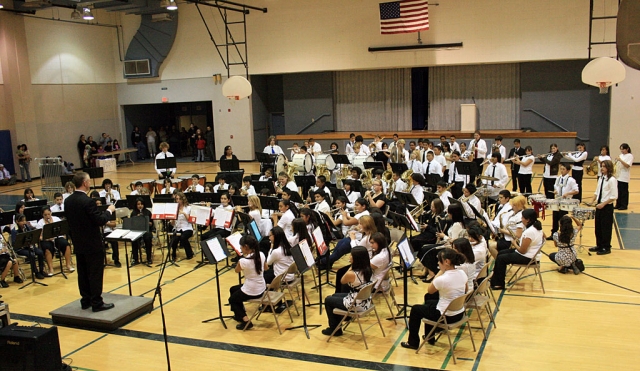 Fillmore Middle School Band held their spectacular Winter Concert on Wednesday, Dec. 10, 2008, directed by Mr. Greg Godfrey. The first performance was by the 21 Beginning Band students who played short selections from their "Standard of Excellence" book. Next, the Intermediate Band members played four rousing marches. These 45 band members are all second and third year musicians. Finally, the 84 members of Advanced Band performed six complex pieces including The Star Spangled Banner , Night on Bald Mountain, and Halo 3. For the grand finale, members of all three groups (shown in attached picture) joined to play Deck the Halls, which they also performed in the Lion's Christmas Parade on Saturday, Dec. 6th. Thanks to the musicians and Director Greg Godfrey for a fantastic performance!
Enlarge Photo
By Ellen Green — Wednesday, December 17th, 2008
Fillmore High School has implemented the Professional Learning Community (PLC) model for improving teaching and learning. Collaboration is a vehicle for realizing and understanding student needs, fostering the desire to meet those needs, and places value on teacher expertise. It is highly effective when it is focused on what works for students. FHS staff meets in collaborative teams each Wednesday before students arrive.
To begin the school year, FHS staff broke down the elements of the job that would be immediately valuable for students and teachers. For our teachers that included: Creating a comprehensive syllabus; Attendance procedures; School-wide discipline expectations; Lesson planning and assessment: benchmarks as evidence of student success; Grading and report cards; Communication with parents; Good teaching; Learning environments: effective vs. ineffective; Curriculum: meeting state standards; Facilities: maintenance and repairs; Forms; Textbooks, schedule changes, lockers, etc
State testing and the High School Exit Exam; ASVAB, PSAT, and SAT for juniors and seniors; Accreditation: progress and needs. Having addressed these items as a collaborative group ensured unity among FHS staff and set a positive tone for the school year.
FHS staff members prepared a self-study document as part of the WASC accreditation process, completed in November 2008. This work was our opportunity to examine practices and programs in place, and to determine their relevance and effectiveness for our students. The culminating task of WASC was to develop an Action Plan, in which we outlined major academic goals for the next three years. The emphasis of the Action Plan is on improving student academic achievement in math, reading and writing. FHS staff also identified English Language Learners and Special Education as populations needing more support. Further, as a collaborative team, FHS staff is committed to the continued use of data (from multiple sources) in making decisions.
One final note, in order for the PLC model to reach its full potential at FHS, there needs to be buy-in from all stakeholders. The district office and school board has been very supportive of the work we are doing at FHS. And, under the leadership of Principal Wilber, we expect many positive outcomes in terms of student academic growth and achievement.
By Gazette Staff Writer — Wednesday, December 17th, 2008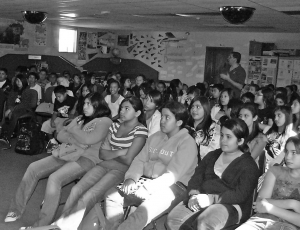 On November 20, Fillmore Middle School students listened intensely to Daniel and Tricia Gray, Alumni from the University of Notre Dame and UC Santa Barbara.. The topics included college preparation. Photo courtesy Kathryn Hawkins.
On November 20th, the Fillmore Middle School AVID program hosted Daniel and Tricia Gray, alumni from the University of Notre Dame and University of California Santa Barbara, respectively. Approximately 70 students listened as they presented topics including college preparation, choosing the right university, and some of their personal experiences at college.
Daniel, a 2006 graduate of the University of Notre Dame, shared some insights regarding his college application process. "It's important not to let the cost of a school deter you from applying. Get accepted and find out how much financial aid would be available to you. There are a lot of scholarship opportunities which may make expensive schools more affordable than you might think." Tricia, a 2006 graduate of the University of California Santa Barbara, shared the importance of finding the right school. "You shouldn't choose a college based on where your friends are going. Instead, you should find the school that best fits you, based on academic programs, atmosphere, and the people. For me, UCSB was the perfect fit." Currently, Daniel and Tricia Gray are professionals who work for the Federal Government.
Scott Carroll, one of the AVID teachers at Fillmore Middle School, is an advocate for this program and is eager for his students to hear about college from recent college graduates. "Thanks so much for taking the time to speak with our AVID students. They were very excited and really enjoyed your presentation. We really struggle to get guest speakers, so it was great for us to have two great speakers at the same time!" Heather Atwood and Scott Carroll are currently serving as co-coordinators of the AVID program at the middle school. There are currently about 100 students in the program.
"AVID" (Advancement Via Individual Determination) is a college-preparatory program where students receive academic support as well as help getting organized and staying motivated from teachers and other students. The goal is to be eligible for a four-year university when they graduate from high school. The students, who are also encouraged to enroll in honors classes, will get to visit colleges and receive tutoring from other AVID students, including some from the high school program. If you know a college graduate who would like to be a guest speaker for the AVID program please contact Scott Carroll or Heather Atwood at Fillmore Middle School.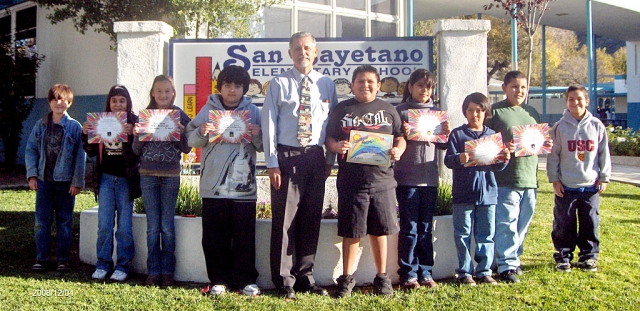 Francisco Garcia from CSUCI spoke to San Cayetano students on December 9th about how to be a good citizen.
Enlarge Photo
By Gazette Staff Writer — Wednesday, December 17th, 2008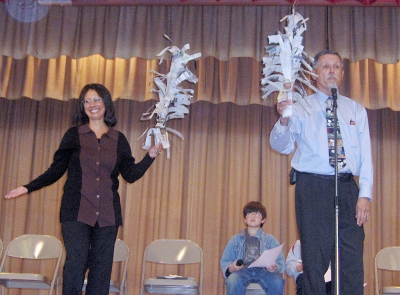 Mr. Francisco Garcia
Enlarge Photo
On Tuesday, December 9, 2008, San Cayetano School recognized good citizenship and character at their Peacebuilder Assembly for the month of December. Mr. Francisco Garcia, from CSUCI, came to speak to the students about how to be a good citizen. Each teacher chose a student from his or her class whom showed excellent character and peace-building skills. Roman Tarango and Ian Overton, the San Cayetano ASB President and Vice-President assisted Mr. Garcia in handing out the Peacebuilder Awards. The Peacebuilders for December are: Cesar Magana, Natalia Zamora, Noelani Sanchez, David Anchando, David Rodriguez, Christopher Perez, Hailey Cummings, Karen Trujillo Villanueva, James Chandler, Andrea Magana-Murillo, Ricardo Valenzuela, James Cadena, Raul Mejia, Zachary Tipton, Ashley Montano, Ernie Rangle, Ryan Nunez, John Chavez, Aliai Cantero, Jorge Iniguez, Kirah Collins, and Rubi Torres. Roman then announced to the students that the Rainbow Foundation is sponsoring the San Cayetano Character Counts Award of a $100.00 savings bond. Mr. Garcia presented the Character Counts Award to a deserving fifth-grade student. Joseph Sanchez was chosen by the fifth grade teachers as a model of outstanding behavior and responsibility to the other students. To conclude the assembly, students were reminded to turn in their Perfect Attendance tickets. Each month all students who come to school, each day, on time, are given an orange raffle ticket. The students place their tickets in a box and one ticket is drawn. The student whose ticket is drawn is given a NASA backpack with Max Goes to the Moon in it. Each month, the tickets will be put into a larger box that will be kept until the end of the year. In June, Mrs. Marholin, the principal, will draw from the tickets to give away two new bicycles. Leslie Zamora, a fifth grader from Mr.Maus's class, won the Perfect Attendance Award for December.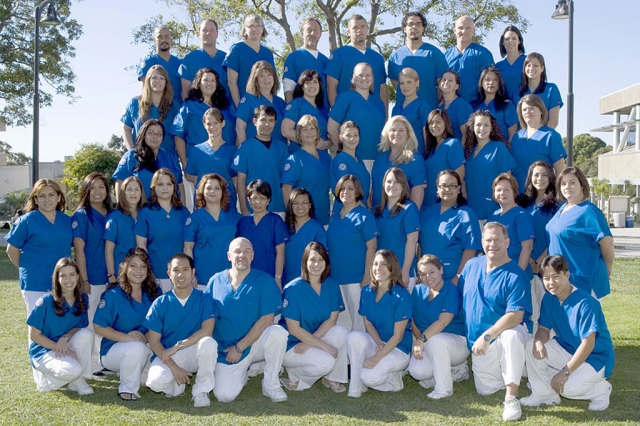 Fillmore's Juan Carlos Lomeli and Ildiko Mate received their pins at the Ventura College ceremony on Dec. 12th.
Enlarge Photo
By Gazette Staff Writer — Wednesday, December 17th, 2008
VENTURA: The Ventura College School of Nursing and Allied Health graduated 48 new nurses who receiving their pins at the Fall 2008 Nursing Pinning on December 12 at the Ventura High School auditorium. The traditional ceremony included the personal pinning of each graduate by the nurse or nursing instructor who mentored or inspired the student to enter the profession.
A number of students were recognized for their significant academic achievements and for their community service:
o Three graduates were named as "Graduates with Distinction" for their contributions to the School of Nursing, to the community or their employers, and to their fellow students: Analisa Balestrero, Phyllis Franco, and Melanie Reece.
o A Red Cross Award for volunteer work in the community, often at flu shot clinics and other health facilities, went to Elizabeth Gollner, who contributed more than 20 hours.
o Community Service Recognition went to four students who contributed at least 20 hours of community service work, although not necessarily with Red Cross activities: Besi Duarte, Phyllis Franco, Lynda Schoppe, and Melanie Reece.
o Eleven received Peer Tutor Awards for their work assisting other students with the challenging academic nursing curriculum: Anthony Van Leeuwen, Vanessa Worthington, Jennifer Kreil, Rosie Diaz, Melanie Reece, Erin Froebe, Nicole Radoumis, Patti Aung, Lynda Schoppe, Maryam Atashbarand Analisa Balestrero
The School of Nursing and Allied Health prepares students to care for individuals in hospitals, homes, and other health care settings. Graduates practice the art and science of nursing by combining knowledge from many different disciplines to promote the restoration and maintenance of health in their clients. The School administers the Associate Degree Nursing, Certified Nurse Assistant, and Continuing Education for Registered Nurses programs.
For additional information, contact Joan Beem, Director, Ventura College School of Nursing, (805) 654-6400 ext. 3125 or jbeem@vcccd.edu.
LIST OF VENTURA COLLEGE FALL 2008 NURSING GRADUATES:
Agoura Hills: Patti K. Aung Camarillo: Melanie Reece, Valerie Reveles, Mark J. Sarreal, Canoga Park: Lorena Soria Carpinteria: Jennifer Peterson Fillmore: Juan Carlos Lomeli, Ildiko Mate, Goleta: Noemi Buyco Moorpark: Rachel Rebello, Newbury Park: Randi Shano Ojai: Lauryn Fuller, Ken Smith Oxnard: Maryam Atashbar, Nasrin Atashbar, Analisa Balestrero, Mayda Garcia, Elizabeth Gollner, Sheryl Jularbal, Jennifer Kreil, Joan Vea, Vanessa Worthington, Mark Yumul Point Mugu: Evangeline Esquivel, Kalin Spencer Port Hueneme: Phyllis Franco, Santa Barbara: Josefa Valeriano Santa Paula: Raeanna Lyon, Lisa Reeder Ventura: Andrew Bozek, Don Braunsteiner, Rocio A. Diaz, Besi Duarte, Erin M. Froebe, Joel Hernandez, Michelle Hughes, Megan Kelley, Keshav Khadka, Jeremiah Kosten, Kimberly McCallion, Kimberly Noll, Melody Root, Lynda C. Schoppe, Teresa Sprinkle, Anthony Van Leevwen, Megan Wilson, West Hills: Carissa Cuzzoni Woodland Hills: Nicole Radoumis.
By Gazette Staff Writer — Friday, December 12th, 2008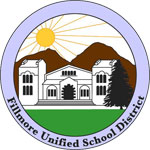 Fillmore Unified School District
FILLMORE UNIFIED SCHOOL DISTRICT
REGULAR MEETING OF THE BOARD OF EDUCATION
TUESDAY, DECEMBER 16, 2008
5:15 P.M. – CLOSED SESSION
6:00 P.M. - REGULAR MEETING
627 SESPE AVENUE, FILLMORE, CALIFORNIA
AGENDA
The public may review or request a copy of support materials provided to the Board Members where the word materials appears.
5:15 p.m.
I. CALL TO ORDER AND PLEDGE OF ALLEGIANCE TO THE FLAG
II. ROLL CALL
III. PUBLIC COMMENT ON NONAGENDA ITEMS, PETITIONS
This is the time and place to address the Board. State law prohibits the Board from acting on issues not included on the agenda; however, requests may be made for discussion of specific topics at subsequent meetings.
IV. CLOSED SESSION
The Board of Education will meet from 5:15 to 6:00 p.m. to consider matters appropriate for Closed Session in accordance with Government Code Sections 3549.1, 54956.7 through 54957.7 and Education Code Section 35146. If the Board does not complete Closed Session discussions at this time, the Board may adjourn to Closed Session at the end of the regular meeting.
1. DISCLOSURE OF ITEM(S) TO BE DISCUSSED IN CLOSED SESSION
‱ School District Pupils (Education Code 35146)
o Expulsion Case Number 08-09-04 CONTINUED »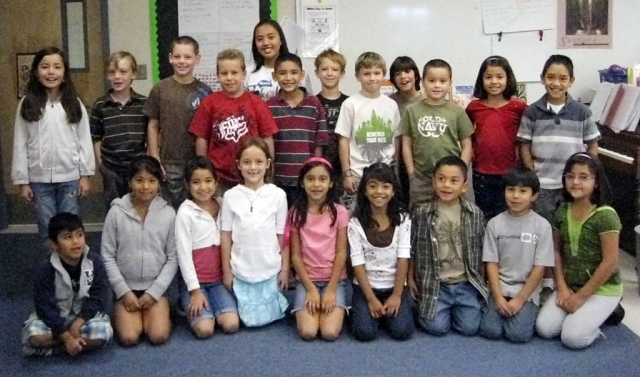 Pictured with Mrs. Anderson's 2nd/3rd graders at Mt. Vista Elementary is American Field Service Exchange student, Shervina Annie, who lives with Greg and Priscilla Anderson of Fillmore.
Enlarge Photo
By Gazette Staff Writer — Wednesday, December 10th, 2008
Shervina Annie, American Field Service (AFS) exchange student from the Philippines, recently spent the morning at Mt. Vista Elementary School teaching the students about her country and its customs. The attentive students learned that the Philippines is composed of over 7000 islands and is divided into three regions. Shervina showed the students her country's flag and told them the symbolism behind it. Her Power Point Presentation included pictures of her school, friends, and family, as well as scenic spots in her country, the national costumes, transportation, and some typical foods. Shervina taught the students a few simple phrases in her national language, Tagalog.
Shervina has made many friends since coming to the United States and is enjoying her time here. She has learned many things about America since her arrival in August, 2008, as part of the Youth Exchange and Study Program of AFS, and those around her have enjoyed learning about the Philippines. She is attending Fillmore High School and is enrolled as a senior. Her host parents are Greg and Priscilla Anderson. She will be in Fillmore until June 28, 2009.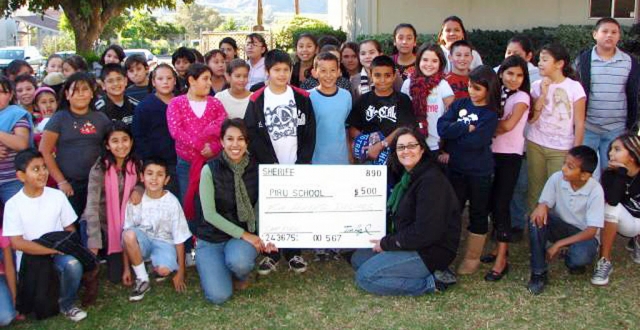 Pictured (l-r) are teacher Mrs. Delia Sliva and teacher Miss Claudia Cornejo and the 5th graders from Piru Elementary with a $500 check from the Ventura County Sheriffs for Friends of Fillmore Outdoor Education and Leadership Training. Ten more sponsors of $250 each are needed to send the entire class.
Enlarge Photo
By Gazette Staff Writer — Wednesday, December 10th, 2008
The "Friends of Piru" is a non-profit 501(c) organization focused on helping youth attending the Piru Elementary School. This year, Friends of Piru have committed to assist the school with sending their entire 5th grade student body for a week of resident outdoor education and leadership training in Santa Ynez (Santa Barbara County). The camp begins in mid-January.
The name of the camp is Rancho Alegre. How fitting
 that our children are going to break out of traditional boundaries and expand their learning in the beauty and comfort of the Santa Ynez Mountains.
We need your help. You can imagine the expenses involved in busing an entire 5th grade student body to the mountains for a week? This portion of their education is not covered by the school district. The teachers have been organizing fund-raisers throughout the entire year. Of course, the current economic crisis has limited the ability of some traditional benefactors to help out.
Your neighborhood students have had bake sales, barbeques, and raffles. Each student has been responsible for earning money to attend the trip.
Time is approaching and we are in a difficult position. We have rallied the Fillmore and Piru community to fund the needed expenses that go above and beyond what the students have contributed.
Our dilemma: There are ten 5th grade students who desperately need your sponsorship for the camp. The direct cost is $250 per student. Please, we don't want to leave them behind, and are asking everyone in Fillmore and Piru to help. Think about a camp experience that you had or wished for? Now is your chance, we have families without students even splitting sponsorships with other families, church or service groups.
On Friday December, 5th, Fillmore Police Chief Tim Hagel attended Piru Elementary School. He presented the school with two sponsorship checks totaling $500. Captain Hagel explained that the Sheriff Deputies serving Piru, heard of the school's plight, and overnight the Deputies collected $250 out of their pockets.
In addition, the Ventura County Sheriff's Cops Running For Charity held a special meeting on Thursday, December 4th, and approved a check for another $250 sponsorship. We need ten more donations of $250.
After the check presentation, Captain Hagel told Friends of Piru and Principal Duborow that the Rancho Alegre Outdoor Leadership Camp is the element needed to help raise great young leaders. He explained that number one is the guidance by the family, number two the school and community and number three is the friendship and mentoring by police.
Hagel said, "It is so important that we (police) support this cause that Piru School has championed for. We need to get to these children by 3rd grade and stay committed to them, mentoring them and befriending them throughout their journey of those uncertain years growing up. CONTINUED »
By Natalie Garnica — Wednesday, December 3rd, 2008
The month of November has been eventful at FHS. To start off the month we had a CSF Club sponsored mock election on the 4th for the seniors. Each senior cast their vote on a ballot that included the presidential candidates, Proposition 2, Proposition 4, and Proposition 8. Votes were counted by CSF club officials and the "results" were that Barack Obama won with a ratio of approximately 3:1, both Prop 2 and Prop 4 passed by a wide margin. The senior class did not pass Proposition 8, although it was a close race. The election also served to remind eligible seniors to cast their official ballots later that day.
Fillmore High worked hard to put their best foot forward for the state Western Accreditation of Schools and Colleges, the organization that determines whether or not Fillmore High diplomas are legitimate. WASC review happens every six years or so for all schools, and provides a great opportunity to review our progress as a school. For three days committee members interviewed teachers, staff, and students, observed every classroom, and wrote a report that will determine our accreditation.
A Renaissance Rally also took place during the week of the WASC review, and included skits from students and teachers, the presentation of awards for the top ten students of each grade, and some great speeches from Mr. Andersen and Coach Woods that rallied the students for the game against Desert High.
Over sixty students donated blood that week, a record for the school. Another record was set by the senior class – they sold over 1500 pies, beating last years class by several hundred and they thank the community for being so supportive of Grad Nite Live.
Our varsity football team beat Brentwood High on the Friday after Thanksgiving, and has moved on to the semi-finals of CIF. They will travel four hours on Saturday to play Twentynine Palms, and we wish them the best of luck! There will be a rooter bus and tickets are fifteen dollars – if you wish to buy a ticket contact Lynn at the student store.
For more information, call the Student Store at 52.
By Gazette Staff Writer — Wednesday, December 3rd, 2008
SACRAMENTO – State Superintendent of Public Instruction Jack O'Connell today offered his thanks to thousands of people statewide who help educate California's students.
"The old African saying that 'it takes a village' to raise a child is absolutely true," said O'Connell. "In our case, it takes hundreds of thousands of people from all walks of life to help educate California's 6.3 million children. As we approach Thanksgiving, I hope everyone takes a moment to recognize the wonderful contributions of every teacher, volunteer, parent, and administrator for all they do for children in our schools. Thank you for all your hard work and dedication."
As examples of selfless service to California's school children, O'Connell recognized contributions from teachers, community volunteers, parents, paraeducators, and school administrators. "So many people work tirelessly, and often without recognition, to help our students and schools succeed," he said. "I wish I could publicly thank each person by name, but let me recognize some of these individuals on behalf of the thousands of others who give willingly of their time, money, and talents."
‱ Bob Bastian of Rio Linda (Sacramento County) is a board member in several government, business, and charitable organizations. His life is a model for students to emulate. He started off as a maintenance worker, worked his way through college to become a special education teacher and counselor. Now retired, he recently was elected as a board member for the Twin Rivers Unified School District.
‱ Steve Berry of Riverside (Riverside County) is the chairman of the Riverside Educational Enrichment Foundation (REEF), and also is the acting City Manager of the City of Grand Terrace. As the volunteer chairman of REEF, Berry has helped raised tens of thousands of dollars for grants, science expeditions, equipment, and supplies that have benefitted teachers, students, and employees at Riverside Unified School District.
‱ Sue Dean of Sacramento (Sacramento County) is a library media technician at D.W. Babcock Elementary School in the Twin Rivers Unified School District. Not only does she run the school library, she serves in several vital capacities with the PTA, and is a champion cookie-dough salesperson. Dean is retiring soon after 16 years at the school. CONTINUED »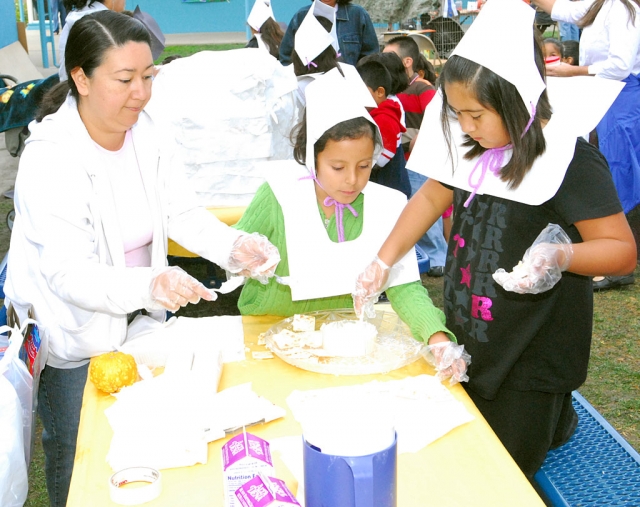 A couple of cute Pilgrims helped prepare a Thanksgiving feast on Tuesday, November 25, as San Cayetano's third grade class put on a small scale reenactment of the Pilgrims' life around the time of the first Thanksgiving in 1621. Some of the activities included in the day's festivities were cooking, needlepoint, games, Indian writing and Old English writing.
Enlarge Photo
By Gazette Staff Writer — Wednesday, November 26th, 2008
By Richard Durborow — Wednesday, November 26th, 2008
Piru Elementary is an extraordinary school where children come to learn and grow, a place that challenges and nurtures young scholars, and a place that awakens a thirst for knowledge and understanding. Each student receives a high level of individual attention through classes taught by knowledgeable, experienced, and caring teachers.
Our primary goal is not only to promote scholarship, but to give each student the kind of life-learning experiences that will forever shape their world view. After all, these students represent our future!
Literacy Coach Makes a Difference
The last two years we set school-wide goals that included working with a literacy coach. That's right. We have a coach who goes into all our classrooms and helps model best instructional practices for our teaching staff. She focuses attention on the reading needs of all our students and then helps build a program that ensures student success. And guess what? Her expertise and hard work is paying off in big ways. Student learning has improved. Test scores are up. Because literacy coaches are a powerful way to improve student learning they are now being used throughout Ventura County. Thank you Susan Jolley for being our literacy coach and for all you do for us!
Lesson One Teaches Self-Control and More
Clearly, many of today's young people are feeling isolated, out-of-control, and full of rage. Instead of doing well in school they drop out. These students need to feel connected and learn skills so their anger doesn't lead to destruction of self and others.
Last year the staff at Piru Elementary recognized this problem and adopted a program designed to help students cope with stress and take control of their actions. This year we continue using the innovative, violence prevention program called Lesson One-The ABC's of Life. Students at Piru start each day reading the Pledge for Success and talking about self-control and respect for diversity. As students internalize self-control our teachers spend more time teaching and students spend more time learning. Later this year our staff and students will be trained on new Lesson One skills including self-confidence and responsibility. Thanks Jon Oliver for teaching us how to improve our lives!
Aerobic Exercise Improves Student Learning
Piru students begin each morning experiencing the joy of running and making the powerful connection between aerobic exercise and the increased capacity of the brain to learn. Recent brain-activation studies show that children who are aerobically fit allocate more cognitive resources to a task and do so for longer periods of time. In other words, aerobic exercise improves student learning. In fact, aerobic exercise supercharges your mental circuits and sharpens your overall thinking, lifts your mood, and boosts your memory.
Want to boost your mental abilities? Just put on your running shoes and join us Friday mornings for a run around the school. It may just be the healthiest thing you do all week!
Happy Holidays from Piru Elementary School.
By Gazette Staff Writer — Wednesday, November 26th, 2008
Sierra High School has had a great start to the school year. Our Associated Student Body has organized fund raisers and motivational BBQs for students with both being very successful. Our student daily attendance numbers are up and students appear eager to come to school and learn. This is evident in the high number of credit completion that is reflected in the student's first quarter grades. Sierra High School students recently completed the California High School Exit Exam (CASHEE) with 100% participation. Finally, SHS will hold a School Site Council meeting on Monday, November 24 at 6:30 p.m.
By Gazette Staff Writer — Wednesday, November 26th, 2008
The Fillmore Lions Club has announced that this year's Student Speaker Contest will be held on Monday February 2, 2009. The topic will be "Water-Will California be Left High and Dry?". The topic is very timely and important to Fillmore High School students, their friends and family.This is a very appropriate topic in light of California's drought , California's growing population and need for water; and California's disputes with bordering states over a very limited natural resource.
Chair Bill Edmonds states that the total prize money going to the overall winner will be $21,250 in college scholarships and cash. The local Fillmore winner will get $50 with the runner-ups receiving $25. The winner will go on to compete with the winners of other near-bye communities . All High School age youth who live within the Fillmore Unified School District boundaries are eligible to compete. This include home taught students as well as Fillmore residents who attend other high schools as well. This also includes foreign exchange students.
Students who wish to enter may contact Bill Edmonds (524-4839) or Josh Overton -the FHS drama teacher. Edmonds emphasized that this public speaking experience will be very worthwhile to the students and interesting to their parents and the community. Public speaking competition will also look very good on college applications and resumes. Students should get started early because it takes time to develop and practice a good speech.