Youth Exchange and Study (YES) Program staff from Saudi Arabia visit FHS on visit to Ventura last month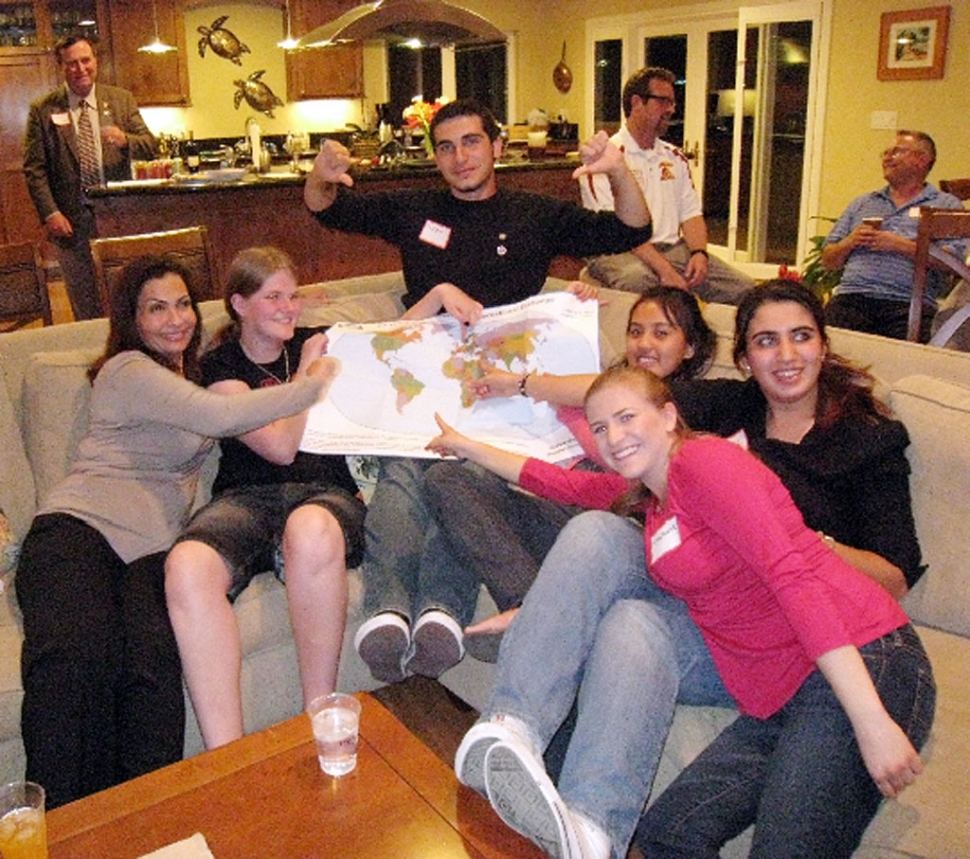 (left to right on couch): Wafa Munif, 53, YES Program staff from Saudi Arabia; Anne from Denmark, a sophomore at Rio Mesa High; Heja, a Turkish YES student and senior at Moorpark High; Shervina, a Filipino YES student and senior at Fillmore High; Nur from Turkey, a senior at Oxnard High; and Stephanie, an American AFS Student who studied abroad in Italy in 2006. These exchange students have been in the United States since August 2008 and will return home in June. In the background are several adult volunteers with the local AFS chapter.
By Sandra Butts — Wednesday, April 15th, 2009
"I was once jailed two days for driving," said Wafa Munif, Youth Exchange and Study (YES) Program staff from Saudi Arabia, on a visit to Ventura last month. Ms. Munif, 53, attended a YES conference in Washington DC, and completed her trip in Ventura County to promote the program to local high schools--and to get to know local exchange students, their host families, and the volunteers who work with them. She spoke with Fillmore High School students during their World History classes.
She explained that several women in her home country of Saudi Arabia protested the fact that women couldn't drive by, well, simply driving. The women--including her--were arrested and jailed. Her husband had to bail her out, at a cost of $10,000. "It was a mess!" she said. "But we have to do something." It is this same passion to change the world around her that Munif works for the YES Program in Saudi Arabia. The U.S. State Department-sponsored scholarship program brings high school students from countries with significant Muslim populations to the U.S. to create a better understanding between Americans and these countries. AFS (formerly known as the American Field Service) is the lead student exchange organization for the YES program.
If you want to learn more about student exchange, becoming an exchange student yourself, the YES program, or about hosting a foreign exchange student through AFS, we want to hear from you. AFS brings wonderful students from more than 50 countries to learn about our culture and teach us about theirs. Hosting is a life-changing opportunity that literally builds ties across the globe. To find out more please visit www.afsusa.org. Peace Through Understanding. Be a part.