Ventura College Santa Paula Presents Art Exhibition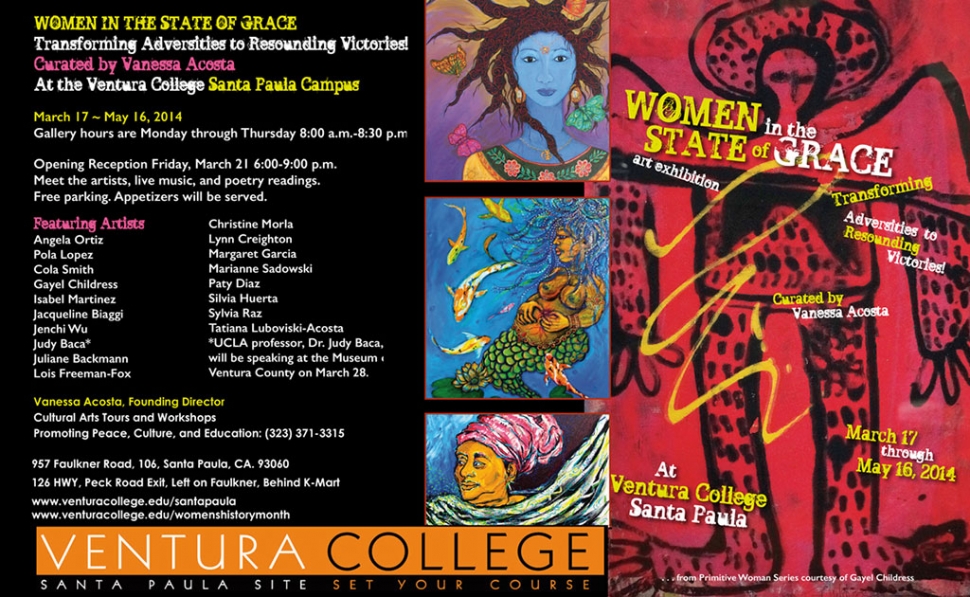 By Gazette Staff Writer — Wednesday, March 19th, 2014
In recognition of Women's History Month, the Ventura College Santa Paula campus presents the art exhibition, "Women in the State of Grace," from March 17 through May 16, 2014. Gallery hours are Monday through Thursday, 8:00 a.m.-8:30 p.m.
The exhibition features 18 women artists from Ventura, Los Angeles, and San Francisco. Featured artists include Judy Baca; Juliane Backmann; Jacqueline Biaggi; Gayel Childress; Lynn Creighton; Paty Diaz; Lois Freeman-Fox; Margaret Garcia; Sylvia Huerta; Pola Lopez; Tatiana Luboviski-Acosta; Isabel Martinez; Christine Morla; Angela Ortiz; Sylvia Raz; Marianne Sadowski; Cola Smith; and Jenchi Wu. The exhibition is curated by Vanessa Acosta of Cultural Arts Tours and Workshops.
An opening reception is scheduled for Friday, March 21, from 6:00-9:00 p.m. Meet the artists and enjoy poetry readings by Luzmaria Espinosa, as well as live music by Carmen Moraza, Lencho Moraza, and Xavier "Big X" Montes. Appetizers will be served. This event is free and open to the public. Free parking is available. The Ventura College Santa Paula Campus is located at 957 Faulkner Road, 106, Santa Paula, CA.