Ventura College Psychology Club Sponsors the Clothesline Project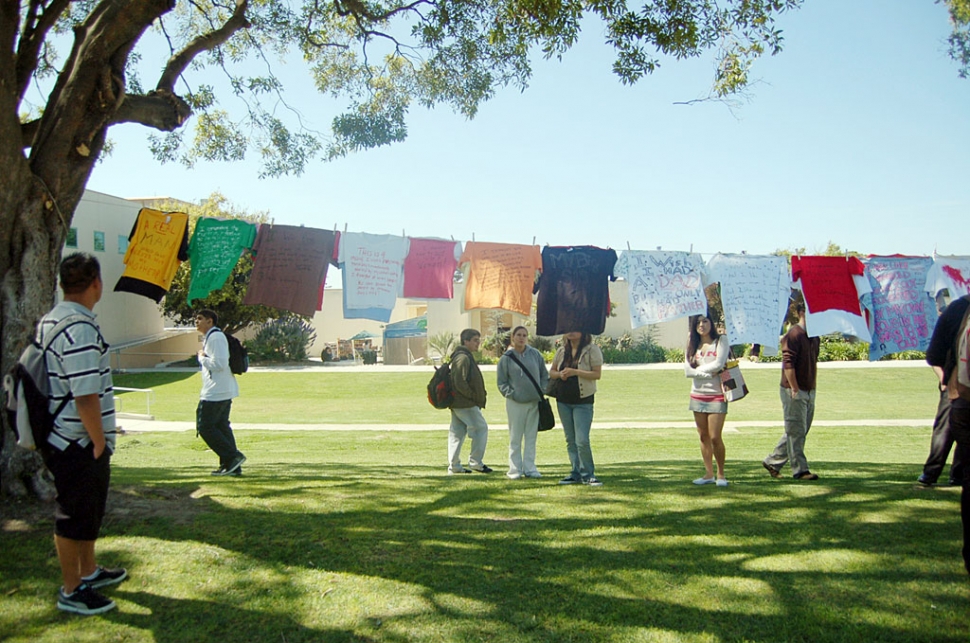 The Survivor Empowerment Project.
By Gazette Staff Writer — Wednesday, October 22nd, 2008
VENTURA: The Survivor Empowerment Project encourages survivors and friends and family members of survivors of domestic abuse, violence and rape to design t-shirts in an attempt to break the silence and end the violence. The Project will be hosted by the Psychology Club on October 29 (Wednesday) from 8 a.m. — 2:30 p.m. on the lawn between the LRC and the Science Building. T-Shirts are provided and the public is invited to participate by creating a tribute t-shirt, visiting the resource booths and hearing the speakers.
Speakers (all in Room UV-2 – times/speakers subject to change):
• Nichole, on Tale of Violence, 8:30 a.m.
• Brittany, Domestic Violence Aftermath 9:30 a.m.
• Sebastian, Transsexuality & Associated Violence, 10:30 a.m.
• La Shonda Blunt, Date Rape & Date Rape Drugs, 11:30 a.m.
• Dawn Reid, Sexual Abuse & Prevention, 12:30 p.m.
• Susy Rios, District Attorney's Victim Services Info, 1: 30 p.m.
Resource Booths Available:
• InterFACE Children and Family Services
• UCLA Santa Monica Rape Treatment Center
• Coalition to End Family Violence
• Rainbow Alliance
• Ventura College Student Health & Psychological Services
• District Attorney's Office, Victim Services
For additional information, please contact Professor Lucy Capuano Brewer at 654-6400 ext. 1395 or Public Information Officer Alisa Moore at 654-6462.