Ventura College Foundation Awards $20,000 in Phoenix Scholarships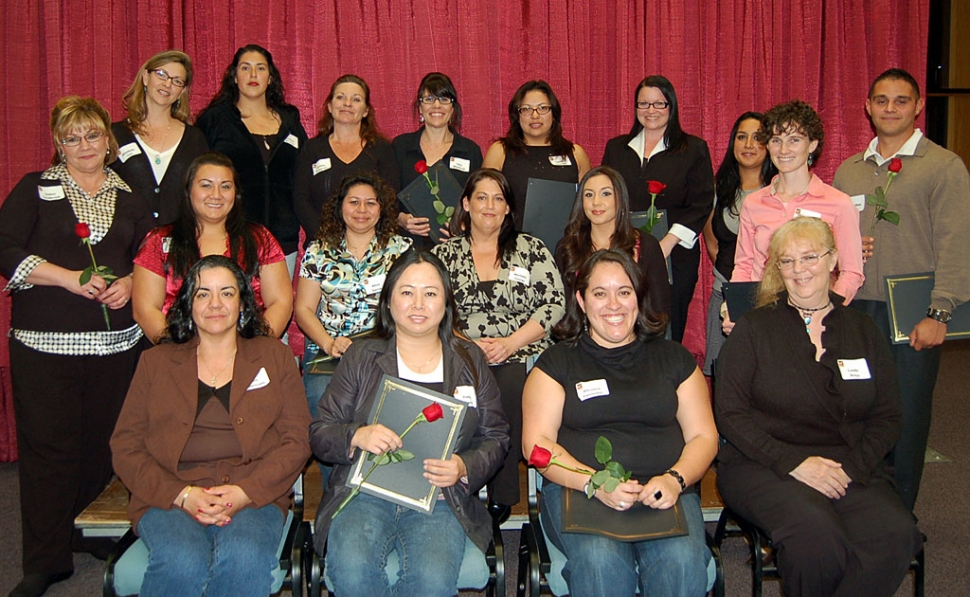 2009 Phoenix Scholarship Recipients: Front Row, left to right: Alma Valenzuela, Patty Vuong, Veronica Cervantes, Linda Price. Middle Row, left to right: Debra Ann Sandbrook, Nichole Arimura, Alma Garcia, Mechelle George, Monet Mendoza, Tara Loughran, Jonathon Rios. Back Row, left to right: Elizabeth Lira, Vanessa De La O, Tammy Anderson, Sara Blackwell, Tonetta Lone Elk, Amanda Agee, Alejanda Sinohui. Not Pictured: Veronyca Zabzdyr, Crystal Kilgore
By Gazette Staff Writer — Wednesday, February 25th, 2009
Norbert Tan, Executive Director of the Ventura College Foundation announced that twenty students have been awarded Phoenix Scholarships of $1,000 each. Dave Bianco, Ventura College Foundation Board Chair, said, "These scholarships are a program of the Ventura College Foundation and named for the Phoenix Rising – symbolizing new beginnings. It is a special program for re-entry students at Ventura College created in 1999 by several of the Foundation's board members." The Phoenix Scholarship Awards Ceremony was held February 18 in Guthrie Hall on the Ventura College campus. The scholarships were presented to the recipients by Foundation Executive Director Norbert Tan and Development Director Diana Dunbar after The Honorable Colleen Toy White, Ventura County Superior Court Judge, member of the Ventura College Foundation board of directors and a Ventura College re-entry student herself, welcomed the attendees and provided a history of the program.
According to Tan, "By definition, a re-entry student is one whose educational progression was either terminated or interrupted prior to completion. Although the program is not limited to 'single mothers,' many re-entry students are single parents who must work, secure childcare and go to school, all at the same time. Simply buying clothes for a growing child can mean the difference between continuing their education and sitting out a semester. Sadly, re-entry students are often caught in a vicious circle; they cannot go to school because they cannot afford childcare and they cannot earn the money needed to pay for child care because they do not have the education needed. In addition, they are often part time students and, therefore, do not qualify for most traditional scholarship or financial aid. The Phoenix Scholarship, by taking care of some of the student's direct educational expenses, makes it possible for these students to continue their education, rather than abandoning their goals. The Foundation generously increased the amount of the scholarship as these costs have continued to rise for our students."
In announcing the Phoenix Scholarship winners, Tan noted that winners of the 2009 Phoenix Scholarships, as do the students of Ventura College, come from around Ventura County.
The winners and cities of residence of the 2009 Phoenix Scholarships are:
Newbury Park: Alma Valenzuela
Ojai: Veronica Cervantes, Elizabeth Lira,
Oxnard: Nicole Arimura, Alma Garcia, Mechelle George, Alejandra Sinohui, Patty Vuong, Veronyca Zabzdyr
Ventura: Amanda Agee, Tammy Andersen, Sara Blackwell, Vanessa De La O, Crystal Kilgore, Tonetta Lone Elk, Tara Loughran, Monet Mendoza, Linda Price, Jonathon Rios, Debra Sandbrook
More about each winner:
1. Amanda Agee, of Ventura, is a single mom of two daughters. An English major who plans on completing her master's degree and teaching at the high school or college level, she works in the Tutoring Center helping her fellow students with their English classes. Antonio Huante said of Amanda in his recommendation of her, "Amanda plans to be an instructor in the future and I have no doubt she will do so. I just wish she'll become one here at VC – she would be excellent."
2. Professor Lauri Moore says of Tammy Anderson, of Ventura, "Tammy took two classes from me as she re-entered school after many years. I witnessed her academic resurrection as she became alive with learning. With a lot of hard work and effort, she was able to earn an A in both my Intro to Sociology and Social Problems courses." Through her achievements, Tammy discovered a love of learning, a way to encourage her children and a determination to help others. She plans to continue her education at CSUCI and become a social worker.
3. Nichole Arimura, of Oxnard, says, "My son Seth is my life's motivation. My son saved me and for that I owe him the opportunity to have a good solid and stable future." In learning to deal with her son's blood disorder, Nicole decided to become a nurse with future plans to specialize in hematology nursing. Nicole is proud to announce that in May, she will be the first in her family to accept a college degree. She wisely shares with her younger siblings, "Education is one of the most important gifts you could give yourself."
4. Sara Blackwell, of Ventura, is a very busy single mom. She has two children, two jobs and is a caregiver to two elderly people. In her free time, Sara works towards becoming a drug and alcohol counselor to work with adults with co-occurring disorders. Says Sara, "Through my personal and professional experiences, I now understand that although we all come from different ethnic backgrounds, cultures, religious beliefs, sexual orientations and circumstances, the one thing we all have in common is that we need to support each other. That is why I have chosen to major in psychology. "
5. Veronica Cervantes, of Ojai, is a single mother whose oldest daughter also attends Ventura College. She currents works as a case aide for Adult Protective Services, investigating claims of neglect and abuse against seniors, disabled and dependent adults, and assisting them with meeting their needs. She is planning to continue her pursuit of a career in social services and will earn her AA this spring, and then transfer to UCSB. She says that as a single parent, this goal will allow her to both continue to support her family and to give back to her community. "I am firmly committed to this plan," says Veronica, "and I am confident this is where my future is headed."
6. A VC counselor says of Vanessa De La O, of Ventura, "Vanessa has endured a great deal of personal hardships and academic setbacks. She has worked hard to overcome these barriers and is now moving steadily towards her goal of becoming an accountant." She is a mother of three who says she wants to become an accountant to "be responsibly independent, master the management of money and achieve spectacular success."
7. Alma Garcia of Oxnard is the mother of four children, the daughter of migrant workers, and the first in her family to graduate high school and go to college. She has earned her AA degree and is currently enrolled in the nursing program. Nursing has been a lifelong dream for Alma. She finds it to be an emotionally rewarding field and the hardest courses she's ever taken. Alma states that she is now in a crucial state of her education, where she must focus all of her time on her education.
8. Mechelle George, of Oxnard, a single mother, is also currently enrolled in the nursing program. She is proud to be a second generation Ventura County resident. Mechelle says, "I believe that it is a privilege to live in such an amazing place, to be given the opportunities I have been given to live, to obtain an education and to raise my child here. I can't wait to give back and help someone else experience all that I have received." Mechelle plans to complete her final courses so she may transfer to a four-year college and ultimately earn a Master's degree in Nursing.
9. Crystal Kilgore, of Ventura, says, "For too long I lived in a shell and let the world pass me by because I was too afraid of failing and making mistakes. This statement is no longer true! Crystal is currently enrolled in the nursing program. Through recent unfortunate events, Crystal found herself in the ER which inspired her to become an ER nurse. She feels she can show the compassion and caring people with urgent medical issues need, without sacrificing the clinical competence necessary to treat them. Crystal would eventually like to obtain her Master's Degree and then enter medical school to become a doctor.
10. Deborah Pollack, an English professor at Ventura College says of Elizabeth Lira, of Ojai, "Elizabeth is returning to school after a long absence from academia. She is a joy to have in class, has a sparkling personality, unique writing voice and compassion for her fellow students. She deserves all of the encouragement, financial and otherwise, we can give her." Elizabeth plans to graduate this spring with her AA and to transfer to CSUCI so she may remain close to her two children. It is her goal to obtain a BA in Psychology, and then work with teens and young adults.
11. Tonetta Lone Elk, of Ventura, plans on transferring to CSUCI to pursue a BA in psychology and then go to complete her Master's to become a psychologist or social worker. Her family has been one of her greatest devotions. Tonetta is one of seven children raised by her mother and is the first to receive a college degree in her family. Tonetta says, "As a Northern Cheyenne Native American, it is my intention to give back to my people.
12. Tara Loughran, of Ventura, wants to be a singer. Since starting the music program at VC, she has grown from being a chorus member in theater productions to taking on independent roles. You will see Tara in the upcoming Opera and Musical Theater productions of "Mozart in Love," and "The Baker's Wife." Tara says in her essay, "People have always said my voice had potential. Now is my chance to turn that potential into power."
13. In his recommendation of Monet Mendoza, of Ventura, Counselor Robert Chaparro says, "Since high school, Monet has been on track to be a health care professional. Her volunteerism suggests a concerned, genuine individual. Monet has to be one of the most, across the board, exceptional students I have met in years." Monet, a single mother, is preparing to enter the RN program with a career goal of becoming a nurse practitioner.
14. Ventura resident Linda Price's goal is to get her Master's degree in Psychology. With so many different aspects of psychology that interest her, she is exploring all her options. She currently has an interest in criminal psychology. She would like to work with children or with those who suffer from post traumatic stress syndrome. Linda is the mother of one daughter and caretaker for her ill mother. Both inspire her to keep following her goals. Linda is currently just one semester away from achieving part of her goal.
15. Jonathon Rios, Ventura, was a former Intelligence Analyst in the Marines. Therefore it comes as no surprise to hear Deborah Pollack, English teacher, say about him, "Jonathon is very hardworking and highly motivated. Despite carrying a full load and commuting, he works 30 hours a week at a community service program. I have every confidence in his ability to accomplish his goals. Jonathon plans to complete his AA and transfer to CSUCI to earn a BA in English. His career goal is to become a writer. He wants to make a difference in people's lives through literature.
16. Debra Sandbrook of Ventura wrote in her essay, "2004 was a pivotal year for me. I had been four years divorced with grown sons. I had longed to attend college for many years but always felt myself too dumb. It took all of my courage just to look at the catalog." Debra has come a long way since then. A successful artist, Debra is working to strengthen her marketing and business skills. She plans to continue her education and earn a BS in marketing and open her own business.
17. Alejandra Sinohui, of Oxnard, aspires to be a Certified Public Accountant. A single mother, she plans to complete her AA at Ventura College and transfer to a 4-year university. Alex says becoming a CPA will allow her to do what she enjoys most, work with people and numbers. Alex will be the first in her family to graduate from college but hopes her children will follow in her footsteps.
18. Alma Valenzuela of Newbury Park grew up learning the need to help others. Her parents both suffered from epileptic seizures and Alma made frequent trips to the hospital. This sparked her interest in Home Health Care as a career. Alma currently works as a home health aide and plans to enter the nursing program to further her career. Alma says she has been impressed with the staff and educational professors at VC. That is why she is confident she can achieve her RN degree.
19. Patty Vuong, of Oxnard, Patty Vuong was motivated by taking care of her nieces and nephews to pursue a career in teaching. Patty is currently working on her child development certificate with plans to transfer to a 4-year university to earn a BA in child development. Her counselor says of Patty, "Patty is a hardworking, self-motivated individual. She will be a most positive asset to the teaching profession."
20. Veronyca Zabzdyr of Oxnard has set a career goal to be a fashion entrepreneur. Veryonyca was a single mother who spent her early days living paycheck –to-paycheck, working overtime and trying to raise her family. Today, she works hard on her education to show her children there is a better way. She has discovered that knowledge is a powerful tool no one can take away. Veronyca says she plans to be the best in her field. Fashion is a fast-paced, competitive industry. She would like to be an inspiration to others through her accomplishments. She plans on continuing her education at a four-year university.
More about the Ventura College Foundation:
Ventura College Foundation, established in 1981, is dedicated to the support and enhancement of the student educational experience through fundraising activities that provide scholarships to students, grants to faculty and staff, and funds for special projects at Ventura College.
Since it was founded, the Foundation and its volunteer board of directors have raised over $12 million to support the students and student services at Ventura College. Currently the foundation provides over $420,000 per year in scholarships and over $500,000 in program and capital support to Ventura College.
The Ventura College Foundation is made up of a volunteer board of 18 community leaders who serve as the Board of Directors, and hundreds of supporters, all of whom are dedicated to enhancing and sustaining the educational experience at Ventura College. Over its history, the Foundation has raised more than $12 million in private support for Ventura College. Though Ventura College receives state funding, that funding falls far short of actually covering the costs incurred in providing educational opportunities for over 14,500 students.
Donors to the Ventura College Foundation take pride in the fact that their gifts have helped to create a very special environment for learning that reflects the characteristics of our community and our students.
For additional information, contact Executive Director Norbert Tan at the Ventura College Foundation, (805) 654-6461, or by email at ntan@vcccd.edu.