Ventura College Educational Assistance Center Hosts Open House October 22
By Gazette Staff Writer — Wednesday, October 22nd, 2008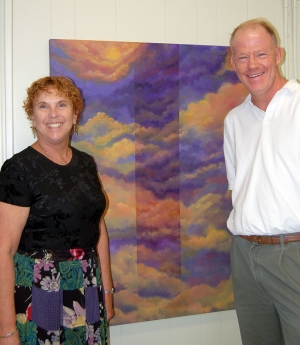 Nancy Latham and Steve Turner
VENTURA: After several years in the FL building plus emergency moves to the LRC and back to the FL Building after a massive flood, the Educational Assistance Center (EAC) now has a new permanent home in the Administration Building. Everyone is invited to visit their new offices on October 22, from 1 p.m. to 4 p.m.; light refreshments will be served.
The EAC relocated their staff and counselors to the former Counseling Office and their test proctoring from Guthrie Hall to the former Admissions and Records Office, providing them with enough space to accommodate them appropriately and making them more centrally located on campus.
The Educational Assistance Center (EAC) promotes the educational and vocational potential of students with disabilities by enhancing their total integration into mainstream college life.
Students with learning, visual, hearing, speech, mobility, and psychological disabilities, as well as acquired brain injury and other health impairments, are eligible to apply for the support services or instruction needed to fully participate in the educational process.
These special services include: one-stop early registration assistance, assessment of learning problems, sign language interpreters, notetaking, readers, transcribers, tutors, mobility assistance, personal, disability-related academic and vocational counseling, handicapped parking, alternative testing, alternate media, assistive computer technology and other assistive devices. Instruction is available in job-seeking skills, adaptive physical education, learning skills, and assistive computer technology. Classroom instructional materials and college publications are available on request in alternate formats.
For additional information, please contact Coordinators Nancy Latham at 654-6400 ext. 3149, or Steve Turner at 654-6415, or Public Information Officer Alisa Moore at 654-6462.