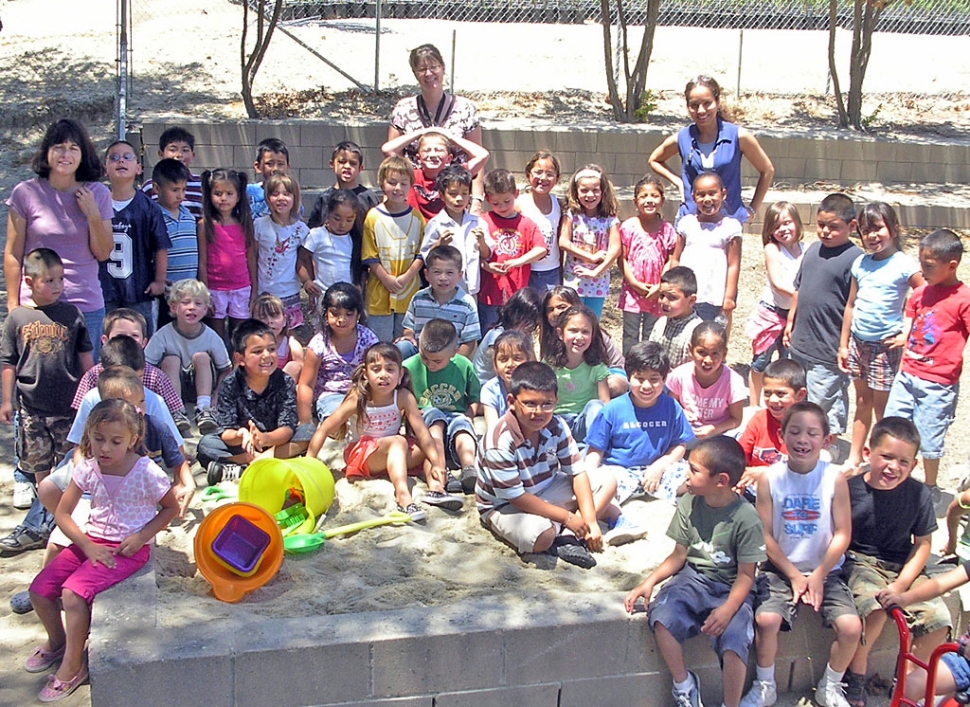 Piru Kindergarten students around their sandbox with teachers (left to right) Mrs. Schaper, Mrs. DeMoss, and Mrs. Dollar.
By Anonymous — Wednesday, May 28th, 2008
Piru kindergartners once again will enjoy a forgotten area of their play yard. Thanks to the donation from a local citizen, a gravel company, and with the labor of Piru kindergarten teachers, Piru kindergarten students will now be able to create, explore and imagine in their newly constructed sandbox. Moorpark resident Edward Martel contributed funds to begin the process of revitalizing the Piru's kindergarten play area while Brandon Theising of P. W. Gillibrand and Company delivered a ton and a half of donated sand to fill the sand box. After school for several days teachers constructed the box, and with some assistance from students dug out the pit. Finally, to the delight of the kindergarten students, the bags of fine sand were poured in to fill the box. This is the first step in a developing plan by the Fillmore School District for the restoration of the play yard. Incoming Piru kindergarten students can look forward to exploring in a rejuvenated playground.