Talk relates journey through madness
By Gazette Staff Writer — Wednesday, February 5th, 2014
USC law professor, author Elyn Saks to speak at CLU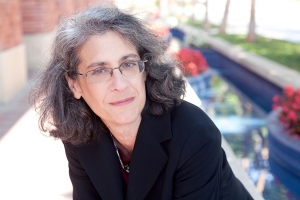 Elyn Saks
THOUSAND OAKS, CA - A University of Southern California law professor will talk about her battle with schizophrenia and acute psychosis at 7 p.m. Tuesday, Feb. 25, in California Lutheran University's Lundring Event Center.
Elyn Saks, the author of "The Center Cannot Hold: My Journey Through Madness," will discuss how she learned to control her symptoms, make peace with the voices in her heard and achieve success as a professor, writer and advocate for the mentally ill. She will sign copies of the 2007 memoir from 2 to 2:45 p.m. in the Pearson Library foyer. Light refreshments will be served during the book signing.
Saks was 8 when her first symptoms appeared in the form of obsessions and night terrors. She experienced her first full-blown episode with voices in her head and terrifying suicidal fantasies as a Marshall Scholar at Oxford University. After a breakdown during her first term at Yale Law School that left her singing on the roof of the school library at midnight, she was taken to an emergency room, force-fed antipsychotic medication and tied to a hospital bed. She spent the next five months in a psychiatric ward and began her journey toward controlling her symptoms.
She was an attorney in Connecticut and an instructor at the University of Bridgeport School of Law before joining the USC law faculty in 1989. She is the Orrin B. Evans Professor of Law, Psychology and Psychiatry and the Behavioral Sciences at USC. She used the money she received as a 2009 recipient of a MacArthur Foundation Fellowship "genius grant" to create the interdisciplinary Saks Institute for Mental Health Law, Policy, and Ethics at the university.
Saks holds doctorates in law and psychoanalytic science and is an expert in mental health law, criminal law, and children and the law. Her recent research has focused on ethical dimensions of psychiatric research and forced treatment of people with mental illness. She has written several books in addition to her memoir including "Jekyll on Trial: Multiple Personality Disorder and Criminal Law," "Refusing Care: Forced Treatment and the Rights of the Mentally Ill" and her most recent release, "Informed Consent to Psychoanalysis: The Law, the Theory, and the Data."
CLU's Pearson Library, Multicultural Programs Office, Campus Diversity Initiative and Center for Equality and Justice are sponsoring the free event.
Lundring Events Center is located in the Gilbert Sports and Fitness Center at
130 Overton Court on the Thousand Oaks campus. Pearson Library is at 135 Chapel Lane. For more information, contact Lala Badal at lbadal@callutheran or 805-493-3942.