Support for the Kids Foundation Volunteers Make Fillmore Kids' Day
By Norma Sandford — Thursday, January 1st, 2009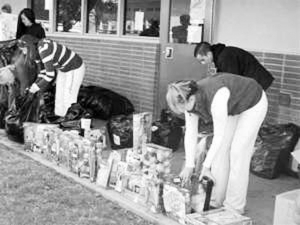 Volunteers setup gifts for the children.
Early Tuesday, December 23, Support for the Kids Foundation Volunteers delivered toys, vouchers to Super A Foods, clothing, department store gift cards and laundry baskets filled with household supplies to Fillmore children and their parents. Homemade cookies were also given to each family as they received their gifts. The excited gleam in a child's eye and their shy smiles are what made these volunteers give so much of their time and generosity.
The Dr. Neil Schmidt Fillmore Family Resource Center served as host to this organization and center volunteers Ronda Reyes-Deutsch, Arli Reyes, Julie Mendez and Norma Pérez-Sandford served as elves on this wonderful festive occasion.
It is now three and one-half years that Support for the Kids Foundation has helped the communities of Fillmore and Piru by providing field trips to Disney on Ice, Chuck E. Cheese parties, and many free tickets to shows at the Performing Arts Center in Thousand Oaks and at Pepperdine University. They also finance summer camps, fall festivals, food pantries, and provide quality used household appliances, clothing and toys. All Fillmore and Piru schools and children have been recipients of their generosity. Lynda Miller, founder of Support for the Kids, was honored for her hard work by the Fillmore Unified School District Board of Education last year.
The Dr. Neil Schmidt Fillmore Family Resource Center is located on the Fillmore High School campus, Room 17 and operates after 3:30 p.m. or by appointment. The Center volunteers' mission is to assist the Fillmore and Piru communities by providing educational information and social and behavioral health referrals to help families survive and thrive.
Among other services, volunteers help community members complete required school or county forms, provide tutoring for the GED exam, parenting classes and instruction for parents on how to use email to contact their children's teachers. The center staff stress how important it is for parents to be involved in the education of their children all the way through the K-12 grades.
If you would like to volunteer at future events, please feel free to call 524-4999, or if you would like to donate to this Fillmore non-profit organization and make a difference, please send a check to Dr. Neil Schmidt FFRC, Rm. 17, 555 Central Avenue, Fillmore.