Student volunteerism earns CI a place on the U.S. President's honor roll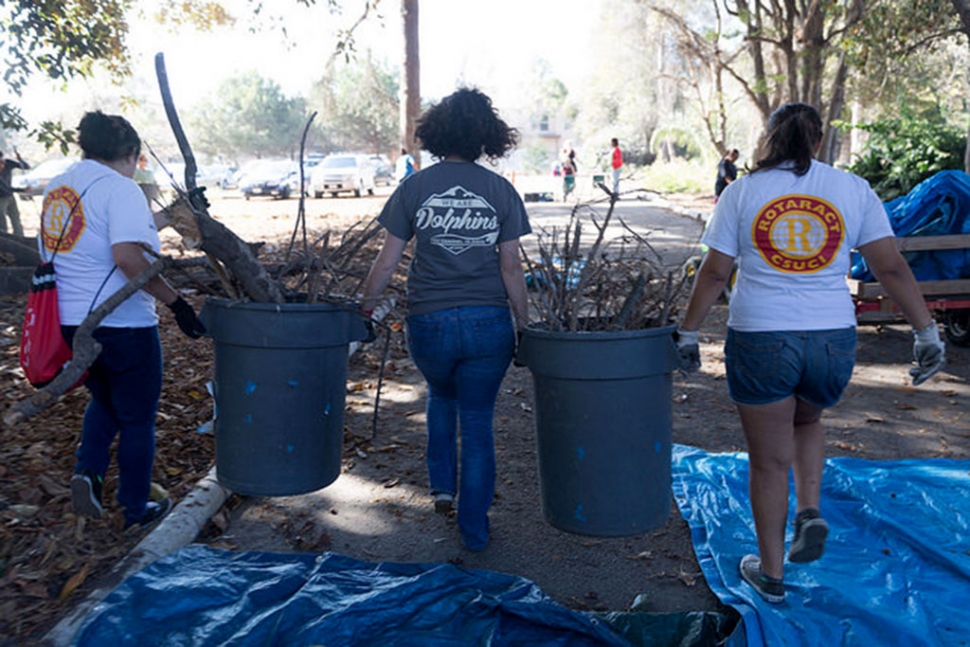 By Gazette Staff Writer — Monday, January 12th, 2015
Camarillo, CA - CSU Channel Islands (CI) closed out 2014 by making the President's Higher Education Community Service Honor Roll for the fifth year in a row.
Each year, the President of the United States recognizes institutions of higher education for their commitment to community service that has made a meaningful, measurable difference. CI is among 15 California State University campuses to receive the national honor in recognition of the students' volunteer service in 2014.
"These students go out in the community and help solve a problem," explained Stephanie Thara, communication specialist for the California State University Office of the Chancellor.
In 2014, more than half of CI's student body— 2,687 students—participated in some form of Ventura County community service for a total of 123,418 community service hours.
"To have CI recognized five years in a row is a great honor and a testament to the power of partnerships between the faculty, the students, and our many community partners," said Pilar Pacheco, managing director of CI's Center for Community Engagement.
Student volunteers spent those hours doing everything from children's reading programs to a preparatory academy designed to light the pathway to college for high school students who may not have considered higher education.
One colorful example of student volunteerism that helped CI make the honor roll is the annual Science Carnival, coordinated by CI chemistry professor Phil Hampton.
For the past six years, CI students have introduced students from kindergarten through eighth grade to the colorful side of science with over 70 hands-on activities, including "Touch a Reptile" with live snakes and lizards; a mock archaeological dig; and the "Gummi Bear Sacrifice," to name a few highlights.
"The screaming Gummi Bears is a classic chemistry demo where you melt an oxidizing agent and drop in the Gummi Bear," Hampton said. "The Gummi Bear catches fire and makes a 'whooshing' noise. This demonstration shows dramatically how much energy is contained in a Gummi Bear."
The carnival drew 150 attendees in 2008, its first year. The 2014 carnival drew about 3,000 kids and parents. "It's been a pretty powerful showcase of STEM (Science, Technology, Engineering and Math)," he said.
The Honor Roll is compiled annually by the Corporation for National and Community Service, a federal government agency that encourages volunteerism and public service, in collaboration with the U.S. Departments of Education and Housing and Urban Development, Campus Compact, and the American Council on Education. CI was one of 766 U.S. institutions of higher education who made the 2014 honor roll.
For more information on the President's Higher Education Community Service Honor Roll, visit www.NationalService.gov/HonorRoll or contact Pilar Pacheco at pilar.pacheco@csuci.edu or 805-437-8851.
About California State University Channel Islands
CSU Channel Islands (CI) is the only four-year, public university in Ventura County and is known for its interdisciplinary, multicultural and international perspectives, and its emphasis on experiential and service learning. CI's strong academic programs focus on business, sciences, liberal studies, teaching credentials, and innovative master's degrees. Students benefit from individual attention, up-to-date technology, and classroom instruction augmented by outstanding faculty research. CI has been designated by the U.S. Department of Education as a Hispanic-Serving Institution and is committed to serving students of all backgrounds from the region and beyond. Connect with and learn more about CI by visiting CI's Social Media.
The California State University (CSU) will reach a significant milestone of 3 million alumni during commencement in spring 2015 and has launched the world's largest yearbook. The Class of 3 Million online yearbook is an interactive platform where alumni can create a profile and connect with the millions of other alumni from the 23 CSU campuses across the state. Alumni who sign up for the yearbook will also be entered into a special contest to win one of three $10,000 scholarships for a current or future student, sponsored by Herff Jones. For more information about the yearbook and the Class of 3 Million, visit https://classof3million.calstate.edu/