State Schools Chief Jack O'Connell Announces California Receives $71.6 Million Federal Ed Tech Grant
By Gazette Staff Writer — Friday, August 7th, 2009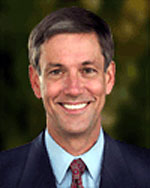 Superintendent Jack-O'Connell
California State Superintendent of Public Instruction
SACRAMENTO – State Superintendent of Public Instruction Jack O'Connell today announced that California received a $71.6 million federal grant from the Enhancing Education Through Technology (EETT) State Program as part of the American Recovery and Reinvestment Act of 2009 (ARRA).
"Teachers who effectively use technology to enhance learning are needed to help prepare students for success in the hypercompetitive global economy," said O'Connell. "I appreciate President Barack Obama's and Education Secretary Arne Duncan's support for education technology and thank the U.S. Department of Education for granting California this award. This will certainly help improve the educational experience for California students during these economically challenging times."
EETT's primary goal is to improve student achievement through the use of instructional technologies in elementary and secondary schools. Other goals include helping all students become technologically literate by the end of the eighth grade and to integrate technology with teacher training and curriculum development to establish research-based instructional methods that can be widely implemented.
The U.S. Department of Education provided this EETT grant to the California Department of Education (CDE) on the basis of its proportionate share of funding under the federal Title I, Part A law that is designed to help socioeconomically disadvantaged students. CDE will distribute the funds by the end of the year to school districts in two ways: half determined by formula and half through grants. The first half would go to local educational agencies that already have approved Ed Tech Plans and will be based on their proportion of the Title I, Part A funds distributed in California. The other half would go to local educational agencies and direct-funded charter schools after they fill out applications being offered in August and are selected through a competitive process.
School districts may then use the funding to integrate technology into the instructional delivery, support professional development for teachers on the use of instructional technologies, support the use of achievement and performance data to inform instruction, and develop public-private partnerships. Activities may include the use of new or existing technologies to improve academic achievement; the acquisition of curricula that integrate technology and are designed to meet challenging state academic standards; the use of technology to increase parent involvement in schools; and the use of technology to collect, manage, and analyze data to enhance teaching and school improvement.
The $71.6 million grant award for California comes from ARRA, which was signed into law in February by President Obama. The portion of the economic recovery package specifically aimed to benefit the nation's schools includes more than $100 billion for elementary, secondary, and postsecondary education; $4.1 billion for early education and care; and $26 billion in education tax incentives. A total of nearly $8 billion is expected to benefit public education in California. This unprecedented investment will provide public education and early childhood programs with critically needed funds that can be used to avoid teacher layoffs, continue efforts to close achievement gaps, and improve educational opportunities for California's children and youth.
For more information on the federal Enhancing Education through Technology State Program, please visit http://www.ed.gov/programs/edtech/index.html.
The California Department of Education is a state agency led by the State Superintendent of Public Instruction Jack O'Connell. The core purpose of CDE is to lead and support the continuous improvement of student achievement, with a specific focus on closing achievement gaps. For more information, please visit http://www.cde.ca.gov or by mobile device at http://m.cde.ca.gov/. You may also follow Superintendent O'Connell (@SSPIJack) on Twitter at http://www.twitter.com/sspijack.