Sheriff Encourages Schools to Prepare
By Ventura County Sheriff Department — Wednesday, March 11th, 2009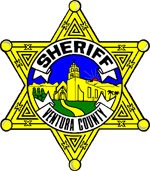 Ventura County Sheriff's Department
Ventura County Sheriff's Office of Emergency Services
The Ventura County Sheriff's Office of Emergency Services is continuing its commitment to community disaster preparedness education by reaching out to the schools in Ventura County.
On February 27th, Sheriff Bob Brooks sent 170 letters addressed to Ventura County elementary and middle schools principals encouraging them to join the effort in promoting disaster preparedness and assisting the children of our community in becoming educated, trained and better prepared. A Ready Kids Activity Book was also enclosed with instructions on how to obtain free copies for children enrolled in the schools. The Ready Kids Activity Book was developed by the U.S. Department of Homeland Security in an effort to educate children on how to prepare for and respond to emergencies.
Response to the Ready Kids Activity Book has been met with enthusiasm. "What a wonderful opportunity to provide a free resource to the schools and educate the children," said Office Manager Sue Luft from Marina West School in Oxnard.
When unexpected natural or man-made emergencies occur, our greatest individual defense is preparedness. Getting an emergency supply kit, making an emergency plan, and being informed about the local hazards in our communities are several things we can do to prepare ourselves.
Educating school administrators on free resources promoting disaster preparedness is one of the many ways emergency officials are promoting disaster preparedness this year. In January, the Emergency Planning Council made a motion to adopt the theme of "Be Prepared Enough To Help Your Neighbor" for 2009. County of Ventura agencies, city representatives, businesses, schools, and non-profit organizations will use this theme to educate residents on the importance of being prepared.
"The theme reminds us that during times of disaster, we not only need to be prepared for ourselves but ready to assist those around us," said Laura Hernandez, Assistant Director of Disaster Services.
For more information on Ready Kids, please visit the U.S. Department of Homeland Security's website at www.ready.gov.
Questions regarding disaster preparedness may be directed to the Ventura County Sheriff's Office of Emergency Services at (805) 654-2551.