Science is child's play at CI's Sixth Annual Science Carnival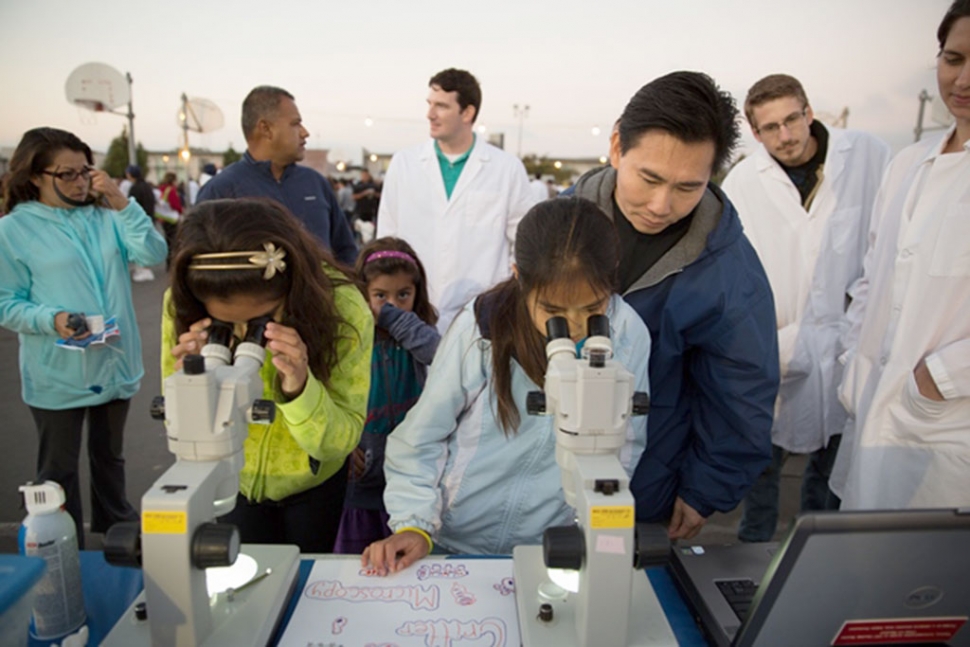 By Gazette Staff Writer — Tuesday, October 14th, 2014
Camarillo, CA - CSU Channel Islands (CI) invites children and their families to launch air-powered rockets, catapult marshmallows, create glow-in-the-dark slime, dig for artifacts, and experience the thrill of hands-on science in the Sixth Annual Science Carnival. The fun, free event is open to all kindergarten through eighth-grade students, and will be held Saturday, Nov. 1, from 5 to 8 p.m. at Thurgood Marshall Elementary School, 2900 Thurgood Marshall Dr., in Oxnard.
This year's Science Carnival will feature more than 70 hands-on science activities and demonstrations conducted by CI faculty, students and community volunteers.
Organized by CI Professor of Chemistry Phil Hampton with the help of colleagues and more than 300 volunteers, the Science Carnival is a multi-partner effort to interest and engage more young students in the STEM fields (Science, Technology, Engineering and Mathematics). Last year's event attracted over 1,600 K-8 students and family members.
Kids can experience the following magical science activities and more:
• Air Rocket Launchers
• Marshmallow Cannon
• Giant Bubbles
• Cosmetic Chemistry
• Mechanical Arm Egg Toss
• Dissecting Sheep Eyeballs
• Pig's Lungs
• Liquid Nitrogen Effects
• Make-Your-Own Bath Fizzer
• Dark Knight Radar
• Archaeological Dig
• DNA Extraction from Strawberries and Bananas
• Colored Flames
• Screaming Balloon
• Glow Powder Drawings
• Haunted Suitcase
• Elephant Toothpaste
• Sugar Pyrotechnics
• Gummy Bear Sacrifice
• Bed of Nails
• Self-Carving Pumpkin
"When kids experience science as play, it opens up a whole new world of possibility and opportunity," Hampton said. "Each year, we add more activities to ignite their passion for science and inspire their interest in scientific education and careers."
The Science Carnival also allows children to extend their Halloween celebration for one more day. The event features science-themed music, spooky refreshments and activities, and encourages children to wear their costumes.
Free parking is available at Oxnard High School and The Church of Jesus Christ of Latter Day Saints, both nearby on Gonzales Street. Courtesy shuttles will run between the two parking areas and the Science Carnival.
Families are invited to bring a picnic dinner or purchase food at the event. Spanish-speaking volunteers will be on hand to lead and translate activities.
Event sponsors include CSU Channel Islands, Naval Base Ventura County, California Los Padres Section of the American Chemical Society, Oxnard School District, Oxnard City Corps, and Party Pleasers. Opportunities are still available for corporate and individual sponsors and for volunteers at the event.
For more information, visit www.csuci.edu/sciencecarnival or contact Phil Hampton, Professor of Chemistry, Director of Project ACCESO, 805-437-8869, Philip.Hampton@csuci.edu.
About California State University Channel Islands
CSU Channel Islands (CI) is the only four-year, public university in Ventura County and is known for its interdisciplinary, multicultural and international perspectives, and its emphasis on experiential and service learning. CI's strong academic programs focus on business, sciences, liberal studies, teaching credentials, and innovative master's degrees. Students benefit from individual attention, up-to-date technology, and classroom instruction augmented by outstanding faculty research. CI has been designated by the U.S. Department of Education as a Hispanic-Serving Institution and is committed to serving students of all backgrounds from the region and beyond. Connect with and learn more about CI by visiting CI's Social Media.