Piru Elementary School Offers 6th Grade Beginning Fall 2009
By Gazette Staff Writer — Wednesday, April 22nd, 2009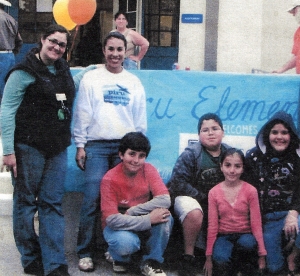 Piru Elementary staff and students take pride in their school.
Piru Elementary School is proud to announce that next year it will be offering a full curriculum to students in grades kindergarten though sixth grade. For a limited time we will be accepting 6th grade students from Fillmore. Bus transportation from Fillmore will be provided. Call the school office now and complete an enrollment packet.
Located just 7 miles from Fillmore, Piru Elementary is a small, dynamic elementary school that supports a vision based on "Educating the Whole Child." Piru was established more than 120 years ago and provides a strong academic program. In fact, over the last two years API scores have gone up more than 40 points! Great things are happening at Piru. Our campus farm is growing, we are looking at green school alternatives, we will be offering outstanding student extra-curricular experiences such as a camping trip to Rancho Allegre, an overnight to Fort Tejon, whale watching, La Brea Tar Pits, as well as a fine arts outreach to a variety of music and dance performances. Piru Elementary has both a music and art teacher. This year Piru Elementary began a college outreach program with students spending the day at either Moorpark College, California State University at Channel Islands, or the University of California at Santa Barbara. Now our students want to attend college when they grow up!
If you are interested in providing a unique learning opportunity for your child in a small rural setting, please come see Piru, where students can experience the best of the past and the future!