By Tom Ito — Wednesday, September 17th, 2014
Vol. #4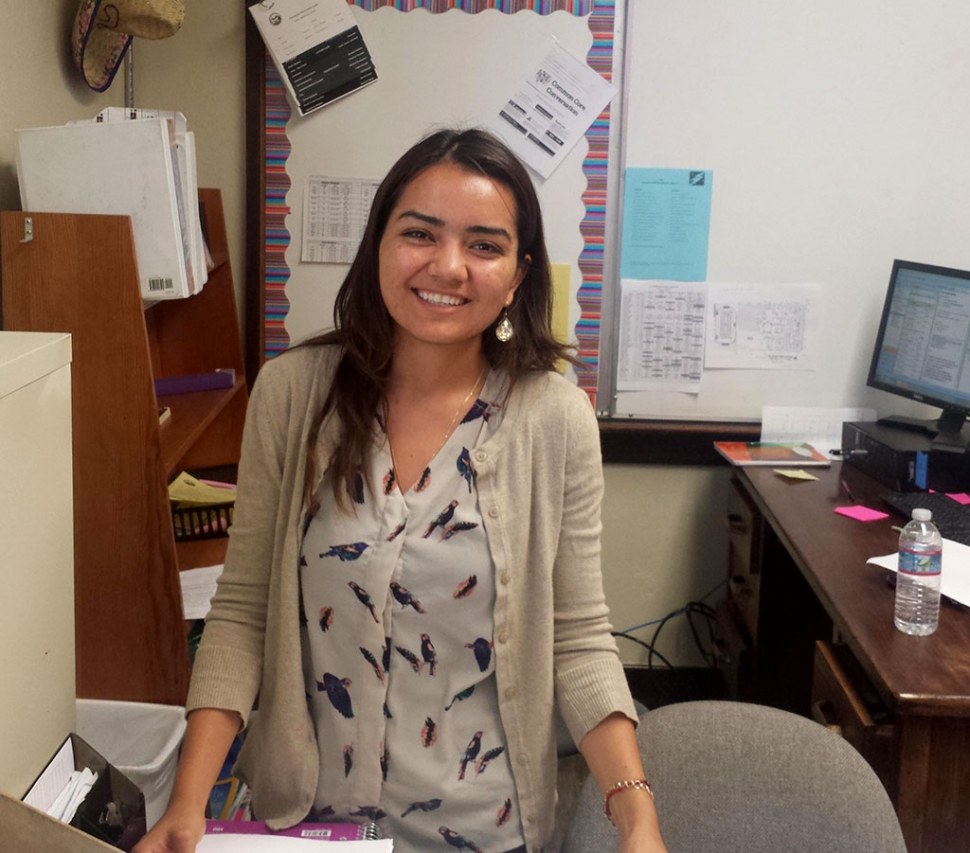 Veronica Ruiz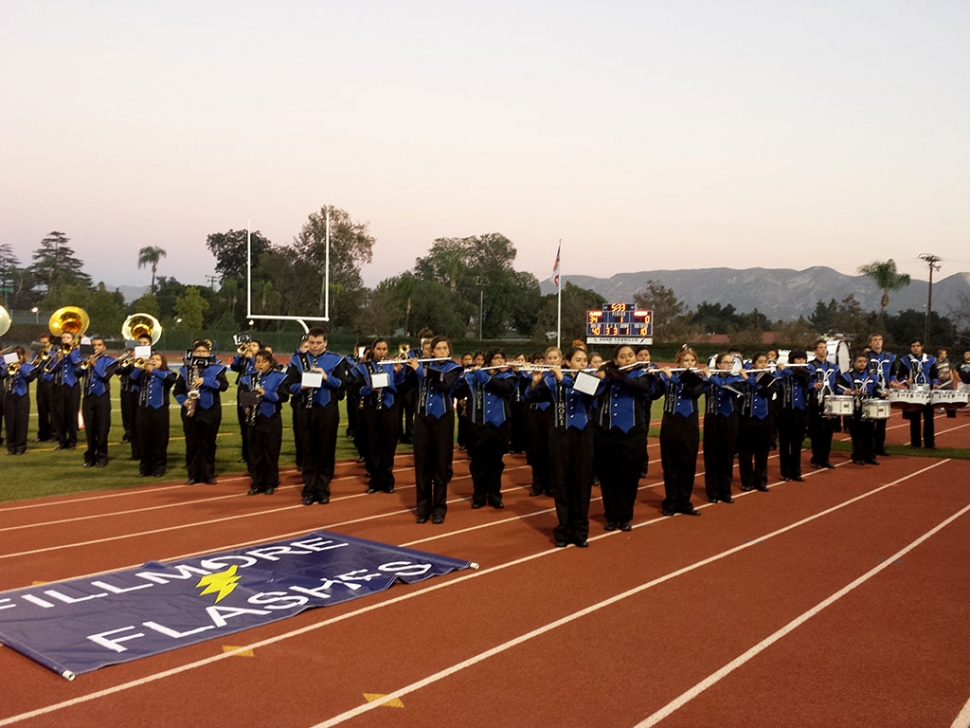 Marching Band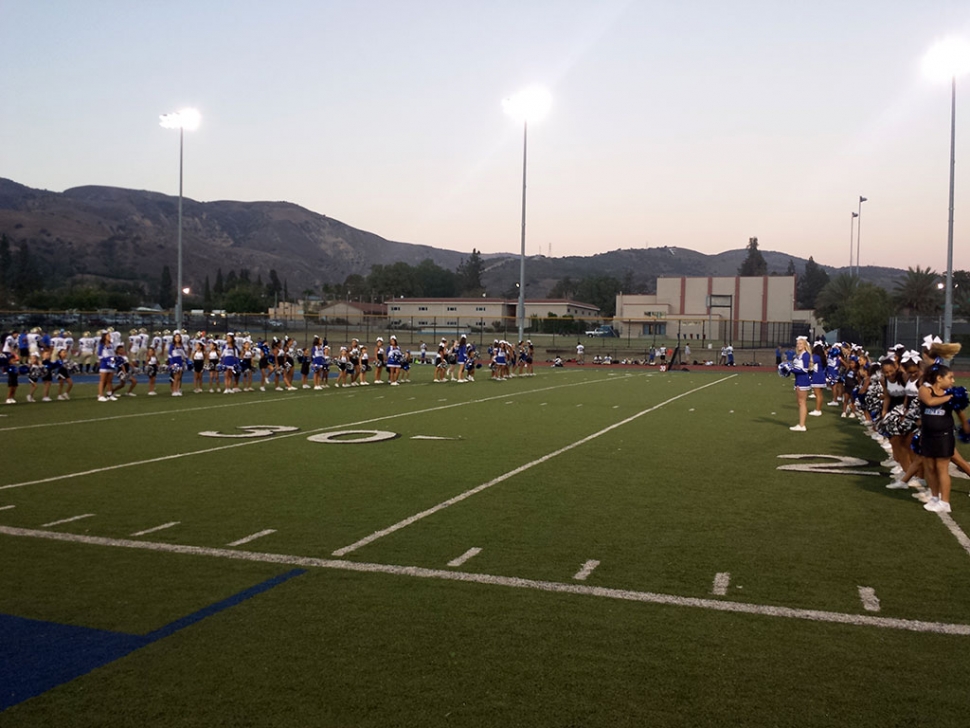 Football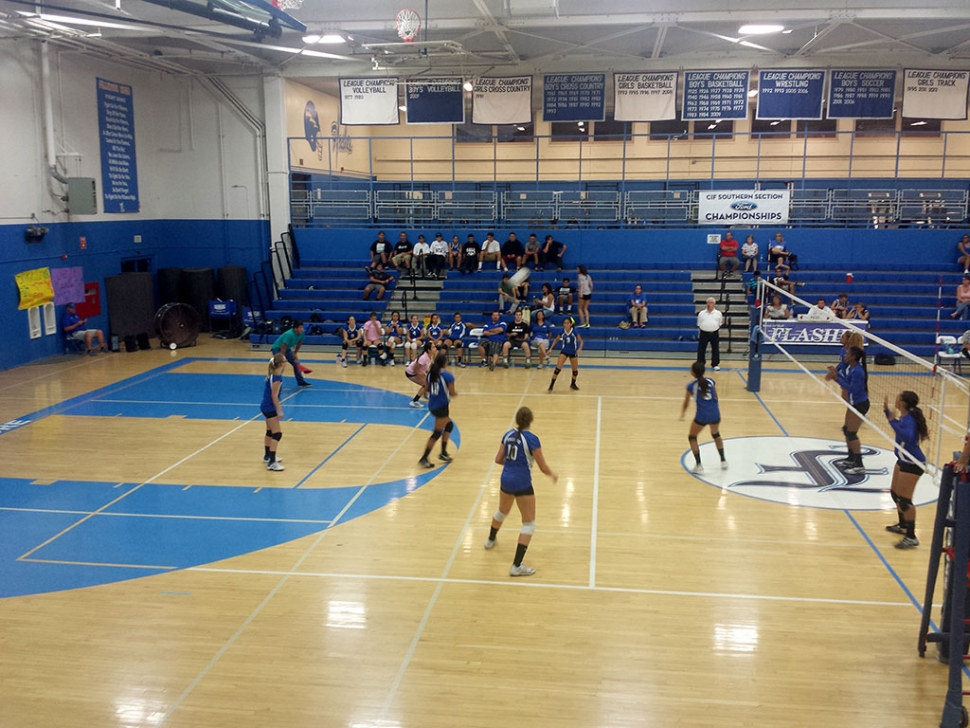 Girl's Volleyball team.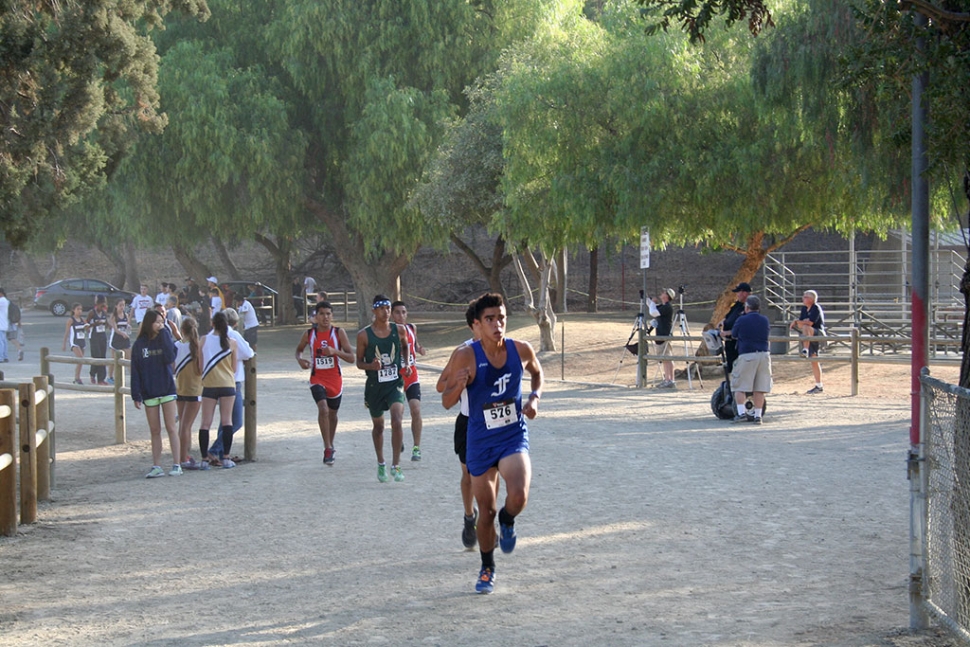 Ismael Dominguez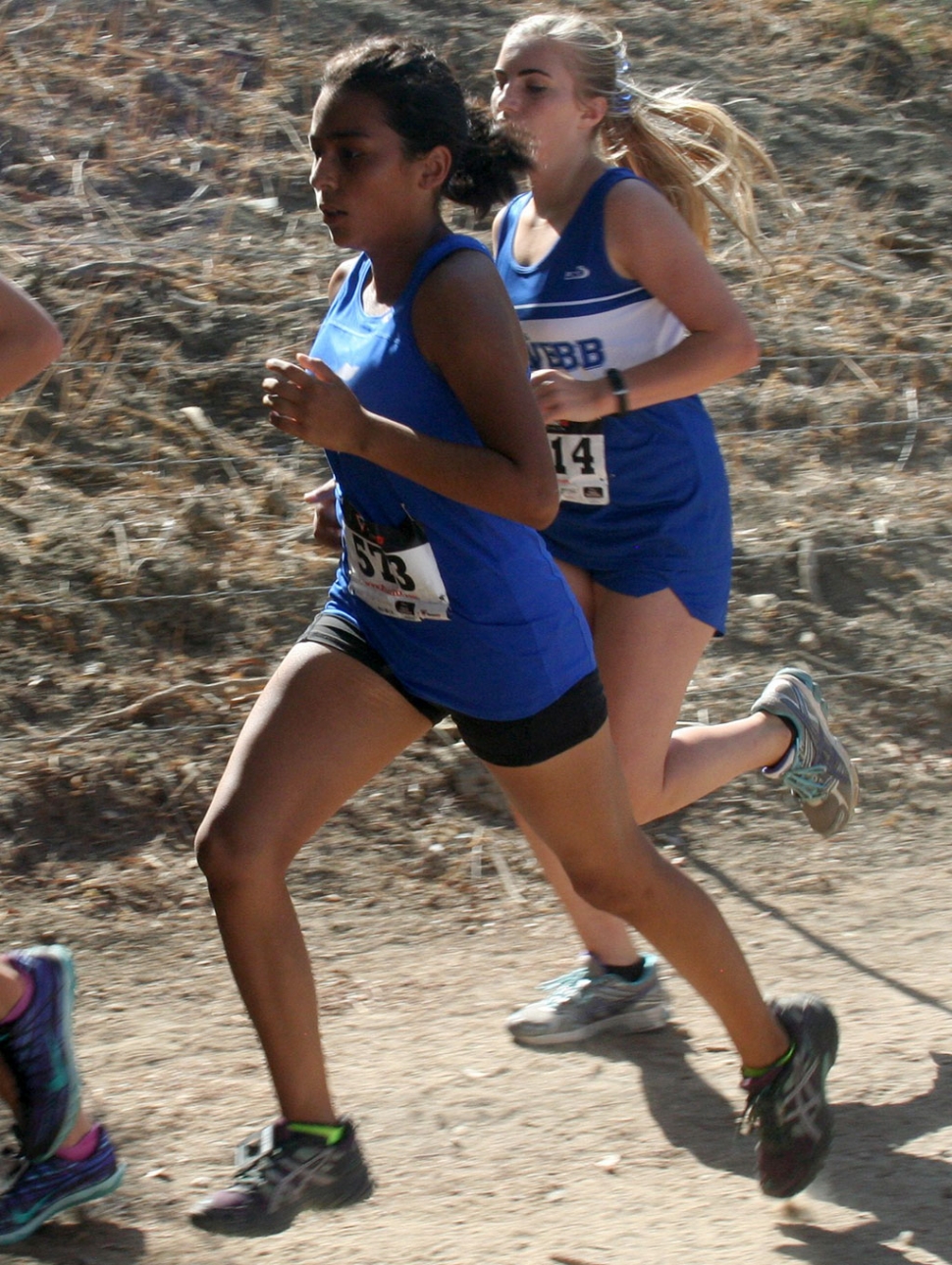 Jackie Chavez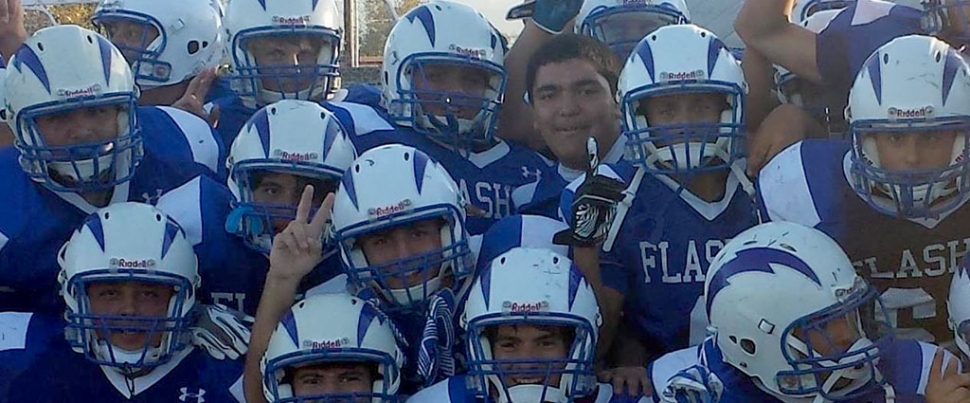 JV Football team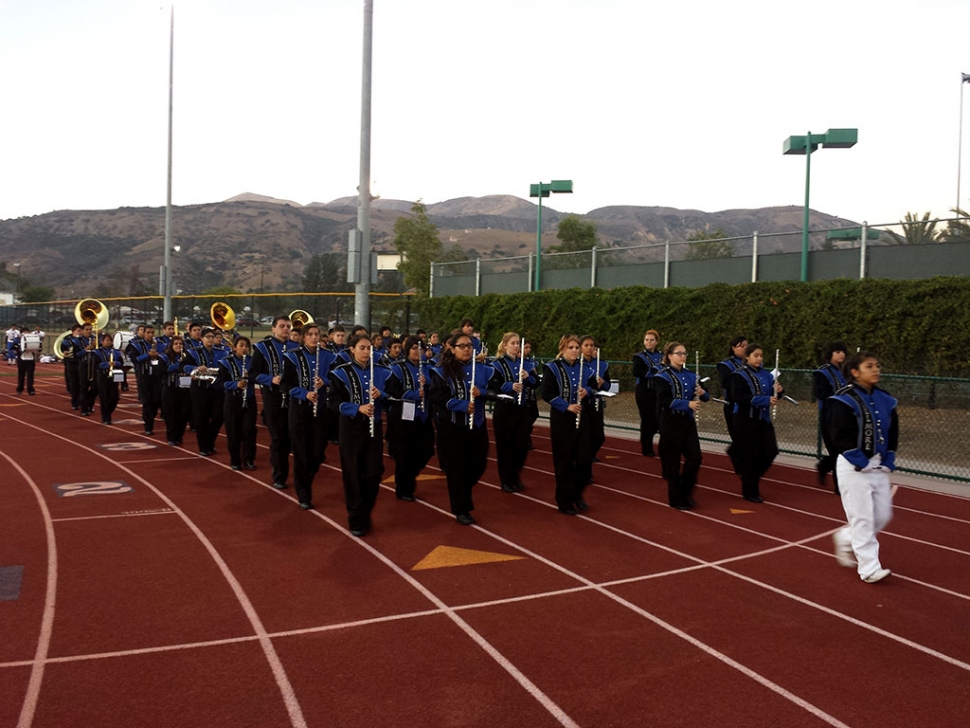 Marching Band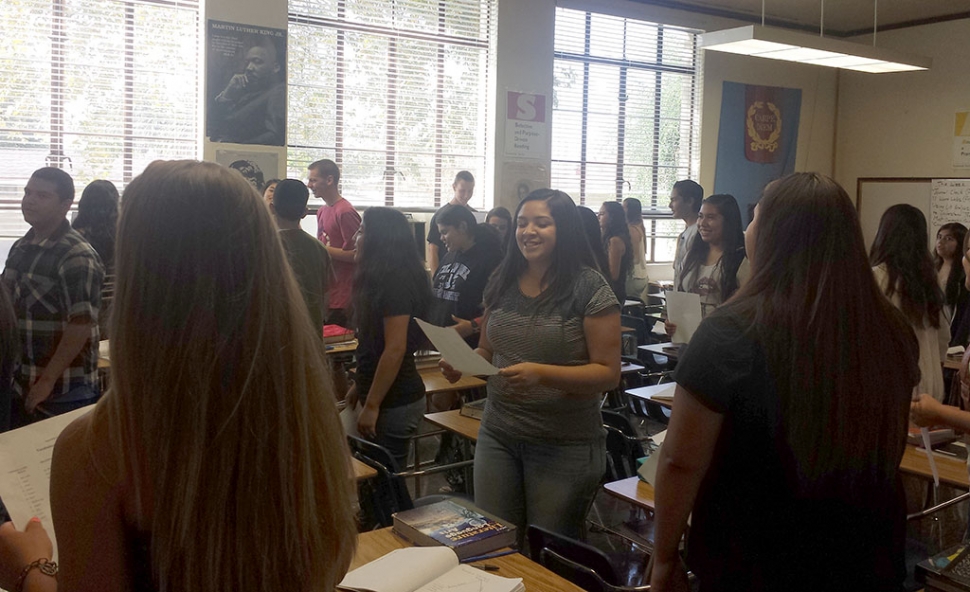 Mr. Murphy's English class.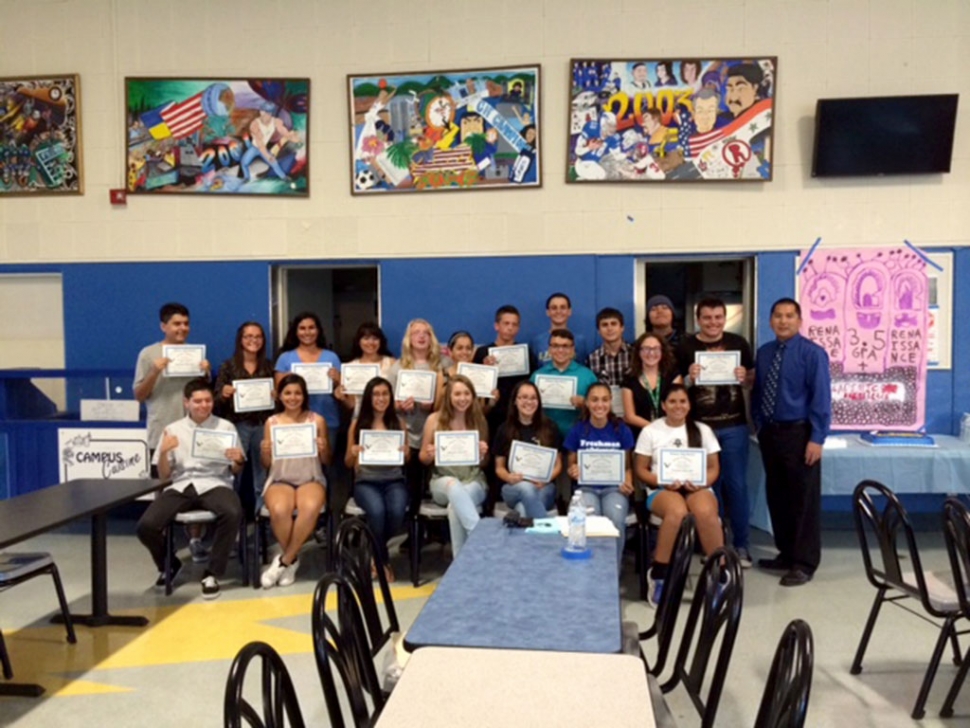 Renaissance Night
This past week was highlighted by excellence in the classroom and the athletic field. I witnessed some very outstanding teaching in the classrooms. Students were challenged to learn at a high level with engaging activities and research based teaching methodology.
On the athletic field, fans were treated to a home football victory as our boys in blue and white triumphed of the Raiders of South Oxnard in a physical battle. Cross Country, Girl's Golf and Girl's Volleyball also had impressive showings.
Looking ahead, last night's Back to School Night will be covered in the next edition of Fillmore Friday Focus. Also featured next week, one of our own is recognized as a hometown hero.
Fillmore's Finest
(The best of the best)
Staff: Mark Kandel and Lynn Cole
Athletes: Xavier Medina and Breanna Berrington
Academics: Kyle Medina and April Cruz
Volunteer: Karen Ashim
Classroom Corner
In Mr. Murphy's English class students stand by what they learn. More specifically they stand and learn. In the above photo students are associating certain words with movement. This method of teaching, known as Total Physical Response (TPR) is proven to increase retention of vocabulary as well as engagement.
Athletes in Action
The Fillmore Varsity Football team evened its record to 1-1 with a hard earned 21-3 victory over the Channel Islands Raiders. They were led by a staunch defense and a strong individual effort by cornerback/wing back Haden Wright.
The JV Football team continued its winning ways with a 34-0 victory over Channel Islands to run its record to a perfect 2-0.
Ismael Dominguez and Jackie Chavez (both pictured) were the Fillmore High School Cross Country Runners of the Week. Both runners ran well at the Fastback Shootout Cross Country Invitational held at Mt. SAC last weekend. The course was less than a traditional 3 mile course measuring around 2 miles in length. The top Filllmore High School times are posted below by grade level.
Fastback Shootout 2014
Boys
Name Grade Race Time Place
Ismael Dominguez Junior 11:17.11 19th
Jorge Hurtado Senior 11:26.73 28th
Johnny Martinez Sophomore 11:55.06 39th
Enrique Gutierrez Freshman 11:56.28 12th
Girls
Name Grade Race Time Place
Jacqueline Chavez Freshman 13:54.27 11th
Maria Perez Junior 14:07.36 26th
Alexis Tafoya Senior 14:21.57 21st
Luz Ruiz Sophomore 14:26.11 47th
The Girl's Volleyball team showed marked improvement as it pushed Channel Islands High School to the brink before falling to them in consecutive games. The Lady Flashes showed a newfound intensity and focus in this game.
9/12 Football @ Oak Park
9/13 Santa Paula Volleyball Tournament
9/16 GVB @ Pacifica High School 6PM
9/16 Girls Golf vs Carpenteria
9/18 Girls Golf vs Foothill
9/18 Girls Volleyball vs Santa Paula
9/19 Cross Country @ Woodbridge Invitational
9/19 Football Santa Paul @ Filllmore
Activities
Renaissance Night was held Wednesday with eighty three students qualifying to receive a certificate of academic achievement. To qualify these students had to have a 3.5 grade point average or higher for two consecutive semesters. Twenty one students were in attendance while the others were at home studying.
Last Friday the Mighty Fillmore Marching Band performed at the first home football game. They played a stirring rendition of the school fight song and the National Anthem before the start of the game. The halftime show was punctuated by stellar band play and a stunning visual display from the auxiliary.
9/15-9/19 Santa Paula Game Spirit Week
9/18 Santa Paula Rally
9/19 ASB Food Day
All in attendance at last week's football game were treated to an outstanding performance by the Fillmore High School, Raider Youth Football and Bear Youth Football cheerleaders. They performed a coordinated routine to various songs from different decades.
According to Fillmore High School Cheer advisor extraordinaire Lynn Cole, the routine was made possible through the efforts of her own cheer squad. The cheerleaders split up into two groups and taught both youth football program's cheerleaders the complicated and highly entertaining routine.
Flashlites
(Fillmore's Newest Staff)
Veronica Ruiz is this week's featured Flashlite. Veronica came to the United States with her family at the age of 12. She credits her teachers with preparing and motivating her to apply for college. In fact, the reason why she went into education is to give back to her students much the way her teachers did for her. She enjoys teaching at Fillmore High School and says that the students and staff have been very nice to work with. She likes Italian and Mexican food. During her spare time she likes to hike, run and hang out with friends.
Important Dates
9/12 Central Station Alumni Club Event
9/16 Faculty Meetings
9/23 School Site Council
9/23 ELAC Meeting
9/24 Secondary Advisory Meeting