By Tom Ito — Tuesday, August 26th, 2014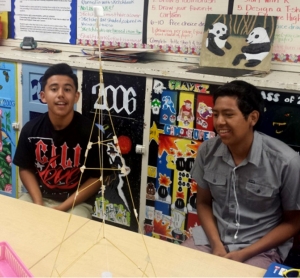 Jesus Ballesteros and Isai Bolanos
School opened on August 14th with a committed staff and eager students. The opening of school went off without a hitch in large part due to the efforts of many dedicated Flashes that put in extra hours preparing over the summer.
During the following week, teachers taught students using a wide variety of methods ensuring that all students had the best opportunity to learn.
Grade level meeting were held on Wednesday in the gym and students learned what was expected of them this school year. At the end of the meeting it was clear to all in attendance that the campus would have a positive learning environment fostering learning and achievement.
As new students continue to enroll, the student body continues to grow, outpacing last year's numbers.
Looking ahead to next week, Fall Sports opens up with the Fillmore Varsity Football team taking on Grace Brethren for a 7:00 PM showdown at Moorpark College.
Fillmore's Finest
(The best of the best)
Staff: Matt Dollar, Barbara Lemons
Athletes: Hayden Wright, Brianna Martinez
Academics: Timmy Klittich, Jene Tarango
Volunteer: Bill Dewey
Classroom Corner
Jesus Ballesteros and Isai Bolanos enjoy their first day in Ms. Mitzenmacher's Art class. They teamed up to create an original structure made of dried noodles, tape, string and a marshmallow. The structure measured 34 inches in height and held up the required marshmallow. The activity was a combination of team building and art.
Athletes in Action
8/28 JV FB @ Grace Brethren 4:00 PM
8/29 V FB vs Grace Brethren @MP College 7 PM
9/4 GFVB Louisville @ Fillmore 4PM
9/4 GJVVB Louisville @ Fillmore 5PM
9/4 GVVB Louisville @ Fillmore 6PM
9/5 JV FB vs CI @ Fillmore 4:30 PM
9/5 V FB vs CI @ Fillmore 7:30 PM
Activities
8/22 Welcome Back Rally Gym 2:05 PM
9/11 Back to School Night Gym 5:30 PM
Important Dates
8/27 District Secondary Curriculum Council D.O. Annex #13 3:15 PM
9/2 Board Meeting D.O. 6:30 PM