Nazi persecution of gays topic of lecture Free presentation scheduled at Cal Lutheran
By Gazette Staff Writer — Wednesday, February 8th, 2017
Feb. 23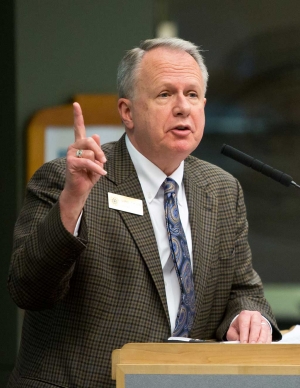 Samuel Torvend
A theologian will discuss state-sponsored persecution of sexual minorities in Nazi Germany at California Lutheran University on Thursday, Feb. 23.
Professor Samuel Torvend from Pacific Lutheran University will discuss "The Passion of Robert Oelbermann: The Persecution of Homosexuals in Nazi Germany" at 7 p.m. in Overton Hall on the Thousand Oaks campus.
Cal Lutheran's Division of Mission and Identity is sponsoring the free event in recognition of the 500th anniversary of the Reformation.
Robert Oelbermann was a gay German Lutheran whose life and suffering exemplify state-sponsored persecution of persons deemed unfit for life under the rule of Adolf Hitler. In 1919, Oelbermann and his brother founded the Nerother Bund youth group, which aimed to bring young people closer to nature through camping and hiking. Like many German youth groups at the time, the Nerother Bund accepted the homosexual relationships that sometimes developed within the organization. After the Nazis took power in 1933, they dissolved all independent youth groups and encouraged members to join the Hitler Youth movement. Oelbermann refused and secretly continued his association with the group.
In 1936, Oelbermann was convicted under the Nazi-revised criminal code that outlawed homosexuality. He and 13 other members of Nerother Bund were imprisoned. Oelbermann was eventually transferred to Dachau concentration camp, where he was required to wear an identifying pink triangle. He died there in 1941 at the age of 44.
In this presentation, Torvend will show how the tentative emancipation of sexual minorities was undone by an ideology rooted in fear of the other, and how persecuted people struggled to lean into life.
Torvend is the Endowed Chair of Lutheran Studies at PLU in Tacoma, Washington. He is working with an international consortium of scholars whose work on economic, political and social questions is being presented during the 500th anniversary of the Reformation this year. He teaches courses and seminars on Martin Luther, the Lutheran heritage, women reformers, Lutheran higher education, Lutheran art and music, and the Reformation. He also teaches the history of Christianity and historical courses on social welfare reform and Christian responses to hunger. He received the 2006 K.T. Tang Award for Excellence in Research.
Overton Hall is located on the south side of Memorial Parkway near Regent Avenue. Livestream and on-demand video recording will be available at CalLutheran.edu/live. For more information, contact Melissa Maxwell-Doherty at 805-493-3589 or revmmmd@callutheran.edu.