Marble Mania continues at Mountain Vista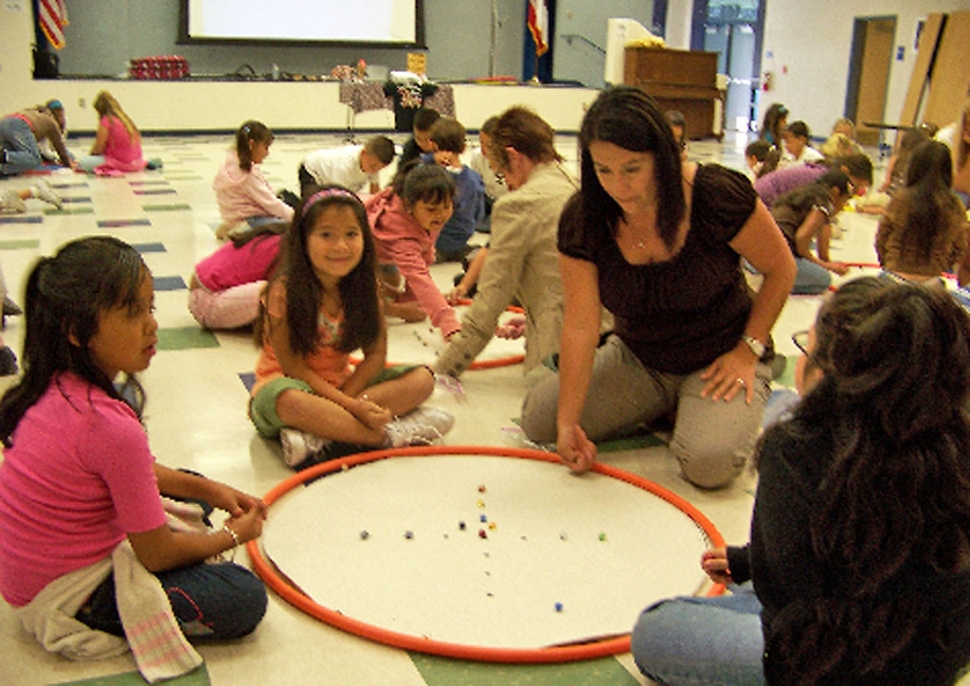 Mrs. Schieferle, Mountain Vista Principal, shows off her shooting skills to Arianna Salas.
By Gazette Staff Writer — Wednesday, October 29th, 2008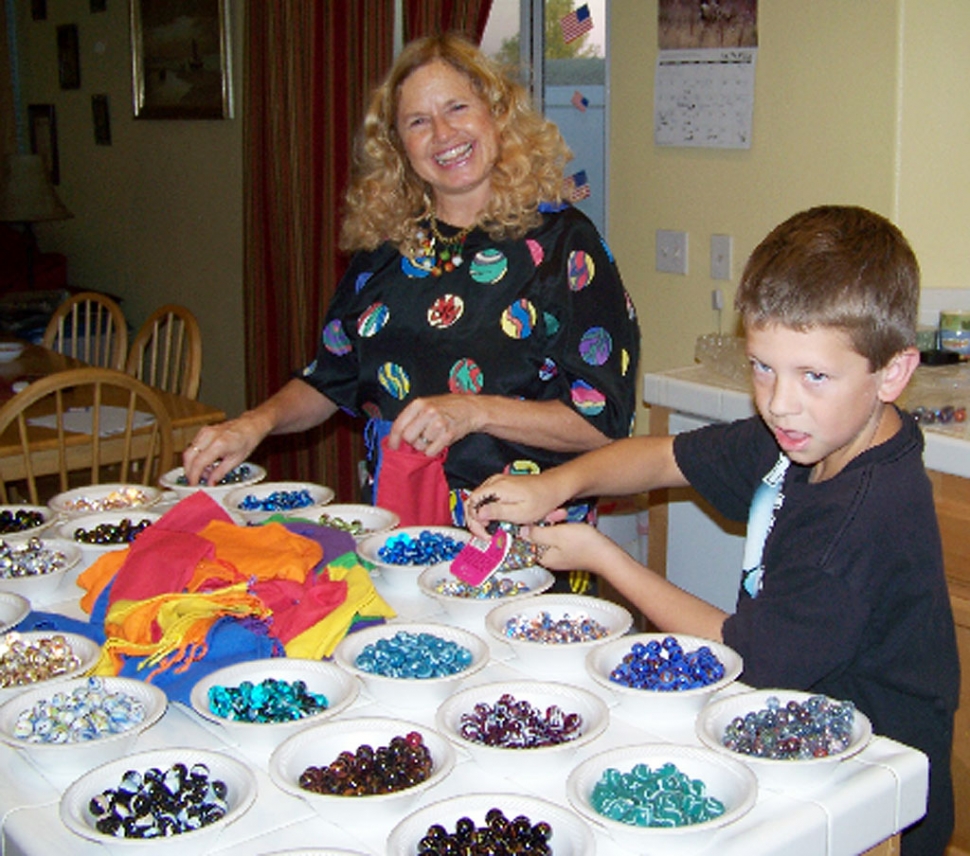 "The Marble Lady" (Cathy Runyan) helps Luke Myers bag over 13,000 marbles for the fundraiser.
Marbles have been very popular at our school since it opened. Kids can be seen before school, during their recesses, and after school out in the yard playing "Poison" a marble game that is played in the dirt. They are so popular that there are school rules just for marbles.
On Tuesday, October 21, Mountain Vista had a special visitor. Her name is "The Marble Lady." Her other name is Cathy Runyan. She is known throughout the country. She came to our school to share her love of marbles with us. She gave 7 assemblies about the history of marbles, her interview from the Today Show, inventions made with marbles, and taught us the National Marble Tournament game called Ringer. She set up mats with hula hoops and let every child play the game Ringer during the assemblies! It was truly one of the best interactive assemblies. She even tied in positive character traits, which is a high priority here at Mountain Vista, by using "Kindness Marbles" to remind us to do at least one kind thing for another person each day.
During the same week, we had a marble fundraiser to raise money for the classrooms. We have sold over 425 bags of marbles! The students are so very excited and the classrooms will benefit, also!
Marbles are amazing little balls of glass. They are so simple in structure, but can be used to do mighty things. Many inventions included marbles, they teach kindness, bring together children who may not normally get together, teach patience, perseverance, and just bring joy to a child…or an adult. If you have not tried marbles, give it a shot! You may find like many of us that even a teacher, a parent, or a grandparent can enjoy the game. Marbles do not discriminate based on age, sex, size, athletic ability, or race. So knuckle down and have fun!
*We want to thank Cathy Runyan, "The Marble Lady" for all of her excitement and for her love of children and marbles. If you would like to contact her, she can be reached at themarblelady.com. We would also like to thank Peter Caperelli at landofmarbles.com for selling us all of the amazing marbles and sharing discounts with all of the students.