Lacayo Vista Leadership Academy celebrates its first group of Latino/a protégés and mentors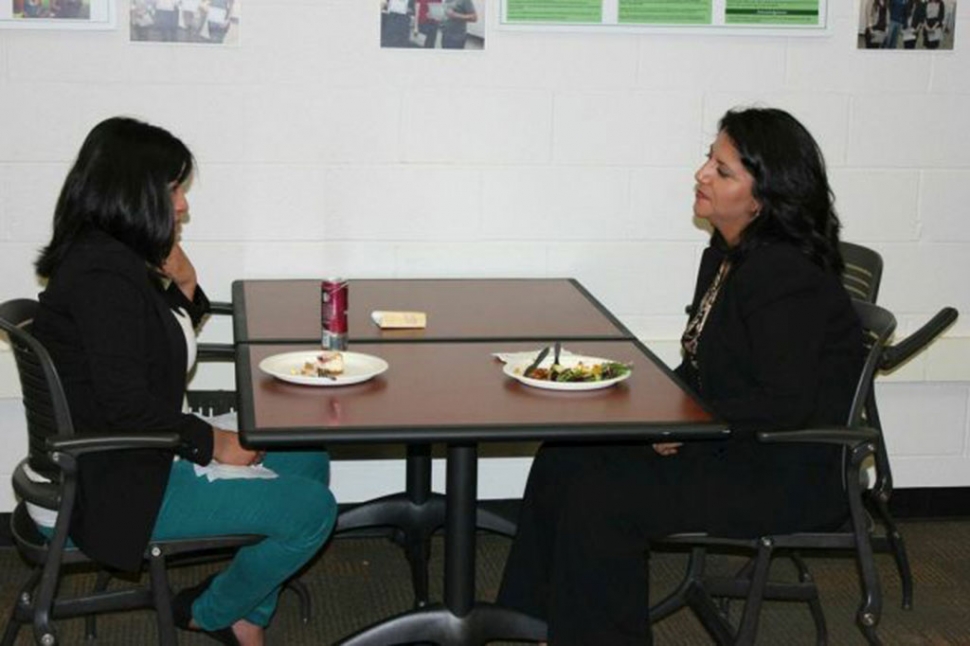 By Gazette Staff Writer — Wednesday, February 4th, 2015
Camarillo, CA - More than 55 percent of Ventura County students in pre-school through 12th grade are Latina/o, yet less than 15 percent of their teachers share their cultural ethnicity.
An academy formed to promote Latina/o leadership education will celebrate the accomplishments of its first cohort of protégés and mentors at a banquet Sat., Feb. 7, 2015 from 6 to 8:30 p.m. in the Grand Salon at CSU Channel Islands (CI).
The seven protégés and eight mentors are the first group to participate in the Lacayo Vista Leadership Academy (LVLA), a two-year old mentorship program created to combat what Latina/o scholars term "The Latino Education Crisis."
"Latinos are the fastest growing demographic in the country and yet they are among the most significantly underrepresented in graduate education," explained CI Associate Professor of Education Kaia Tollefson, Ph.D., who created the LVLA.
In 2013, Tollefson paired rising young Latina/o protégés with Hispanic mentors with experience in education in Ventura County.
For two years, the mentors and protégés met regularly, the mentors helping the protégés with any difficulties or challenges that arose in their careers as young educators.
Briggs Middle School teacher Cynthia Dore was paired with mentor Maria Elena Plaza, a former middle school principal who is now Oxnard School District Director of Human Resources & Public Relations.
"She is so smart," Plaza said of Dore. "She has a mind of her own so I helped her think through her own decision-making. We've had professional conversations, we've had personal conversations. It's amazing to see what a close relationship we've developed through this process."
Plaza's mother was a migrant farmworker and single mother who raised all four of her children to become educators.
Dore's father spent all day in the fields and her mother worked in a factory, but they were never too tired to show up for their daughter's school functions.
"Regardless of how late they got home from work, they were always there," Dore said. "Education was always a priority in my family."
The Academy bears the name of humanitarian, public servant and labor leader Hank Lacayo, advisor to U.S. Presidents and state governors, and a passionate advocate for education for all, especially Latina/os.
"Other people will be making decisions for us, so it's important that we pay attention," Lacayo said. "Hispanics, we can be pretty quiet. We need to take a chance and get involved."
What: Lacayo Vista Leadership Academy Banquet
When: Saturday, Feb. 7, 2015
Where: CSU Channel Islands Grand Salon
Address: One University Drive, Camarillo, Calif.
For more information about the LVLA or this event, contact Kaia Tollefson at kaia.tollefson@csuci.edu or 805-437-3125.
About California State University Channel Islands
CSU Channel Islands (CI) is the only four-year, public university in Ventura County and is known for its interdisciplinary, multicultural and international perspectives, and its emphasis on experiential and service learning. CI's strong academic programs focus on business, sciences, liberal studies, teaching credentials, and innovative master's degrees. Students benefit from individual attention, up-to-date technology, and classroom instruction augmented by outstanding faculty research. CI has been designated by the U.S. Department of Education as a Hispanic-Serving Institution and is committed to serving students of all backgrounds from the region and beyond. Connect with and learn more about CI by visiting C I's Soci al Media.
The California State University (CSU) will reach a significant milestone of 3 million alumni during commencement in spring 2015 and has launched the world's largest yearbook. The Class of 3 Million online yearbook is an interactive platform where alumni can create a profile and connect with the millions of other alumni from the 23 CSU campuses across the state. Alumni who sign up for the yearbook will also be entered into a special contest to win one of three $10,000 scholarships for a current or future student, sponsored by Herff Jones. For more information about the yearbook and the Class of 3 Million, visit https://classof3million.calstate.edu/