Kids Give at San Cayetano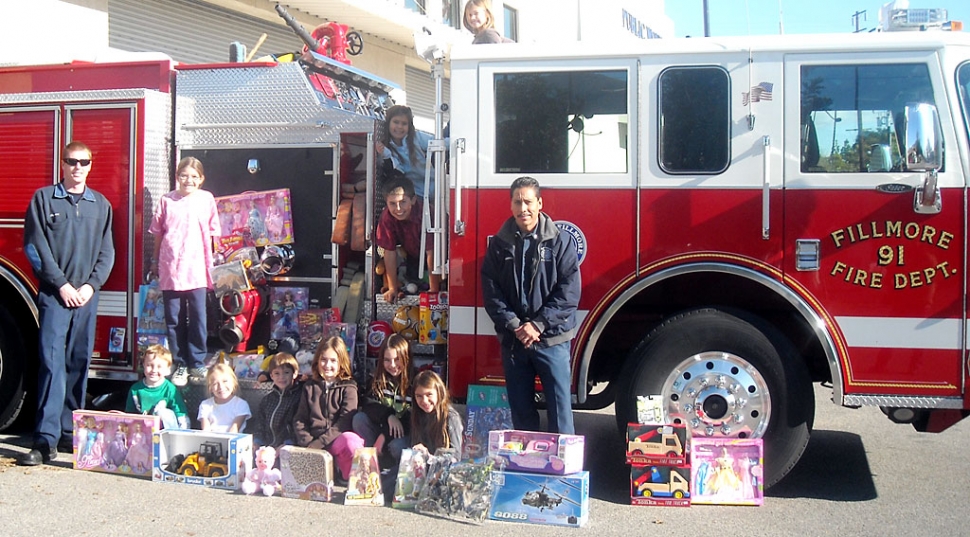 Students from San Cayetano collected items for the annual Kids Give Sale. Pictured are Chad Hope, Tori Villegas, Sara Uriel, Kasey and Dylan Crawford, Cali and Ty Wyand, Rachel, Victoria and Julia Pace, along with Captain Al Huerta and an unknown fireman, left.
By Gazette Staff Writer — Thursday, January 1st, 2009
Students at San Cayetano Elementary School are truly in the spirit of giving this season. It started at the beginning of December when students collected items for the annual Kids Give Sale, organized by the local PEO chapter. The school stage was loaded with stuffed animals, toys, household goods, books, purses, jewelry and much more. As one student put it, "It is a good time to clean out your old stuff before Christmas when you get all that new stuff". On the day of the sale, students were allowed to Christmas shop for their families. There were wonderful bargains to be had as all items were priced at $.25. High school students from One Step Alavez came to assist the shoppers. At the end of the day, $353.00 was raised. With that money in hand, a delegation of students headed over to the Toys and More toy store on Santa Clara Street where they found more bargains. Then they headed over to the Fire Department to donate toys for the annual Toy Drive. It goes to show that the true spirit of giving is alive and well at San Cayetano School.