By Natalie Garnica — Wednesday, February 11th, 2009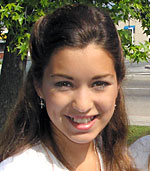 Natalie Garnica
Student, Fillmore High School
The last league game of the girl's basketball season is Thursday at 7:00 – it is Senior night, so be sure to come and see the senior girls play their last home game!
Boys' basketball has a game on Friday at Villanova, and they are busy getting ready for play-offs.
Boys' soccer won both their JV and Varsity games against Malibu on Monday, and they have games against Oak Park and Santa Paula later in the week.
Girls' soccer lost Monday to Nordhoff, but they will be playing Oak Park on Wednesday.
The Drama Club is putting on a play, "Trouble in Dustville", directed by Mr. Overton. It is a Melodrama, set in the Old West, and would be suitable for adults and children alike, provided children are in kindergarten or older. "Trouble in Dustville" will be showing at the high school drama room at seven pm the last two weekends of February. Senior citizens, children, and students with an ASB sticker may purchase tickets for $5, adult tickets are $7. Pre-sale tickets may be purchased from any cast member, and tickets will be sold at the door as well. Attending the play is a great way to show support for the Arts in our community.
For more information, please contact the student store at 524-8491.