By Natalie Garnica — Wednesday, January 28th, 2009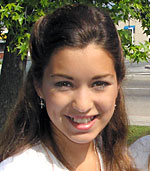 Natalie Garnica
Student, Fillmore High School
Fillmore High School is getting ready for its annual "Pennies for Patients" fundraiser. Each second period class collects as much change as possible to donate to the Leukemia and Lymphoma Society through February 2nd to the 20th. The school welcomes any donations from our community members, and if you wish to donate, call the student store or give to your student's second period class. The competition should get intense, as prizes will be offered to classes that raise over one hundred dollars.
The Alumni basketball game is this Saturday, and our current boy's varsity players will be facing off against alumni from teams of the past. Our basketball teams have been very busy – the second round of league for the girl's team started on Wednesday, and the second round for boy's starts on Friday.
Boys soccer had a game on Wednesday, and is doing well this season.
The wrestling team had a tournament at Santa Paula this week. Congratulations to Sierra Mangus, the only girl on the team. The senior is ranked third in the state for girl's wrestling – this is her fourth year on the team.
Over fifty seniors have received California Scholarship Federation honors for last semester, if not life membership. If one achieves life membership, the recipient wears the CSF gold sash and tassel at graduation. Congratulations to our seniors!
For more information, contact the student store at 524-8491.