By Natalie Garnica — Wednesday, January 7th, 2009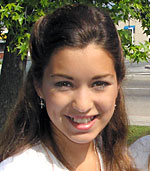 Natalie Garnica
Student, Fillmore High School
It's the start of a new year at FHS, and the students are settling back into the routine of classes. Seniors are finished with applying to colleges, and are gearing up for the plethora of financial aid applications. The last semester of the 2008-2009 school year is sure to go by quickly, but the students of FHS will be busy for the next few months.
Winter sports are still in full swing with the girls' basketball team home against Oak Park earlier in the week, the same day that our frosh boys' soccer team played away at Santa Clara. A boys' basketball game was Wednesday against LA Baptist, and the wrestling team had a tournament at Santa Paula on Tuesday. Because of the new CIF rule that says that sports can start practice any time of the year, baseball try-outs and swimming try outs are on Friday and Saturday. The swim team is counting down the days until the pool opens in town, and is hoping to be able to practice in it by mid February.
The Winter Formal is in two weeks – January 17th to be exact – so be sure to encourage your student to attend the dance.
For more information, please contact the student store at 524-8491.