By Natalie Garnica — Wednesday, October 8th, 2008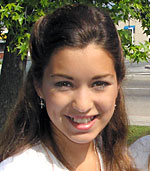 Natalie Garnica
Student, Fillmore High School
Homecoming week was a great success, and student participation was at a record high. All of the floats turned out wonderfully, although there was an upset with the Juniors beating the Seniors for the first time in about 20 years. The senior class did come out ahead in class points, but the juniors were close behind.
Santa Paula Week is the week after we return from our October break, and will include noon time activities, a rally, and a Halloween costume contest to "scare away the Cardinals". The Santa Paula football game will be our first home game in quite some time, so be sure to show your support for our JV and Varsity teams.
On Tuesday the girls golf team had a match away at La Reina and girls volleyball game is scheduled to have a match against Santa Paula on Thursday.
The results are in, and last June 62 seniors qualified for the California Scholastic Federation and will hopefully be wearing the gold sash at graduation. CSF is made by getting As and Bs in core classes for the last five semesters, and in order to wear the sash and become a life member, a student must continue their excellent grades during their senior year.
The Drama Club and ASB are putting together a student Film Festival – high school students may submit a film that could win them a substantial scholarship. Clips from winning films will be shown at a gala event near the end of the school year that the community is encouraged to attend.
For more information, call the student store at 524-8491.