By Natalie Garnica — Wednesday, September 24th, 2008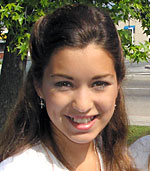 Natalie Garnica
Student, Fillmore High School
We have had a great homecoming week so far at Fillmore High School, and we're only halfway through! Activities have been planned for every day of the week, and although some changes have been made due to our new track and field, it looks like this Homecoming will set the bar high for future years.
The theme of this year's Homecoming is "Its Always Fun and Games in Flashland". The floats will all include some sort of board game, and they are looking great so far. The students have been working very hard, and the freshmen class has persevered despite being without a truck for the first night of float-building. Chaperones are always welcome at the bus-garage, so if you have a student at FHS and are available anytime between 3 and 9pm, we would love to have you.
The Homecoming Court for this year was announced Monday night at the kick-off party for float building. The freshman princess is Anissa Magdeleno and the freshman Prince is Robert Bonilla. Angelica Gonzalez and Angel Barajas are the Sophomore Princess and Prince, and the Junior Prince and Princess are Anthony Chavez and Victoria Ayala. Jill Wilber and Nathan Ibarra, Colin Cone and Rebecca Herrera, and Brina Suttle and Ralph Sandoval are all on the Senior Court, but the winners of King and Queen will not be announced until the rally on Friday.
The annual homecoming parade will be held at 3:00pm on Friday, and this will be one of the few times that the public will be able to see the floats up close, as they are no longer able to drive on the track at the football game. The floats will still be at the football game, but they will be on display only.
Be sure to come to the game on Friday, especially if you are alumni! Football games are a great way to support our schools, and all of the proceeds from getting into the football game go back to the Athletics program. The Lions Club will be making their amazing tri-tip sandwiches, and the Junior Class will be working the snack bar to raise money for prom. This will be our last home game for quite some time, so don't miss out!