By Natalie Garnica — Wednesday, September 10th, 2008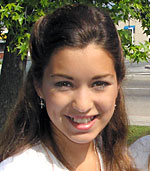 Natalie Garnica
Student, Fillmore High School
The first week at Fillmore High School flew by – the students here have been experiencing a number of positive new changes. We have a new principle, Mr. Wilber, as well as a new assistant principle, Mrs. Green. All of the dirt construction zones from last year have a fresh carpet of green grass, the lunch tables have been freshly painted (thanks to the class of 2009), and the new football stadium held its first football game last Friday. All of these improvements gave the school a clean start this year.
The high school also has enrolled several foreign exchange students. All of them will graduate with the class of 2009, but some of them will continue their schooling once they return home next summer. The four students are from all over the world – Germany, China, Switzerland, and the Philippines. As we have in the past, the students of FHS hope to give them a wonderful American experience.
All of our fall sports have started up – both football teams won their first games against Channel Islands, and they will have another home game this Friday against Village Christian. The girls' volleyball team will have their first match against Frazier Mountain this Thursday. Be sure to support our fall sports – they appreciate it.
For more information, call the student store at 524-8491.