By Natalie Garnica — Wednesday, May 13th, 2009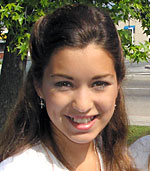 Natalie Garnica
Student, Fillmore High School
The year is starting to come to a close – this last Saturday was the Junior Senior Prom. The Prom was held at the Ventura Theatre and the theme was "A Dream Come True". The Prom Queen was Brina Suttle and Prom King was Jose "Froggy" Estrada.
Aimee Orozco competed at CIF Swimming prelims on Tuesday. At League finals last week she won her 100 yd freestyle, and came in a close second in her 50 yd freestyle. The whole Varsity swim team benefitted from "Fastskin" suits donated by the UCSB swim team. They were lightly used, but the varsity team was ecstatic to be able to swim in suits that are typically reserved for college and professional level use. Fillmore came in fifth at league finals.
The Boys volleyball team has their first round of CIF on Friday at four in the gym against the Glendale Adventist Academy. The team won their game against St. Bonnie and are co-champions of the Condor League. Because they are such a new team, this is quite an accomplishment.
Baseball had three games this week – they are playing against Oak Park and Bishop Diego. Softball had two games against La Reina and St. Bonnie this week, and on the 23rd they are hosting an Alumni "Pay to Play" game. Each alumni pays $25 and all proceeds go to the Softball team.