By Natalie Garnica — Wednesday, March 25th, 2009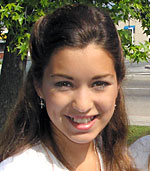 Natalie Garnica
Student, Fillmore High School
The fourth quarter has just started, and FHS is getting ready for state testing. The California High School Exit Exam was last week, and it went well. Teachers will begin reviewing for the state tests soon, our goal is to have an API of at least 700. We met our goal last year, and to get students pumped up for this year's tests we will have rewards for students who improve their test scores.
The Battle of the Sexes week is this week, and included dress-up days, and a week long game of "The Bachelor" – Perry West was the school Bachelor, and 16 lovely ladies began competing on Monday for a ticket to the Sadie Hawkins dance and a gift card to Olive Garden. There will be a rally on Friday, followed by the Powder Puff football game at 7:00. The dance is on Saturday at 8:00pm at the Boys and Girls Club.
Softball had a game on Tuesday against Oak Park, Baseball has games on Wednesday and Friday against Saint Bonnie. Swimming has a meet on Wednesday against Santa Clara, and Track has a meet on Thursday against La Reina and Saint Bonnie.
For more information, call the student store at 524-8491