By Natalie Garnica — Thursday, May 22nd, 2008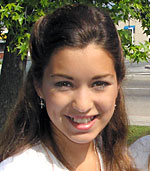 Natalie Garnica
Student, Fillmore High School
The ASB Convention was held on Monday, and delegates from every first period class at the high school chose the nominees for the student government's cabinet positions. The ASB Convention is designed get involved in the election process and ensure that the whole school is fairly represented. The nominees for the 2008-2009 ASB Cabinet offices are as follows: ASB President – Jill Wilber and Bailey Pina; Vice President – Katy Talon and Nathan Liu; Commissioner of Finance – Taylor Atkins and Juan Carlos Toledo; Secretary – Brenda Magana and Kyla Hernandez; Speaker of the House – Lorenzo Guietterez and Garrett Reilley; Commissioner of Publicity – Natalie Garnica and Gabriel Candelario; Commissioner of Activities – Karli Chessanie and Aimee Orozco; Commissioner of Renaissance – Nadia Lomeli and David Watson; Commissioner of Clubs – Megan Louth and Sal Ibarra; and Sergeant at Arms – Nathan Ibarra and Jose "Froggy" Estrada.
The canidates will have campaigned all of this week and each will give a short speech on Thursday at lunch. Voting will take place on Friday, and the winners will be announced on Tuesday. Class elections will be next week, and people who wish to run for a Class office may pick up an application in the office.
The Senior Class Mother/Son Banquet is this Thursday and yearbooks will be here soon – the year is coming to a close. For more information, contact the student store at 524-8491.