Flashes Robotics Team Competes in the Ventura Regional Robotic Competition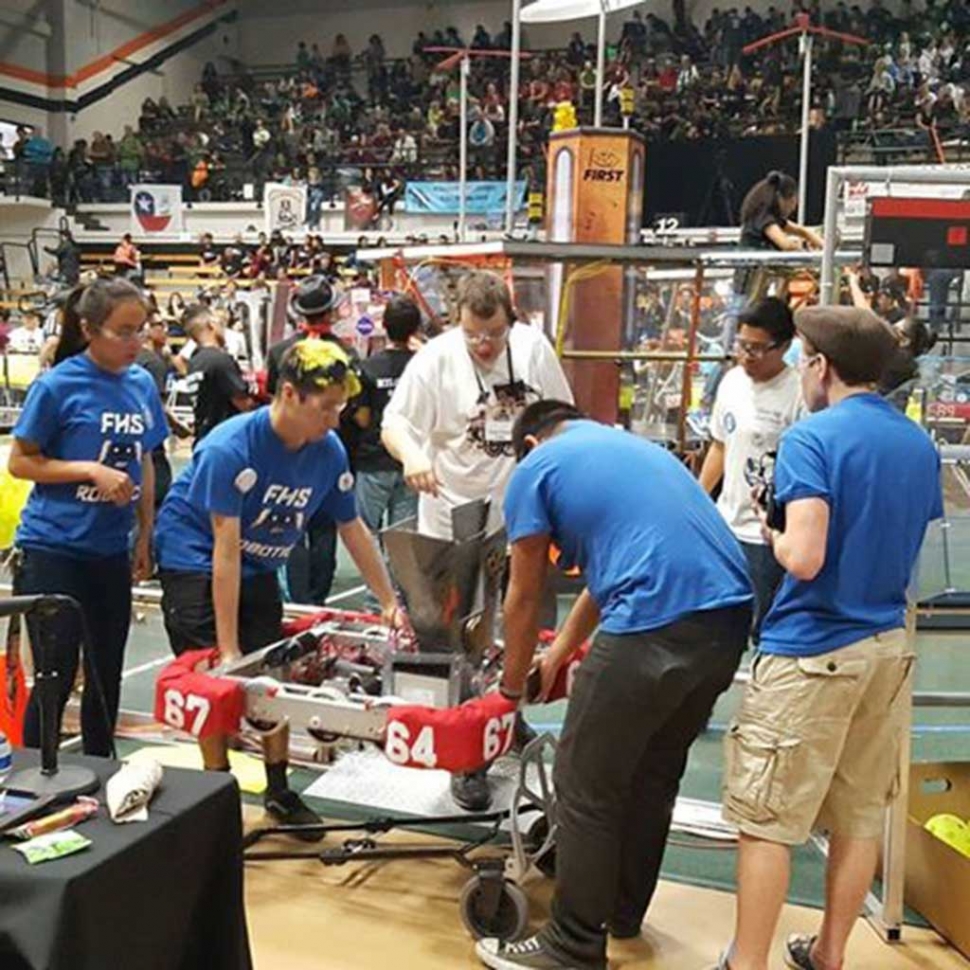 After a very productive round the Flashes team carry "Mr. Roboto," off the field and back to the pit.
By Gazette Staff Writer — Wednesday, March 22nd, 2017
Submitted By Jeremiah MacMahon
On Thursday through Saturday the intrepid engineers of the Fillmore High School Robotics Club ventured forth and competed for the first time in the Ventura Regional Robotics competition. This annual competition is run by FIRST Robotics and features 42 public and private schools of varying sizes. There were even two teams from Hawaii and one team from Chile this year. The team placed 38th and overcame many obstacles on their journey.
The Flashes competed very well for their rookie outing, and have taken to heart lessons learned this year. Having started two weeks late, they only had 4 weeks to design, build, and test their robot. The competition parameters were tough, but the team showed their true character and fielded a durable and functional robot. On Thursday, the practice day, the team discovered their robot was 4 inches too wide. Thanks to some adept metal shop work and some timely assistance from the mechanical lead of the Sparktronics team from Orcutt, the robot was cut down four inches and reassembled under intense time pressure. The team continued into the qualifying matches on Friday and Saturday and consistently scored points both in the programming phase and the human remote operated phase in each match.
The engineering accomplished for this season, the team is already brainstorming ideas for next year's funding sources as well as drafting designs for new electrical, control and drive systems. Fillmore High School couldn't be prouder of the accomplishments of these 20 budding club members from 8th to 12th grade, who sacrificed countless hours, overcame their initial lack of experience, melded with team members they might not otherwise socialize with, and rose to the challenge of building a 3ft x 3ft wireless robot from scratch, utilizing their own ingenuity and persistence.