Fillmore High School WASC Report and Accreditation Status Letter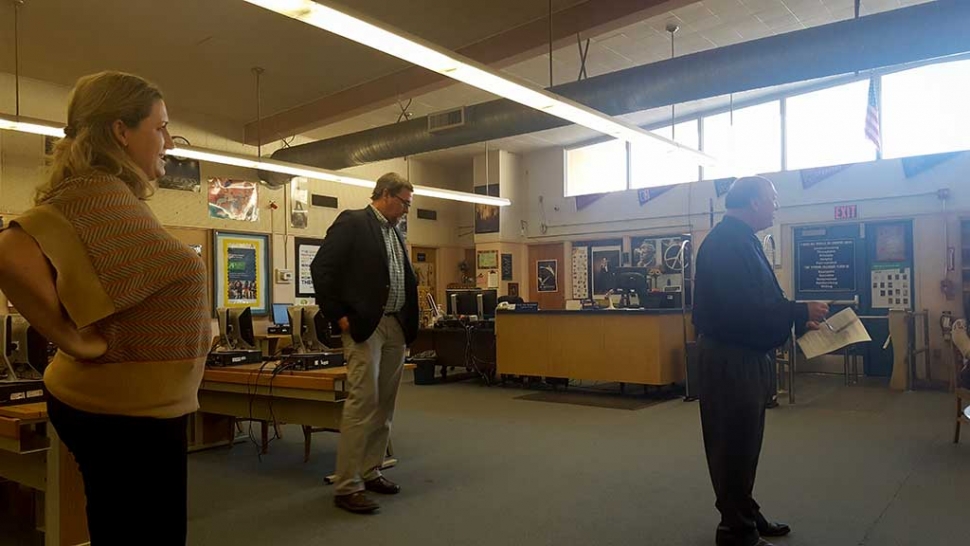 Pictured above is the AC WASC Visiting Committee as they addressed the Fillmore High School Staff back on November 14th 2017 in the high school library. Front and center is Dr. Jeff Davis, David Reese in the back left and Dr. Elise Simmons. Photo Courtesy FHS principal Tom Ito.
By Anonymous — Wednesday, April 4th, 2018
Written by Fillmore High School Staff
On November 12th, 2017 the WASC Visiting Committee, headed by Dr. Jeff Davis, started their two day examination of Fillmore High School. During their visit, the three member team spoke to students, parents, teachers, classified staff and district office staff with the sole intent to evaluate and confirm that Fillmore High School had met the Accrediting Commision for Schools Western Association of Schools and Colleges criteria for accreditation. A large part of their visit was to focus on relationships, technology, teaching practices and curriculum.
In speaking with Dr. Jeff Davis, Assistant Superintendent of Ventura Unified School District, he felt that from the Self-Study Report, everything lined up and looked great, including the focus on best teaching practices, curriculum, campus climate, test scores and other forms of data. He went on to say that everything pointed to the fact that Fillmore High School is on the right track and is a very good school.
Fillmore High School received the following commendation in the visiting committee report, "The Fillmore High School staff values collaboration and meaningful professional development. The staff is willing to implement new programs, try innovative approaches, identify needs and gaps, and pilot new programs in order to support achievement." The direction that we have taken at Fillmore High School, the past 4 years, is that we have experts within our ranks, it is alright to take chances, and the professionals at Fillmore High School are allowed to innovate and create cutting edge programs. The result has been a rise in test scores, data sets and learning, to go along with the empowerment of staff to collaborate both formally and informally.
Another commendation from the visiting committee was, "the increase in instructional technology and its integration into the curriculum is evident schoolwide." This has been primarily achieved, again, through a concerted effort by the Fillmore High School staff. There has been an emphasis on professional development with site funds supporting among other things, the acquisition and use of educational technology in the classroom. We have also had many staff led professional developments on educational technology. This has included the vetting by staff and the purchasing of educational software.
"Students demonstrate a positive attitude and were respectful to the adults and each other." Fillmore High School students are some of the very best in the county. Students are sent to Fillmore High School with a good upbringing but it is the school's responsibility to maintain that in the educational setting. This has been established through setting high expectations with consistent consequences, positive weekly acknowledgement, and a caring climate. There has been a major push towards being kind in all situations. One senior wrote that in the last four years students have been more respectful towards each other and the staff has in turn modeled the positive behavior. When asked by the visiting committee what was the best part of Fillmore High School, the student panel all agreed that it was the adults. The committee said that this has never been said at any of the other schools they have visited and it was outstanding to hear.
"FHS has increased their communication to families and students through their use of Parent Connect and Social Media." The use of Instagram, Twitter and Facebook has served many functions. It has allowed parents to see their children participate in school events, activities and athletics. The community has had an inside look at all of the great things happening at Fillmore High School. Finally, the students have gained recognition for a job well done. The Community and Parent Panel told the WASC Visiting Committee that they feel connected and involved in the school. They also went on to say that above all, with the social media posts, the most important thing is that school administration is at every school event and that means a lot to the community.
"The professional development plans that were developed by the departments...are impressive as they include a needs assessment, goals aligned to the implementation of subject-area standards, and a year-long timeline, and evidence to monitor their plans." This is evidence of the empowerment of staff at Fillmore High School. When staff feels supported and free to explore ideas, the synergistic affect far outweighs any other considerations. There are many more examples of staff led initiatives, too many to mention, but suffice it to say that the power of a hundred united staff members has a strong positive exponential affect.
"The ELD teachers have experienced some turnover in recent years, yet the students are continuing to learn English skills and integrate into the school population." This is the most telling of all WASC Visiting Committee comments. The implementation of best teaching practices and rigorous curriculum is so ingrained into Fillmore High School that the system of learning continues even with a change in teachers/staff. Coupling this comment with the data that clearly shows that EL students have been recently re-designated as proficient at record rates adds credence to the current state of academics at Fillmore High School.
At the closing meeting on November 14th, in front of the school and district staff, the WASC Visiting Committee gave a final report. The comments were very positive and encouraging but what made it more valuable was that two members of the committee, David Reese and Dr. Elise Simmons were also at the initial WASC visit in 2014. Their longitudinal perspective was very insightful. Dr. Simmons, Principal of La Cuesta and Alta Vista Alternative HS, Santa Barbara USD, spoke about how things at Fillmore High School have greatly changed for the better in the past 3 years. "When we were here in 2014 there was no sense of connection between staff, parents, students and community...now the connections are so deep that they are visceral." David Reese, Principal of Bakersfield High School, Kern HSD, went on to expound on how there have been so many things added to the school in the past three years and that the students have been the beneficiaries of it.
On February 8th, Fillmore High School received positive confirmation in a letter from the WASC President Fred Van Leuven, Ed.D., "Based on the ACS WASC mid-cycle review, it has been determined that Fillmore High School (9-12) meets the ACS WASC criteria for accreditation...Fillmore High School's accreditation is now reaffirmed through the end of the six-year cycle ending in June 2021."