Fillmore High School Cross Country Team Goes to Mammoth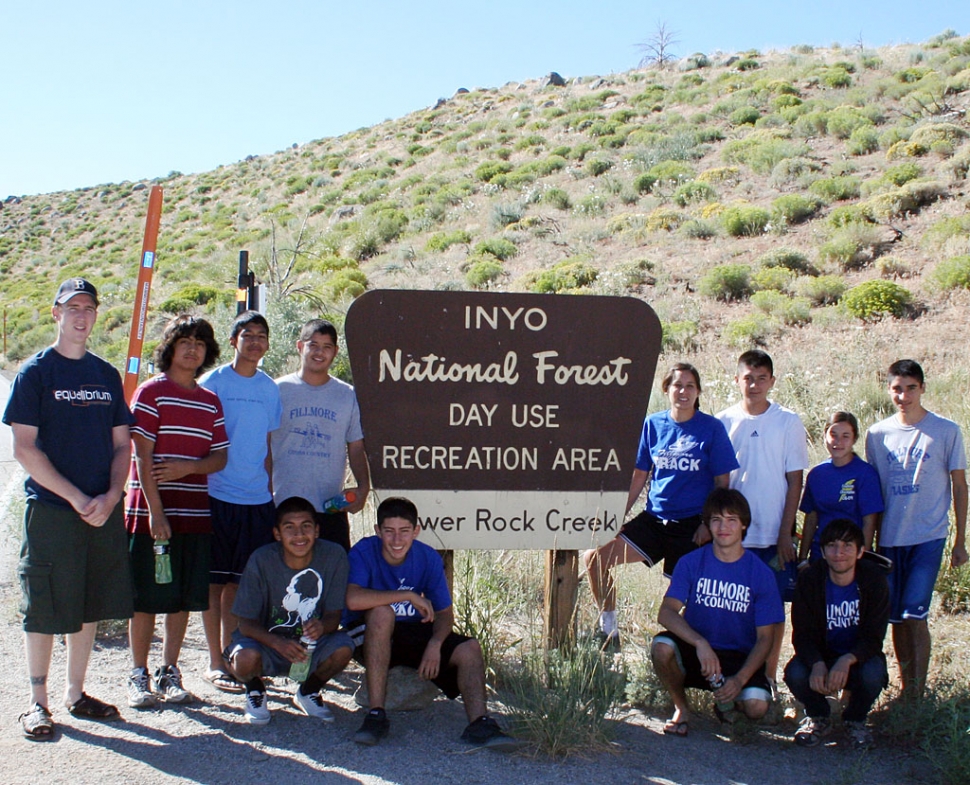 Picture at Lower Rock Creek Trail: Top Left to Right: Coach Paul FitzGerald, Christian Rodriguez, Alexander Gonzalez, Anthony Rodriguez, Coach Kim Tafoya, Jovanni Rubio, Danielle Diaz, Jose Sillas. Bottom Left to Right: Paul Gonzalez, Anthony Chavez, Miguel Ochoa and Ernesto Lorenzano.
By Gazette Staff Writer — Wednesday, August 20th, 2008
Last week, nine boys and one girl from the Fillmore High School Cross Country team spent a week of their summer training in Mammoth Lakes, California. The runners trained in the upper elevations that were as high as 8,500 feet. Each morning and evening the ten high school runners and coaches would lace up their shoes and experience the many trails that Mammoth Lakes has to offer. Each trail was different in level, some were strenuous which included a never ending up hill workout, others were moderate with steady inclines and declines throughout the run and others that were longer in distance, 10 miles one day were easy runs. Some of the trails were right along a creek, Lower Rock Creek near Convict Lake, while others were in a never-ending forest, Inyo Crater Trail near the Mammoth Scenic Loop. Each and every trail was unique in level and scenery. By the end of the trip all ten participants came back stronger and ready to begin the 2008 Cross Country Season. The Mammoth participants included, two seniors, Miguel Ochoa and Jose Sillas, both of whom were name co-captains for the season, Juniors, Paul Gonzalez, Anthony Chavez, Anthony Rodriguez, Ernesto Lorenzano, and Danielle Diaz, Sophomore, Jovanni Rubio, and Freshmen, Alexander Gonzalez and Christian Rodriguez. We would like to thank the following for their donations and support of our 1st annual Mammoth Training, The Fillmore Water Store, William and Esperanza Chavez, thanks for the movie night!, and lastly the parents.