Fillmore educators attend national teacher workshops at NASA
By Anonymous — Wednesday, July 30th, 2008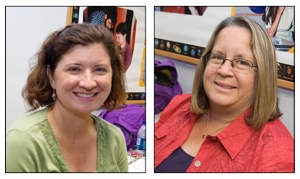 Inger Overton and Jan Marholin
Two educators from San Cayetano School in Fillmore, Calif., took on the role of students this week at a national educational workshop at NASA's Langley Research Center in Hampton, Va.
Principal Jan Marholin and Teacher Inger Overton were two of about 40 educators who took part in the "Building Partnerships for Sustainability" workshop. Participants traveled from across the United States to learn about the latest NASA projects, tour NASA facilities and attend seminars taught by NASA researchers, engineers and technicians.
The workshop, which ran from July 20 to July 25, was hosted by NASA Langley as part of the NASA Explorer Schools program. Through this program, NASA establishes three-year partnerships with schools across the nation. The goal of the program is to improve teaching and student learning in science, technology, engineering and mathematics.
During the workshop, school leaders discussed strategies for sustaining the explorer schools project beyond the three-year partnership. The sessions also exposed educators to new technologies they can use in the classroom. After completing the workshop, teachers can forge ahead into the new school year ready to integrate NASA content and hands-on activities into their everyday lessons.
"The teachers and administrators showed a lot of enthusiasm for developing creative ways to incorporate NASA content into classroom activities to stimulate enhanced interest in math and science," said Rudo Kashiri, NASA Explorer Schools coordinator at Langley.
To learn more about the NASA Explorer Schools program, visit: http://explorerschools.nasa.gov. For information about NASA research and exploration, visit: http://www.nasa.gov.