Exploding pumpkins and flaming gummy bears among 120+ science activities at CSUCI Science Carnival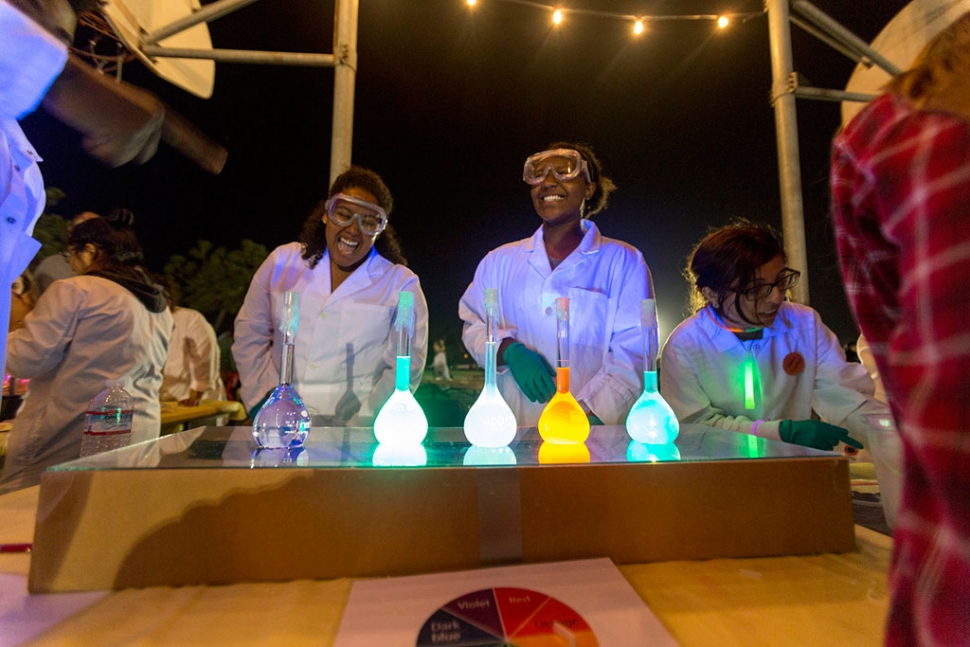 By Anonymous — Wednesday, October 31st, 2018
At least six museums from Ventura and Santa Barbara counties will participate in this year's free CSU Channel Islands (CSUCI) Science Carnival on Saturday, Nov. 3 from 4 to 8 p.m.
The Santa Barbara Museum of Natural History; the California Oil Museum; the Channel Islands Maritime Museum; the Western Foundation of Vertebrate Zoology; kidSTREAM Children's Museum; the Discovery Center for Science and Technology; and the United States Navy Seabee Museum will be contributing to the 120+ hands-on science activities at the Rio Vista Middle School at 3050 Thames River Drive in Oxnard.
The 10th Annual Science Carnival will offer science-rich demonstrations that flame, ooze, dance, explode, scream, play music and generally delight pre-K through 8th grade kids and kids-at-heart, all in the name of encouraging youngsters' interest in science, technology, engineering and mathematics (STEM).
"You come to the Science Carnival and enjoy yourself, but what's just as important is what you do after you leave to keep STEM learning alive," said Science Carnival Founder & Director Phil Hampton, Ph.D. and Professor of Chemistry. "It's a way to help families see ways to continue to enrich their kids' STEM learning outside of the classroom."
The 10th annual Science Carnival will include new exhibits as well as crowd-pleasers such as the screaming Gummi Bears; self-carving pumpkins; Flubber, Oobleck (the goop in the Dr. Seuss book "Bartholomew and the Oobleck), air-powered marshmallow shooters and glow in the dark slime that kids can create themselves.
"It's so easy to turn a kid off to science and STEM education," Hampton said. "But if you can get them interested in something that gets them excited, you can show them science doesn't just happen in a classroom. You help them make slime and talk about something called a polymer. You can talk about solids, liquids and gases."
Representatives from CSUCI's STEM programs such as Chemistry, Biology, Computer Science, Anthropology, Physics and Environmental Science & Resource Management will all have activities designed to intrigue young scientists such as underwater remotely-operated vehicles, elephant toothpaste and the flaming magnesium lantern.
Moorpark, Ventura and Oxnard Community Colleges will be involved along with several schools from Ventura County. Students from Rancho Campana High School in Camarillo have built a PVC pipe organ, a devise first used by the famous Blue Man Group entertainers.
All three of the weapons commands from Naval Base Ventura County (NBVC) — NAVAIR, NAVSEA and NAVFAC — will have booths with hands-on displays representing what each command does.
Also new this year is the Young Scientist program in which parents can purchase a behind-the-scenes experience for their child for $25.
"It's like a Science Carnival ride-a-long," Hampton explained. "They get their own lab coat that they keep and they can get to assist with the science activities and help other children learn the science behind the activity."
When the annual event began 10 years ago with help from two CSUCI student volunteers, it drew about 250 attendees. It has since grown to over 2,500 students and their families with over 400 volunteers. This year, Hampton expects attendance to exceed 3,000 visitors to the free event thanks to an ambitious social media campaign.
The Science Carnival is funded in part by a Title III U.S. Department of Education grant to CSUCI.
For more, visit: https://www.csuci.edu/sciencecarnival/index.htm.
About California State University Channel Islands
CSU Channels Islands is reimagining higher education for a new generation and era. We are an innovative higher education institution that enables students to succeed and thrive, serves as an engine for social and economic vitality and provides the intellectual resources necessary for a thriving democracy. With more than 7,000 students, 1,200 employees and 16,000 alumni, CSUCI is designated by the U.S. Department of Education as a Hispanic-Serving Institution and is committed to serving students of all backgrounds from the region and beyond. Our strong academic programs focus on business, sciences, liberal studies, teaching credentials, and innovative master's degrees. Connect with and learn more by visiting CSUCI's Social Media.