CLU Undergraduate Commencement set
By Gazette Staff Writer — Monday, May 5th, 2014
Single mom who began classes 19 years ago to speak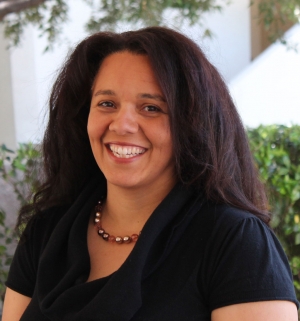 Holly Roepke
THOUSAND OAKS, CA - California Lutheran University will hold its 2014 Undergraduate Commencement Ceremony at 10 a.m. Saturday, May 17.
About 800 students are eligible to participate in the ceremony in William Rolland Stadium.
Holly Roepke, an organizational leadership major from Thousand Oaks, will speak on behalf of the Bachelor's Degree for Professionals program students. She began attending CLU in 1995 as a traditional undergraduate. She set records and earned numerous honors as a Regals soccer player, but had trouble finding her place academically while working several part-time jobs. With only a semester of classes remaining, she left CLU after the death of her faculty mentor. In 2011, she returned in the Professionals program. This time, she was the single mom of a 6-year-old son and was teaching physical education and coaching full-time. She struggled to schedule classes around her job, find childcare, buy books and groceries, and keep going after being laid off, but she succeeded with support from others.
Ryan Glatt, who decided to study exercise science after seeing how physical therapy helped his late mother, will speak on behalf of his fellow traditional undergraduate students. Participating in the Semester at Sea program gave the Simi Valley resident a global perspective and a desire to change the world for the better. He launched a club and organized a student service trip to provide aid in Haiti and tended bees in CLU's sustainable education garden. He received a grant last summer to research childhood obesity by assessing lifestyle factors associated with toddler activity levels and has worked as a personal trainer. He develops educational programs for Agua Inc., a water filtration company that uses plant-based biotechnology, and will conduct fieldwork in Gambia for the company after graduation.
Music professor Wyant Morton, director of choral activities at CLU, will receive an Honorary Alumni Award. The Thousand Oaks resident joined the faculty in 1992 and chaired the Music Department for 15 years. He launched the university's New Music Concert series in 2003 and founded Areté Vocal Ensemble, a CLU-based group of professional artists that focuses on new and unconventional works, in 2009. He has conducted the CLU Choir in performances at the Lincoln Center and in England, Italy, Norway and Sweden. He has received several awards at CLU including Professor of the Year in 2001 and the President's Award for Teaching Excellence in 2009.
Primo Custodio, a vice president for NBC Universal, will give the keynote address. The Chatsworth resident, who earned a bachelor's degree in business management in 1999 and an MBA in management and organizational behavior in 2007 from CLU, serves on the School of Management's Advisory Council. Since 2001, he has overseen human resources for NBC Universal's studio operations, which includes post-production media services, engineering and technology, stages and back lot operations, facilities and finance. Custodio has managed the human resources team through six significant mergers and acquisitions.
Tickets are required for admission. For more information, call the Office of Academic Affairs at 805-493-3364.