CI rewarded with rebate for turf removal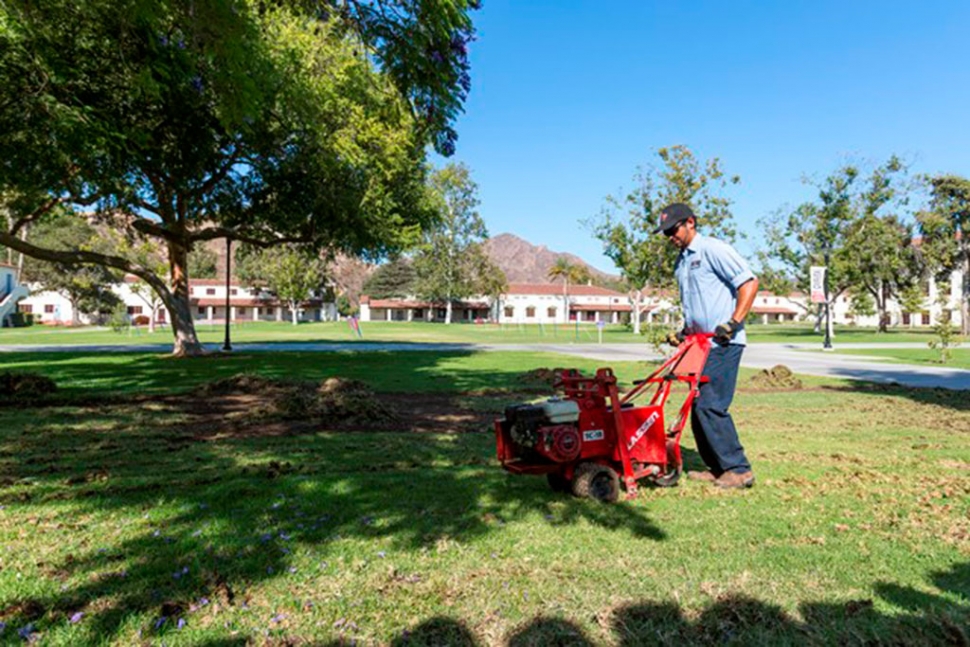 By Gazette Staff Writer — Tuesday, June 30th, 2015
Camarillo, CA - CSU Channel Islands (CI) will receive a $25,000 rebate from the state's Commercial Turf Removal Program after replacing 28,000 square feet of turf with more drought-tolerant landscaping.
Workers began removing turf this week from specific areas in both the north and south parts of the campus.
CI Director of Facility Support Raudel Banuelos said grass that used to extend right up to some of the buildings on campus will be replaced with drought-tolerant plants and landscaping that retains the curb appeal of the campus.
The process is familiar to CI, which has been aggressively searching for ways to conserve water for years.
"We're pretty close to running 100 percent on recycled water," Banuelos said. "Now we're trying to reduce our use of recycled water. We have been doing this a long time. We're ahead of the curve."
According to CSU Energy and Sustainability Analyst Michael Clemson, who oversees conservation efforts on all 23 CSU campuses, CI has cut its potable water use by 40 percent from 2008 to 2013, but facilities and sustainability staff are still working hard to find other ways to cut back.
"We're doing everything we can," Banuelos said. "We want to be good stewards in this drought situation. Now we're evaluating flushing toilets with reclaimed rather than potable water."
In April of 2015, Governor Jerry Brown issued an executive order requiring the State Water Resources Control Board to reduce potable water use by 25 percent through February 2016. This is accomplished through water districts such as Camrosa Water District, which serves the CI campus.
The cost of irrigating one acre of lawn on campus with reclaimed water is $1,427.42 a year. Irrigating one acre of drought-resistant plants for a year will cost $203.98 a year, saving the campus $1,223.44 a year, or almost 86 percent.
While the facilities workers dig up the turf and replace it with colorful, drought-resistant plants, CI Associate Director of Infrastructure & Energy Jose Chanes works to find and apply for rebates through programs such as the Turf Removal Rebate Program and others under websites such as BeWaterWise.com and http://www.water.ca.gov.
Sustainability will always be a foremost consideration as the campus continues to grow.
"We continue to plan for future improvements that go hand-in-hand with our water conservation strategy," Chanes said.
About California State University Channel Islands
CSU Channel Islands (CI) is the only four-year, public university in Ventura County and is known for its interdisciplinary, multicultural and international perspectives, and its emphasis on experiential and service learning. CI's strong academic programs focus on business, sciences, liberal studies, teaching credentials, and innovative master's degrees. Students benefit from individual attention, up-to-date technology, and classroom instruction augmented by outstanding faculty research. CI has been designated by the U.S. Department of Education as a Hispanic-Serving Institution and is committed to serving students of all backgrounds from the region and beyond. Connect with and learn more about CI by visiting CI's Social Media.
The California State University (CSU) will reach a significant milestone of 3 million alumni during commencement in spring 2015 and has launched the world's largest yearbook. The Class of 3 Million online yearbook is an interactive platform where alumni can create a profile and connect with the millions of other alumni from the 23 CSU campuses across the state. Alumni who sign up for the yearbook will also be entered into a special contest to win one of three $10,000 scholarships for a current or future student, sponsored by Herff Jones. For more information about the yearbook and the Class of 3 Million, visit https://classof3million.calstate.edu/