CI hosts "Inspire Her Mind" event to encourage girls to explore STEM/STEAM careers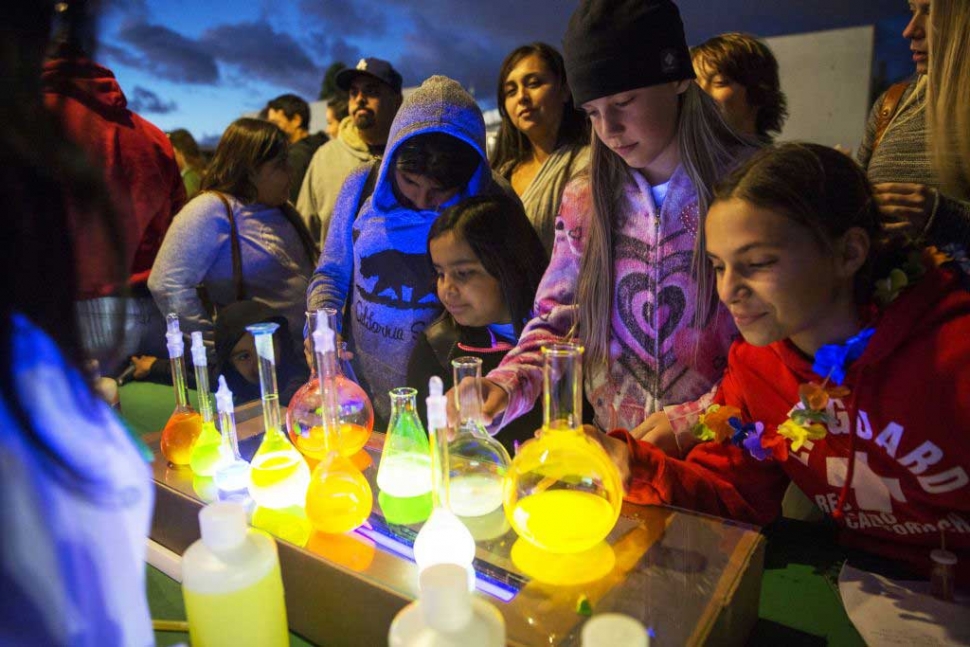 By Anonymous — Tuesday, October 13th, 2015
Camarillo, CA -When they're in the fourth grade, 66 percent of girls say they like math. By the time they enter college, the number drops to 18 percent.
Women hold fewer than 25 percent of the STEM (Science, Technology Engineering and Math) jobs in the U.S. And only 18 percent of the engineers in the country are women.
CSU Channel Islands (CI) is participating in a nationwide effort to interest girls ages 12 to 18 in STEM careers by hosting an "Inspire Her Mind STEM Hackathon" Oct. 10 from 9 a.m. to 1 p.m. in Malibu Hall on campus.
The event is possible because of a grant from the Verizon Foundation, which is fueling a nationwide "Inspire Her Mind" STEM campaign.
The "Hackathon" is for girls ages 12 to 18 who will spend the day working with an adult female "role model"—many of whom are on the CI faculty.
According to Martin V. Smith School of Business & Economics Dean William P. Cordeiro, Ph.D., the event will have 10 tables with a computer and adult mentor seated at each table.
"Each table will have a computer and each team will develop a web page," Cordeiro said. "Instead of having the mentors say 'It's important to go into STEM careers,' they will be creating this project together." The web page will be designed to interest other girls and young women in STEM careers.
Cordeiro organized the STEM Hackathon in partnership with United Way of Ventura County board member Jesus Torres, who works at Verizon; and Melissa Carlysle, CEO of Socihacks, a company that brings technology events to schools. The group funded the event with a grant from Verizon.
The girls and young women will also learn about "STEAM" careers, which includes "arts" in the STEM lineup.
"You don't have to have the hard sciences in your background to go into a STEM career," said Torres, Director of External Affairs for Verizon. "There are opportunities in creative marketing and business that also fall under STEM."
CI Assistant Professor of Marketing, Susan Andrzejewski, Ph.D., will be showing the girls at her table how to find and appeal to the right target market for their web site, which will include digital arts.
"My background in marketing leads me to appreciate how social media and online graphic systems can be used to reach young women who might be interested in STEM," Andrzejewski said.
Blackstock Junior High School Principal Tom Beneke is well aware of the statistics when it comes to girls and STEM, which is why he is bussing about 40 seventh and eighth grade girls to Saturday's event.
"Four out of five of our science teachers are female, so they understand the struggle to get young women in science and technology," he said. "They understand the importance of encouraging our young women of color and our young women in poverty. Education is a way to advance ourselves, our families and our communities."
Having come from humble roots in Appalachia herself, Carlysle is especially interested in giving young girls the sort of exposure she got to education and a world outside of her own.
"When you're a first generation college student, you don't have a whole lot of resources," Carlysle said. "In this county in particular, there is a huge need to engage kids and teach them 21st century skills."
The event is sold out, but if you want to get on the waiting list or on the subscriber list for upcoming events, click on: https://www.eventbrite.com/e/verizons-inspire-her-mind-stemsteam-hackath....
About California State University Channel Islands
CSU Channel Islands (CI) is the only four-year, public university in Ventura County and is known for its interdisciplinary, multicultural and international perspectives, and its emphasis on experiential and service learning. CI's strong academic programs focus on business, sciences, liberal studies, teaching credentials, and innovative master's degrees. Students benefit from individual attention, up-to-date technology, and classroom instruction augmented by outstanding faculty research. CI has been designated by the U.S. Department of Education as a Hispanic-Serving Institution and is committed to serving students of all backgrounds from the region and beyond. Connect with and learn more about CI by visiting CI's Social Media.