Cal Lutheran to mark World AIDS Day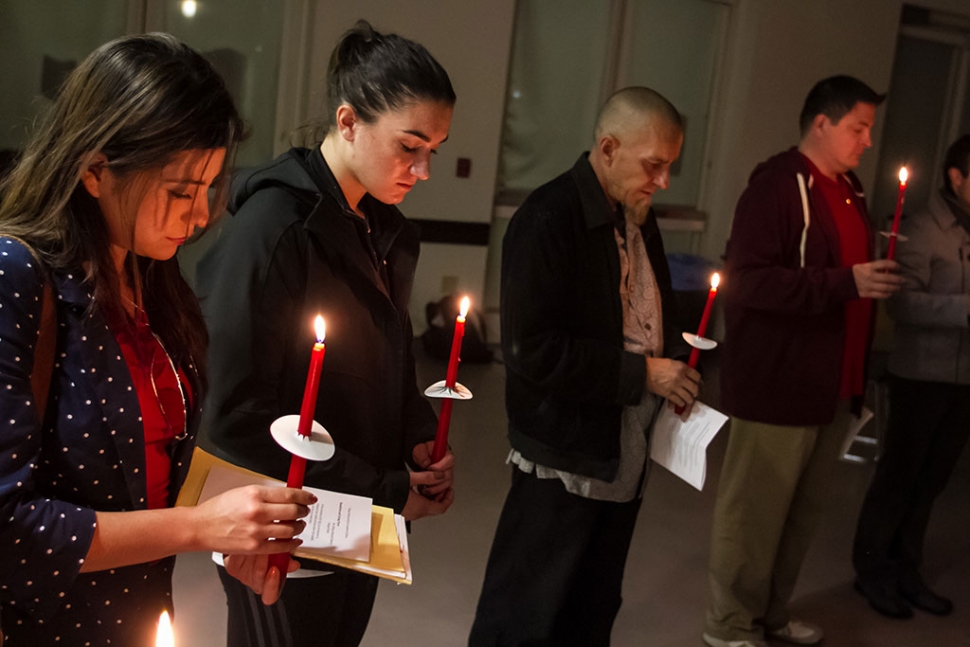 Candlelight vigil. Photo credit: Brian Stethem
By Gazette Staff Writer — Wednesday, November 12th, 2014
Events include vigil, panel discussion, movie screening
THOUSAND OAKS, CA - California Lutheran University will observe World AIDS Day 2014 with a panel discussion, vigil and screening of "Dallas Buyers Club" on Tuesday, Dec. 2.
This Ventura County commemoration of World AIDS Day will include "Positively Speaking," a panel discussion featuring local residents living with HIV, from 2:15 to 3:55 p.m. in Room 101-102 of the Swenson Center for the Social and Behavioral Sciences. A candlelight vigil of prayer and solidarity will be held from 4 to 4:30 p.m. on the Swenson Center patio.
A Reel Justice Film Series presentation of "Dallas Buyers Club" will be shown at 7 p.m. at Carmike Thousand Oaks 14. The film, featuring Oscar-winning performances by Matthew McConaughey and Jared Leto, was inspired by the true story of Ron Woodroof. Diagnosed with HIV, Woodroof forged alliances to establish a club where people living with HIV/AIDS paid to access the latest treatment options. Set in Texas during the 1980s, the film illustrates the collective struggle for dignity, education and acceptance.
The theme for this year's World AIDS Day is "Focus, Partner, Achieve: An AIDS-free Generation." World AIDS Day, which officially falls on Dec. 1, was first observed in 1988. It started with a call by health ministers from around the world for social tolerance and greater awareness of HIV/AIDS on an international scale.
The Swenson Center is located at 141 Faculty St. on the Thousand Oaks campus. Carmike Thousand Oaks 14 is located at 166 W. Hillcrest Drive. The theater opens at 6:30 p.m., and free tickets will be available until the theater reaches capacity.
Cal Lutheran's Center for Equality and Justice (CEJ), Wellness Programs, Office of Campus Ministry and Alumni and Parent Relations and the HIV/AIDS Coalition of Ventura County are sponsoring the free public events. For more information, contact the CEJ at 805-493-3694 or cej@callutheran.edu.