Beatriz Zizumbo Brings Experience to Mentoring Students at Ventura College East Campus
By Anonymous — Thursday, October 29th, 2020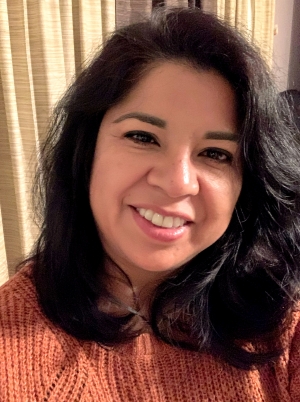 Beatriz Zizumbo
Written By Lauren Rosenthal
Beatriz Zizumbo has come a long way from her days as a sewing machine operator in Santa Paula. Just 18 years old at the time, she was a new mom who didn't speak English and had recently relocated from Michoacán, Mexico.
Today, Zizumbo is an academic counselor at Ventura College East Campus (VCEC), where she helps students find their career paths and provides them with tools and resources for academic success.
"My counseling position provides me the opportunity to know the students at a different level. I learn about their families, their dreams and their challenges, and they allow me to be part of their lives to guide them and provide resources to help them accomplish their goals. I see my job as an opportunity to help others achieve a dream job just the way I was helped," said Zizumbo, who is a first-generation college student.
The path to where Zizumbo is today started with the idea that while she didn't know what career she wanted, she was certain her future did not lie in sewing.
After two years at the sewing factory, she was ready for her next challenge: higher education. She enrolled at Ventura College East Campus and graduated in 2001 with an associate degree in accounting.
But Zizumbo wasn't done. It turns out that she loved school. She continued on to California State University, Channel Islands, where she obtained her bachelor's degree in Spanish with minors in Chicano studies and business.
After 19 years of pursuing her academic goals, she received her master's degree in counseling and guidance from California Lutheran University. Though it wasn't easy juggling the demands of school, work and her family, her persistence and determination to reach her fullest potential paid off.
"After every degree I felt that was the end of the road for me, but there were always people along the way who supported, encouraged and challenged me to continue my education. That is the reason I feel passionate about my job, because I want others to have that support and encouragement to continue their education," said Zizumbo, who has worked for the Ventura County Community College District for almost 23 years, starting as a student worker.
While she could've pursued any career path she wanted, Zizumbo chose a career where she could give back to the community that once encouraged her to pursue her dreams.
Zizumbo is living out her dream, she said. After years of hard work and dedication, she has a job that satisfies her desire to give back and that allows her to focus on her family.
Aside from her work at VCEC, her main hobby is to "watch my boys and husband play soccer and to live a simple life."
If you would like more information about the academic counseling at VCEC, visit venturacollege.edu/departments/student-services/counseling or call (805) 525-7136 or (805) 289-6448.
Lauren Rosenthal, a Moorpark College student and student worker with the Ventura County Community College District.