Beanstalk a big hit at Mountain Vista School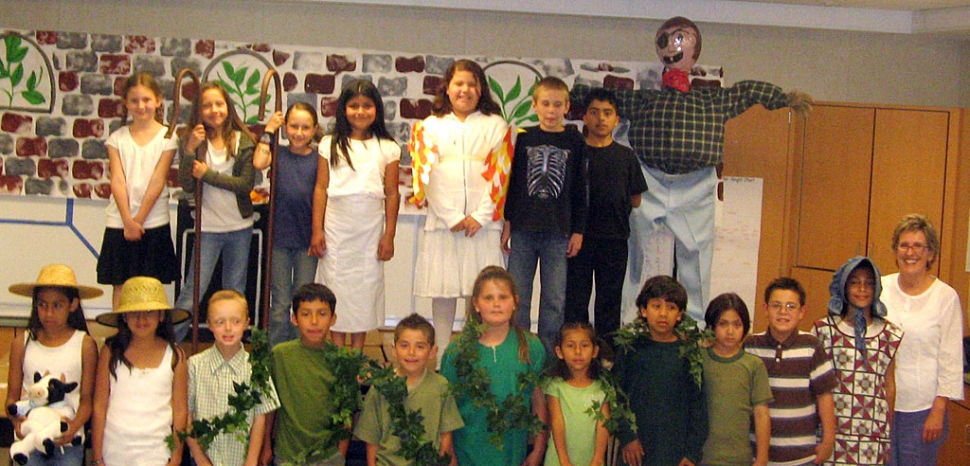 Mrs. Anderson's 3rd grade class performed a musical "Jack and the Beanstalk" at Mt. Vista, Friday evening. Top Row: Katelyn, Aviana, Emma, Norma, Sarai, Scott and Anthony, Bottom Row: Lupita, Jazmin, Evan, Miguel, JJ, Mary, Jennifer, Francisco, Jacob, Cody, Alexandra, and Mrs. Anderson.
By Anonymous — Wednesday, May 7th, 2008
The students of Priscilla Anderson's third grade class performed a musical "Jack in the Beanstalk" written by Ron Fink & John Heath of Camarillo at Mountain Vista Elementary to great applause on Friday evening. Friends and family of the twenty students enjoyed an evening with Jack, his mother, shepherds, farmers, a servant, a cook, a goose, a giant, story-tellers, and a living beanstalk. All the students in the class had their own parts, comprised of ten songs that had the kids performing solos, duets, trios, and a chorus. This was the first musical Mrs. Anderson has put together in which she did a terrific job. The students were involved in set-making, gathering costumes, and making props. Word spread around the school quick and they were asked to perform for many other classrooms as well.