America's Teaching Zoo at Moorpark College Birthday Celebration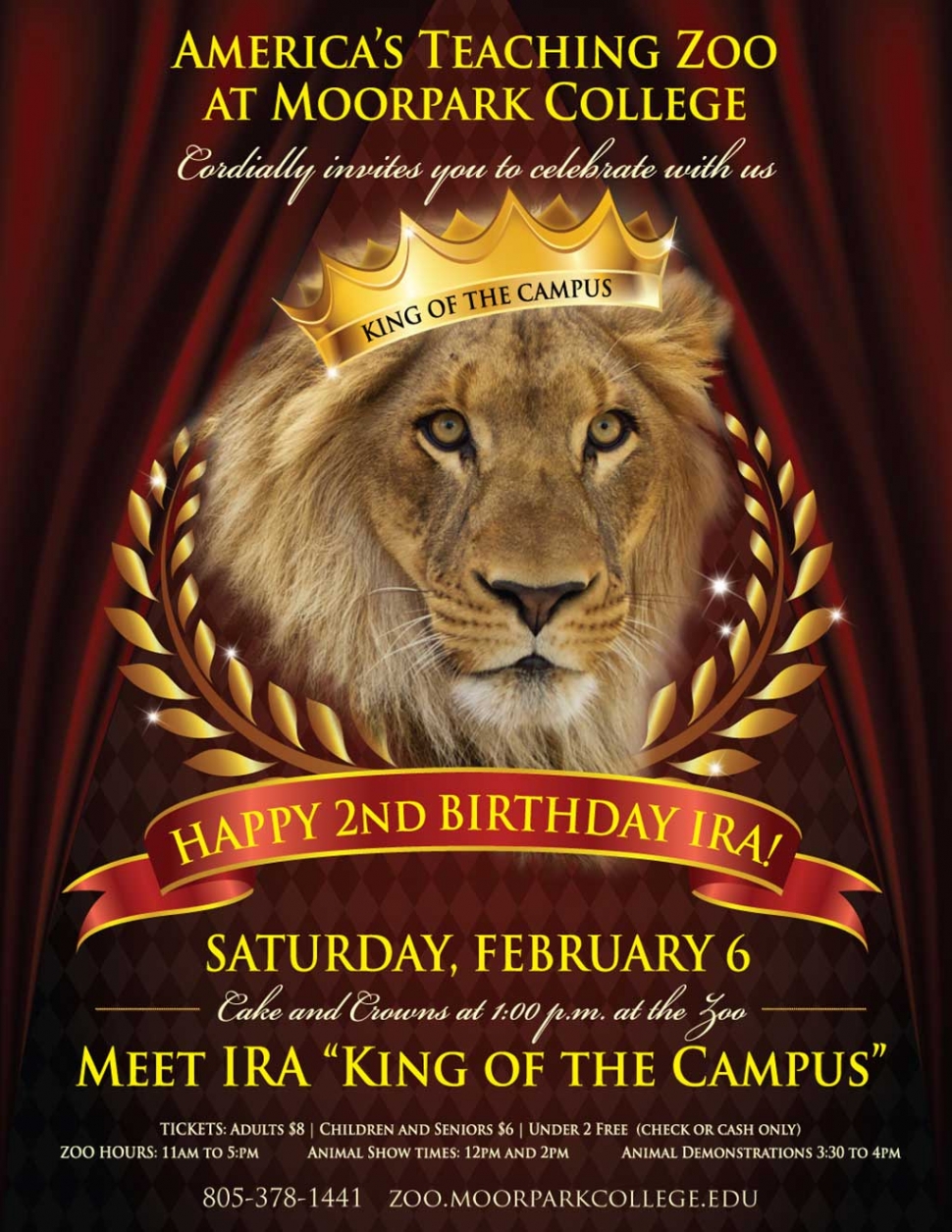 By Gazette Staff Writer — Tuesday, January 26th, 2016
Ira the Lion Turns 2
MOORPARK, CA (January 25, 2016) - America's Teaching Zoo at Moorpark College will celebrate Ira the lion's 2nd birthday with a Super Bowl-style birthday party on Saturday, February 6, 2016 (7075 Campus Rd. Moorpark, CA). Festivities for the "King of the Campus" will kick off at 1:00 p.m. with a behind the scenes look at Ira receiving his gifts made by student trainers. Guests may also purchase gifts for Ira through our Amazon Wish List. The zoo is open from 11:00 a.m.-5:00 p.m. Admission is $8 for adults and $6 for children ages 3 to 12 and seniors. Children under age two are admitted for free. Zoo members receive free admission to this event.
"Since celebrating Ira's 1st birthday, he has transformed from lion cub to lion king. His mane is quite the attraction and his roar is near completion," said Moorpark College President Luis Sanchez. "We celebrate Ira with pride, and we commend our student trainers whose lives are also being transformed through this program."
Cake will be served to attendees after we salute our lion king with a "Happy Birthday" song. Crowns and crayons will be on hand for the children to color, adorn their heads, and take home as a keepsake in remembrance of this royal celebration.
"As Ira turns 2, we are excited to celebrate this milestone with all of his fans," said Mara Rodriguez, zoo staff. "There is no better way to prepare for this year's NFL Super Bowl 50 on Sunday than to enjoy a roaring good time on Saturday with the community's favorite lion, Ira."
America's Teaching Zoo at Moorpark College, the only zoo in Ventura County, is the home of the Exotic Animal Training and Management Program. The EATM program offers educational programs that prepare students to enter the expanding animal care industry through the study of zoo keeping, basic animal medical care, wildlife education, and positive training methods. This unique program trains students to work safely and humanely with wild and exotic animals at zoos, aquariums and wildlife facilities across the country.
"EATM has been an established career program at Moorpark College since 1974 and is the best of its type. We are proud of EATM as a signature program of the Ventura County Community College District," said Larry Kennedy, Chair of the Board of Trustees.
The zoo is located at 7075 Campus Rd. Moorpark, CA. For more information call Mara Rodriguez, Zoo Operations Staff at (805) 378-1441 or visit zoo.moorparkcollege.edu.
MOORPARK COLLEGE, one of three colleges in the Ventura County Community College District, was founded in 1967. It is set on 150 beautiful acres, nestled in the foothills on the southeastern flank of Ventura County, about 40 miles from UCLA, and approximately 75 miles from UC Santa Barbara. It is also a short drive from CSU Northridge, CSU Channel Islands, and California Lutheran University. Moorpark College was recognized in the Huffington Post in March of 2015 as the fourth-best community college in the nation. It has an excellent reputation for university transfer preparation, and its signature career/technical programs include nursing, radiation technology, biotechnology, and exotic animal training, which incorporates the world-renowned America's Teaching Zoo. The college also offers a dynamic range of classes and programs in the visual and performing arts, and its pristine athletic fields and mild climate provide an excellent home for student athletes.