Amazing Character at San Cayetano!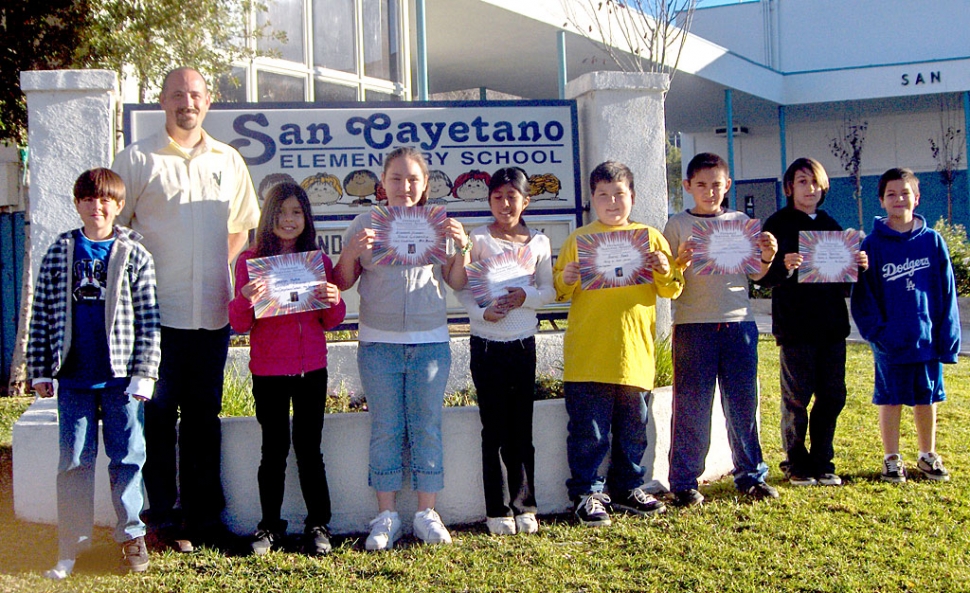 Peacebuilders for January 2009 display awards.
By Gazette Staff Writer — Wednesday, January 21st, 2009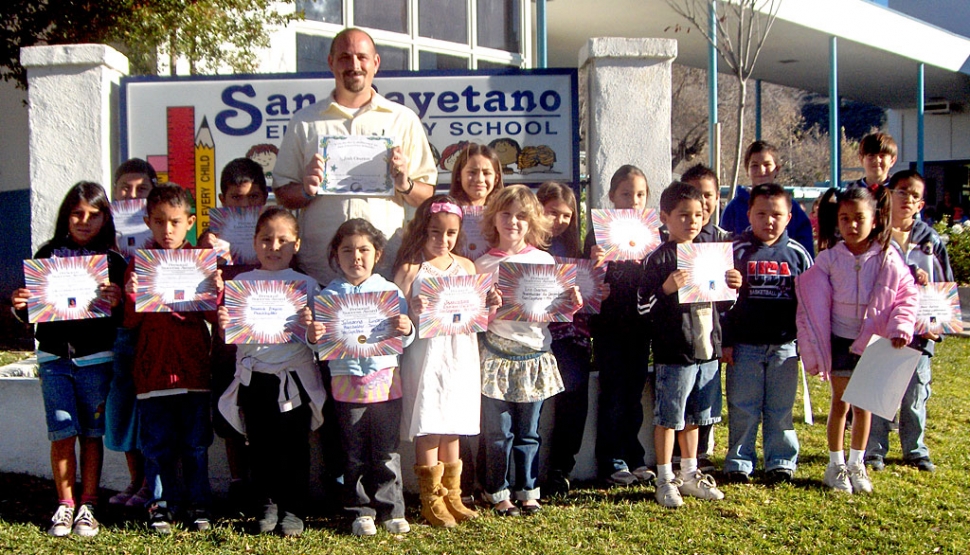 More Peacebuilders receive January certificates at San Cayetano Elementary.
On Tuesday, January 13, 2009, San Cayetano School recognized good citizenship and character at their Peacebuilder Assembly for the month of January. Mr. Josh Overton came to San Cayetano to speak to the students about what a good citizen is and how displaying good character could enrich the students and others in the community around them. Each teacher chose a student from his or her class whom showed excellent character and peace-building skills. Roman Torango and Ian Overton, the San Cayetano ASB President and Vice-President assisted Mr. Overton in handing out the Peacebuilder Awards. The Peacebuilders for January are: Diego Ruiz, Alan Carrillo, Jessica Nava, Yessenia Fregoso, Elizabeth Ocampo, Mario Hurtado, Jairo Rios, Victoria Pace, Alexis Vargas, Jocelyn Munoz, Julieanna Lindres, Arvin Peraza, Ethan Gomez, Melia Galindo, Perla Chavez, Daniel Avila, Rolando Cabrera, Erin Overton, Austin Reed, Serina Valenzuela, Tereliz Martinez, and Anthony Ramirez. Roman then announced to the students that the Rainbow Foundation is sponsoring the San Cayetano Character Counts Award of a $100.00 savings bond. Mr. Overton presented the Character Counts Award to a deserving first grade student. Melody Tello was chosen by the first grade teachers as a model of outstanding behavior and kindness to the other students. To conclude the assembly, students were reminded to turn in their Perfect Attendance tickets. Each month all students who come to school, each day, on time, are given an orange raffle ticket. The students place their tickets in a box and one ticket is drawn. The student whose ticket is drawn is given a backpack full of supplies. Each month, the tickets will be put into a larger box that will be kept until the end of the year. In June, Mrs. Marholin, the principal, will draw from the tickets to give away new bicycles, an I-pod shuffle, and three large stuffed animals. Moises Pedroza won the Perfect Attendance Award for the month of January.