300 Piru students are going to college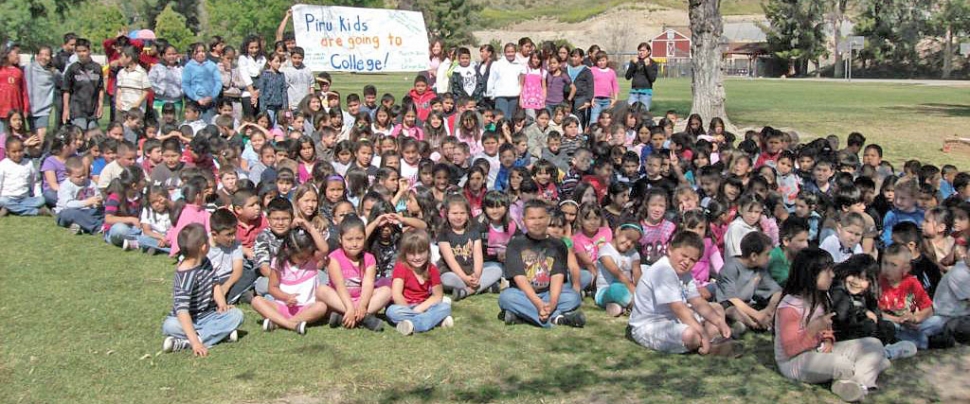 Piru Elementary students went to college this week as part of Piru's Reaching Higher in '09 Academic Achievement Focus.
By Susan Jolley — Wednesday, April 1st, 2009
Six buses, three destinations, 300 permission slips and lots of phone calls later, Piru students all attended college on Monday, March 30th. The visit was part of Piru's Reaching Higher in '09 Academic Achievement Focus.
Kindergarten and first grade students went to Moorpark College and thanks to support group Friends of Piru, were able to add an Exotic Animal Show to their College Tour.
Second and third grade students journeyed further to Cal State Channel Islands where they were guided by former student Jim Schaper around one of the newest California campuses!
Fourth and fifth graders were awed by the highpoints of the University of California at Santa Barbara, including: lecture halls, the dorms, the recreation center, the Thunderdome, and of course, the lagoon and beach. All students agreed college looks like lots of fun!
Many thanks from Piru are sent to Fillmore High School Mentors, Elizabeth Fernandez and Samuel Cruz; UCSB Outreach Coordinator, Olivia Palacio; UCSB Guides, Robert Barrera and Stan Levine; Miss Breanna Christie from Cal State Channel Islands; and Mr. Khutug from Moopark College. Special thanks are offered to Mrs. Lynn Edmonds, former principal of Piru Elementary, who wrote the CDBG grant which paid for the buses, and Police Chief Tim Hagel who is constantly looking for ways to support students and facilitate life changing experiences for kids.
Piru students are back in elementary classes today, but with a different outlook and level of motivation. Piru students are going to college!