14 Complete Ventura College Paramedic Studies
Newly graduated Paramedics Mike Ellison (Ojai) and Kyle Bauerlein (Ventura) celebrate their scholarships.
By Gazette Staff Writer — Tuesday, June 23rd, 2009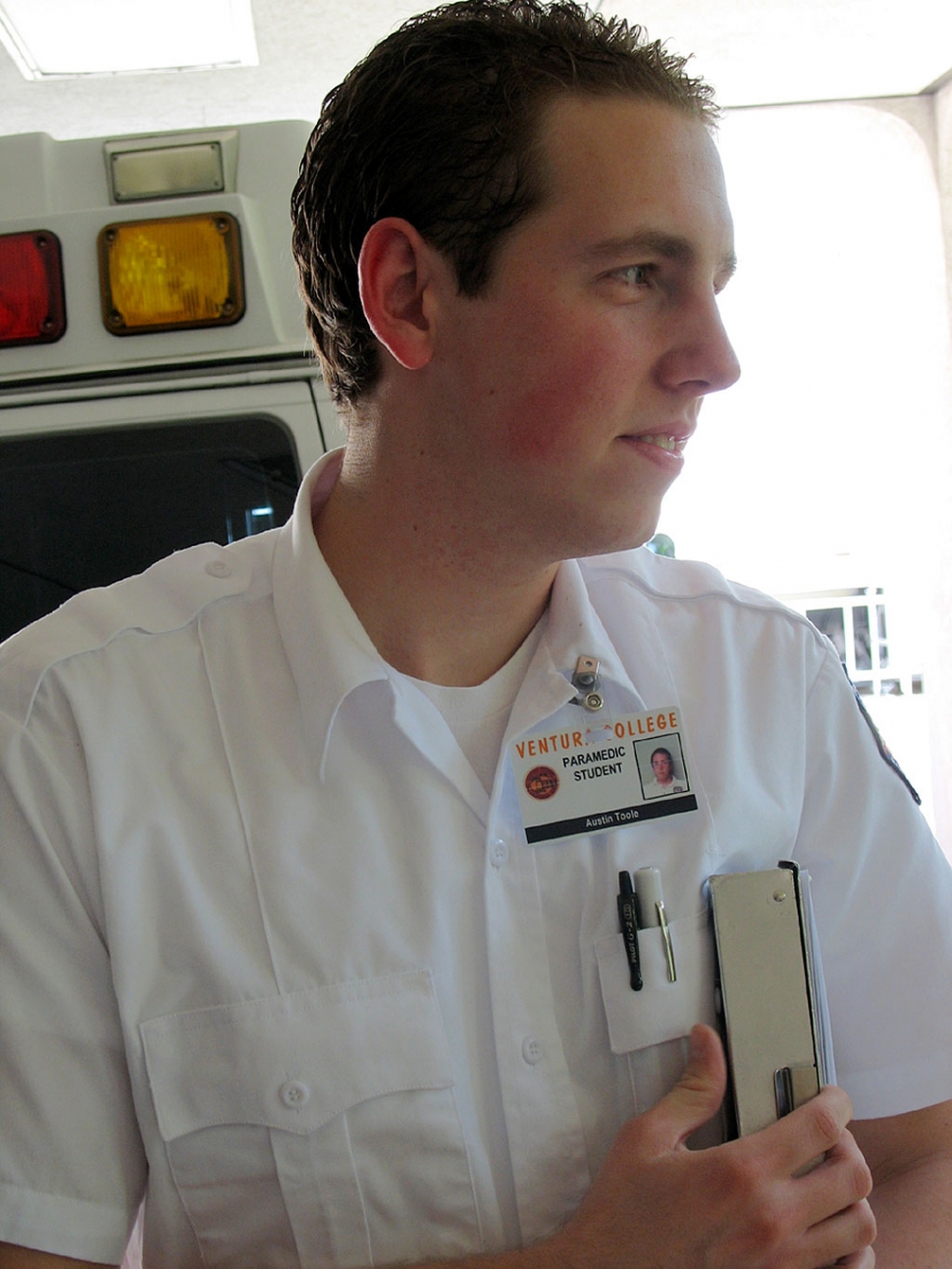 Valedictorian Austin Toole (Tujunga) at work.
Ventura, CA. - Fourteen students completed the rigorous Ventura College School of Prehospital and Emergency Medicine Paramedic Studies program, participating in the certificate presentation ceremony on Friday, June 22 at the Ventura College Theatre. This is the tenth graduating class from the program.
Michael Douglass Ellison received the Tommy Anthony Scholarship and Kyle A. Bauerlein was awarded the Benjamin Tanner Scholarship. Austin Toole is the class Valedictorian.
The Ventura College School of Prehospital and Emergency Medicine is the only fully accredited paramedic training program in the county– training Emergency medical technicians (EMTs) and paramedics (highest level of EMT certification), who provide urgent care in any location or while transporting patients in ambulances or helicopters. As first responders in the delivery of emergency services, these men and women apply life-saving medical techniques to the injured.
For information on the program, visit: http://academic.venturacollege.edu/smelton/healthsci/
Program Director Meredith Mundell, Instructor Stephen Frank, VCCCD Trustee Stephen P. Blum, Esq., Dean of Career and Technical Education Robert Taylor, and Executive Vice President Ramiro Sanchez presented the certificates to the following, ten of whom earned Associate of Science degrees in Emergency Medical Services:
Ventura College – Paramedic Studies 2008 – 2009 Graduating Class
Camarillo: Hadi Jorabchi, A.S., Timothy E. Maxwell, A.S., Andrew J. Medina,
Moorpark: Evan Gonzalez, A.S.
Ojai: Michael Douglass Ellison, A.S.
Oxnard: Joe Luis Perez
Simi Valley: Matthew Arnold, A.S., Christopher M. Crosby, Steven W. Van Keulen II, A.S.
Thousand Oaks: Adam E. Nunez, A.S.
Tujunga: Austin Toole
Valencia: Amanda Lynn May, A.S.
Ventura: Kyle A. Bauerlein, A.S., James Richard Rosolek, A.S.