Obituary
Sally Horn (1964-2022)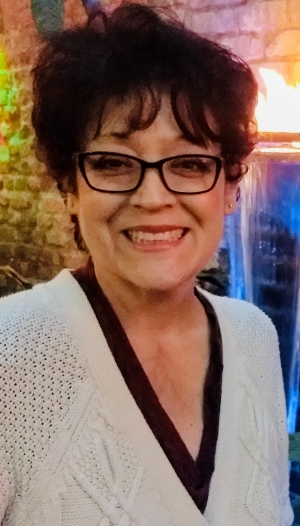 Sally Horn (1964-2022)
It is with profound sadness and heavy hearts that we share the passing of Miss Sally Horn, 57, beloved wife, mother, grandma, daughter, sister, Tia, niece, cousin and friend to many. Sally entered into Heaven smiling peacefully at her home on Cinco De Mayo, May 5, 2022 with her family at her side after a 5 year long dignified battle with cancer. Sally was the youngest daughter born to John and Juanita (Jenny) Alvary of Piru California on November 13th, 1964, and grew up there with her brothers and sisters. She attended both Piru and Fillmore schools, graduating from Fillmore High in the class of 82. Growing up Sally had a special bond with her family who always kept a watchful eye on their baby sister "Chole". That relationship is a forever one. In 1978 Hollywood came to Piru where Sally and her other childhood playmates were in Rod Stewart's rock video "Hot Legs" as extras along side of the band. In High School and Moorpark College Sally was highly athletic excelling in fast pitch softball as pitcher and shortstop. After graduation Sally began her banking career as a teller at the Fillmore Bank of A. Levy, later becoming Well's Fargo. Sally worked at various branch locations throughout her distinguished 36 year career in the banking industry earning her the title of Premier Banker, and receiving that award in 2010 at the Wells Fargo corporate office in San Francisco. She was a well-respected Wells Fargo team member who always carried herself with integrity and professionalism. On October 1st, 1988 Sally married her husband and best friend Mike of 34 years, and together started their family on a relatives little orange grove ranch at the edge of town where she would later give birth to Ryan & Eryn, the two most precious joys of her life. Sally recently became a proud Grandma "GiGi" to her sweet little grandson Charlie. When Baby Charlie would run into the room Sally's face would light right up and she would say "hey baby"…Sally was a proud and devoted mother always making sure her family was taken care of and had what ever they needed. Sally attended the San Salvador Mission in Piru sitting in the family pew, and never once through this journey questioned her faith. Sally always worked hard but made time to laugh and have fun. She loved hosting large gatherings of family and friends in her home and cooking. Chili verde was her favorite requested dish though she had many family recipes that she often baked. She always made sure everybody had enough to eat and some to take home for later. Sally enjoyed gardening and tending to her roses, Sunday drives to the Santa Barbara pier for ice cream, Friday night date night with her husband and camping at the beach on the Rincon to name just a few. But most of all Sally just absolutely enjoyed being around family and friends talking, laughing or watching a good movie. Sally was preceded in death by her father John Alvary, sister Geraldine Alvary and her little brother Tony Alvary. She is survived by her husband Mike Horn, children Ryan Horn, Eryn Horn, Charles (son in-law), Baby Charlie (grandson), mother Jenny Alvary & Rafael Lara, mother and father in-law Marla and Larry DeSha, sisters: Christina Alvary and Leticia Alvary, brothers: Robert, George, Juan (Poncho), and Jesse Alvary, Sister in-law Heidi Glass and numerous nieces, nephews and cousins. The Family would like to thank Sally's Oncology / Radiology team of Doctors and staff, all the nurses, caretakers and the folks at Buena Vista Hospice. The Family would like to especially thank Dr. Oh, for giving us 9 more memorable months with our dear sweet Sally. Our family misses Sally so very much and her beautiful spirit and smile will forever be in our hearts.
Visitation will be held Monday, May 16th from 1pm to 9pm with the Rosary commencing at 7pm, located at the Perez Family Funeral Home 600 Central Ave. Fillmore CA. 93015.
Mass will be held on Tuesday, May 17th at 10:00am at the San Salvador Mission in Piru CA. 93040. Graveside services to follow at Bardsdale Cemetery in Fillmore May 17th 2022.
Please join us in a celebration gathering at Sally's home located at 981 Meadowlark Drive, Fillmore Ca.93015 right after graveside services. Catered lunch will be served.