Obituary
Rundle Lekeith Rhodes (1967-2022)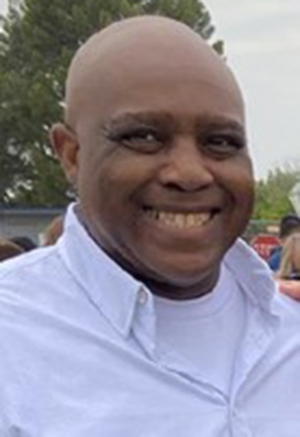 Rundle Lekeith Rhodes (1967-2022)
On Friday, September 9, 2022, Rundle Lekeith Rhodes transitioned into the glorious presence of the Lord. Rundle was born on May 8, 1967.
He accepted Christ as his Lord and Savior at an early age at Second New Hope MB Church where he served as an usher. Later he joined St. Paul Baptist Church in Oxnard under the leadership of Bishop B. A. Huggins.
He married Carla on September 24, 1994. Rundle graduated from Moorpark college in 1992. He worked as a produce clerk at Vons for over 27 years. Rundle enjoyed the simple pleasures of watching his favorite teams, San Francisco 49ers and New York Mets. He enjoyed playing softball, football and beating his friends in poker. His smile would light up a room and it was very contagious. Rundle was a great dancer and loved to be silly with his kids. One of his favorite pastimes was to goof around and tease his closest family and friends. Rundle was a wonderful cook. He made the best barbeque ribs, steaks, homemade macaroni and cheese, black eye peas and cornbread.
Rundle was preceded in death by his father Jerry Williams and his brother Christopher Williams. He leaves to cherish his memories with his wife, Carla Rhodes; children Jalen, Anissa, and Amaya Rhodes; mother, Clotea Rhodes; brothers Darrel Williams (Janice) and Jerry Williams, Jr, and sister Tosha Tyson (Tony); Special Aunt; and Uncle, Marie & Jimmy Smith; stepmother Jonnie Williams; special cousin Vivian Edison and a host of nieces, nephews, other relatives, and lots of friends.
Funeral Services are on Thursday, September 22, 2022, at Simply Church, 415 Pearson Road, Port Hueneme, CA. Viewing from 10:00 am to 11:45 am and funeral services begin at 12:00-1:30 pm.