Obituary
Rosemarie C. DeLano (1936-2022)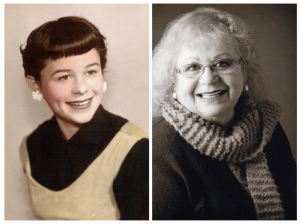 Rosemarie C. DeLano (1936-2022)
Rosemarie C. DeLano was born on February 20,1936 to Ida Viola Preciado & Epigmenio Cervantez Torres in Piru, California. She passed away November 29, 2022, joining her parents and many before her, including her other father, Ira Carter, step-father Gerald Muth; Sister, Elsie Simonson; Brother, Albert Carter; and her beloved husband, David E. Delano. We imagine a grand welcoming on the other side of the veil.
Rosemarie is survived by her daughters and sons-in-law, Valerie & Cecil Ward; Vicki & Allen Smart; Pepper DeLano-Doty; and Kristi DeLano, as well as her precious Grand, Great Grand, and Great Great Grandchildren, too numerous to list, whom she adored beyond measure.
She called Bakersfield home in 1959. She was known to many as Mom, Nana, Rose, Rosie, and Officer DeLano in her service as a correctional officer at Tehachapi State Men's Prison. After retirement, she was busy as Grammanana at Downtown Elementary and Queen Mumzy in her much-loved Red Hat Ladies chapter. She was blessed to have a large immediate family by birth and marriage and an extended family of close friends, with some specifically deemed so by the title of Aunt, Uncle, Cousin, or child. She was a maverick and trailblazer, fiercely independent and strong, funny and unapologetically honest with stories so vibrant and deep about all that she experienced in her 86 years of life, and oh, what a life!
Rosemarie was an avid reader and gifted storyteller; she loved to garden with an affinity for cacti & succulents, roses, and Newhall Ranch orange trees. Rose loved to travel and shop for good bargains; she was a fantastic cook and loved all things culinary; she found meaning and joy in the smallest things and loved with all her heart.
She was the source of the most delightful creativity that has carried on throughout her family, along with the shared memory of taking every child & grandchild to get their first library card, inspiring our shared love of reading.
The world will never be quite the same without her. Gone from our sight, but never from our hearts and minds. Rosemarie planted love and memories wherever she went, and that legacy will continue to grow.
Graveside Services will be held on December 17 at 2 pm. Piru Cemetary, Piru, CA, followed by a reception and celebration of life directly after.