Obituary
Roberta (Berta) Maynard Espinoza (1961-2020)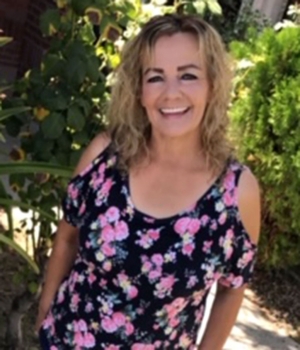 Roberta (Berta) Maynard Espinoza (1961-2020)
With profound sadness we announce the passing of Roberta (Berta) Maynard Espinoza
Our loving and devoted mother, wife, sister and friend to all lives she touched.
She left us peacefully at a young age of 59 after several months of being ill.
Born January 28th 1961 to Dolores and Travis Maynard.
Roberta grew up in Fillmore and attended Fillmore schools, she was active playing basketball, softball and cheerleading as a young teenager.
She had various jobs through her life but the one the loved was care giving; she cared for grandma Angie, uncle Val, her father and her mother. She had a very caring heart and just loved giving her love to all.
Roberta relocated to Bakersfield 5 years ago to be closer to her children.
She loved to spend time with her family going to casinos with her husband, brother and sisters. She loved yard sales, going to movies with her children and grandchildren, and attending mass. Roberta was survived by her husband José Espinoza, children Tanya Rodriguez, Arthur (wife Breanna), Corina Garcia (husband José) Sabrina Martinez (husband Mike) Priscilla Rodriquez, and Joshua. Grandchildren: Eddie, Joseph, Nicholas, Gerardo, Michael, Robert, Anthony, Elijah, Ella, Bella, Eric, Nathan and Daniel. Brother Steve Maynard (wife Cathy),
Sisters Vicky Gonzalez (husband John), Kathy Myers (husband Tom), her twin Teresa Ramirez (husband Jorge), Mary Sandoval (husband Joe) and numerous nieces and nephews.
Roberta is preceded in death by her infant son Michael Rodriguez, her mother Dolores and Father Travis, nephews Lonnie Gabriel and Jorge (Pelon Ramirez).
We would like to give thanks for the overwhelming love and support during this difficult time.
Rosary will be at Basham Funeral Home (3312 Niles St Bakersfield CA, 93306) at 7pm on Thursday July 9th 2020 with a viewing from 5pm-8pm. Mass will be St. Francis of Assisi Church (900 H st, Bakersfield CA, 93304) on Friday July 10th, 2020 at 10 am with burial following at Greenlawn cemetery (2739 Panama Ln, Bakersfield CA, 93313) unlimited as long as there is social distancing.
Also due to situation we will not be able to provide a reception.