Obituary
Richard "Dick" Purves (1932-2021)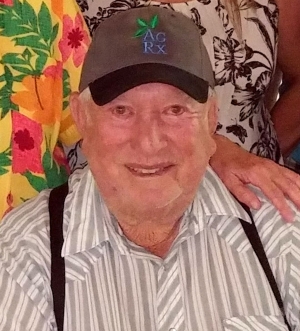 Richard "Dick" Purves (1932-2021)
It is with heavy hearts we announce the passing of our dad, Richard "Dick" Purves, on February 28, 2021.He passed away at home, with our mother, Barbara by his side.
Dad was born on June 1, 1932 in Fillmore, CA to James and Virginia Purves.
The family lived in Lancaster, CA for some years and then moved to Fillmore where he lived out his life. And oh what a life he lived. He was a young hell raiser, an oil field worker, a heavy equipment operator, a rancher, a farmer, a vegetable gardener, a leatherworker, a creator of horseshoe art and so much more.
Dick and Barb were married for 59 years, sharing life's adventures, and raising us kids. They raised us to be strong, respectful, adventurous and ornery; and instilled in us a great love for country life and the great outdoors. We spent summers camping and fishing, at rodeos and parades with Foxy, his mule. There were big bbq's with lots of family and friends, with laughter and storytelling and pulling pranks on the kids.
Dad loved hunting; so much so that Mom and Dad rarely spent their anniversary together, because it was hunting season and there was a BIG buck out there calling his name. He loved fishing trips, cattle roundups, visiting with friends far and near, Vegas runs and lunches and dinners at Piru Petroleum Club.
Most days he could be found at home tending his garden, tinkering in garage, picking avocados for his buddies, making jerky, dried tomatoes and bananas, cooking chili Verde, and watching sports and westerns.
Dick was preceded in death by his parents, Jim and Virginia, his brother Jim, and his sons Rick and Mark.
He is survived by his wife Barbara, children Vicki Murphy (Tom), Ed Purves (Robyn), Pam Purves (Robert) and Sheri Marlow; grandchildren Derek, Tomlyn and Ian Murphy, Logan (Amie)and Walter Marlow, and Tyler Bode; great grandchildren Sabrina and Perrin Marlow.
Dad enjoyed life and loved his family and friends with all his heart. We thank you all for being a part of his life and ours.
Services will be held at a later date. In lieu of flowers please make donation to Fillmore Alumni Association Scholarship Fund.